10 Parenting Blogs to Follow for Advice and Ideas
If you've been searching the internet for the best parenting blogs to follow for solid advice on raising children, you will enjoy this guide.
Parenting is one of the toughest yet most fulfilling jobs on earth. Children are unique, so raising them can be a complex undertaking. In addition, the world changes fast these days, and keeping up with the latest parenting trends can be a handful. Therefore, you could use any help you can get as you seek to sharpen your parenting skills and be the best parent your children could ever wish for.
This guide is a review of the best parenting blogs. 👨‍👩‍👧‍👦
Before getting into the details of our review, let's consider the factors that make parenting blogs great:
What to look for in a parenting blog worth following
With countless parenting blogs on the internet, how do you choose the best ones?
For solid, balanced advice that covers all the bases in your topic of interest, it's best to follow multiple blogs.
👉 Look for parenting blogs that are:
Current: Choose blogs that update their content regularly with fresh material.
Science-backed: Follow blogs that anchor their advice on proven scientific principles.
Niche focus: Stick with blogs that focus on your specific parenting needs.
Community: Go with blogs that allow you to join a community of like-minded parents for support.
Expert review: Lean towards blogs whose content is reviewed by qualified experts.
Style: Read blogs that present content in a simple conversational style.
Now that you know what to look for in top-notch parenting blogs, let's review the top parenting blogs worth following.
The 10 best parenting blogs of 2023
Your Modern Family
Scary Mommy
Fatherly
Blended Life
Mixed Up Mama
The Inspired Treehouse
Parents Magazine
Single Mother Survival Guide
Single Dads Guide To Life
Mommy Labor Nurse
1. Your Modern Family
Your Modern Family is one of the leading parenting blogs to follow in 2023.
Your Modern Family gives general parenting tips for parents, caregivers, and grandparents. You can get help with everything from gestation and recipes, to how to parent toddlers and teenagers. The blog has rich, visual posts, and they publish regularly.
Why it's superb for parenting ideas 💡
Its excellent use of visuals makes Your Modern Family stand out from other parenting blogs. Each post comes with stunning graphics that make the page attractive and enhance understanding.
Plus, the blog has a shop packed with parenting resources. The shop's categories cover kids' activities, healthy living, homemaking, holidays, general parenting, and school and education. Finally, the blog is authentic because the founder is a mother, elementary school teacher, and child developmental therapist.
2. Scary Mommy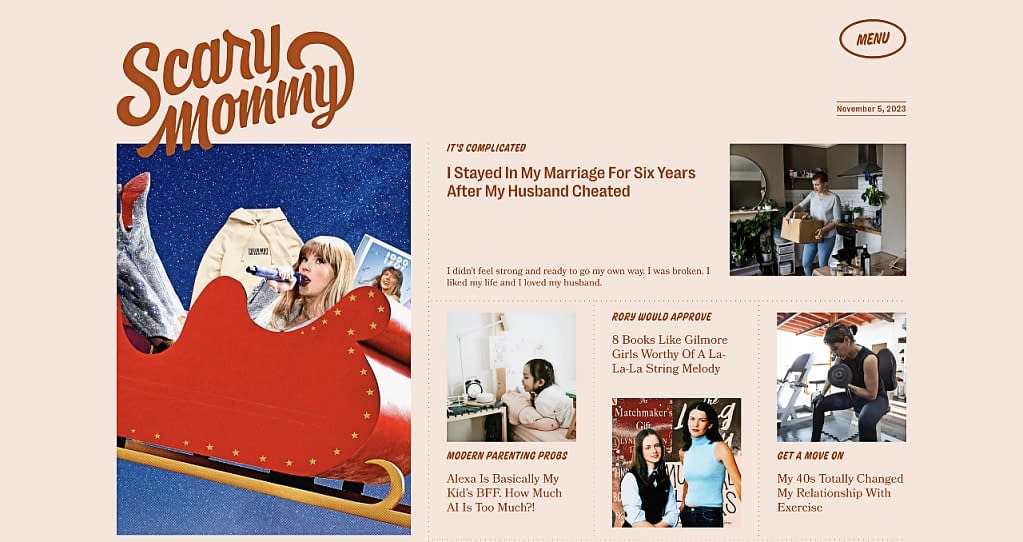 Parenting blog discussions are incomplete without Scary Mommy.
Founded in 2008 by Jill Smokler in Baltimore, Maryland, Scary Mommy is a celebrated blog for moms.
The blog supports every mom's journey. Whether you are a married, single, working, SAH, LGBTQ+ mom, a pregnant woman, or trying to conceive, you will feel at home on this blog.
Why it's superb for parenting ideas 💡
First, Scary Mommy focuses on hyper-relevant content for mothers.
Besides the blog, Jill has a vibrant Facebook page with over 4 million followers. The blog has morphed into a well-liked community of millions of unique women united by motherhood. Another special mention is Jill's New York Times bestseller, Confessions of a Scary Mommy. It shows she's a credible blogger who knows what she's talking about.
3. Fatherly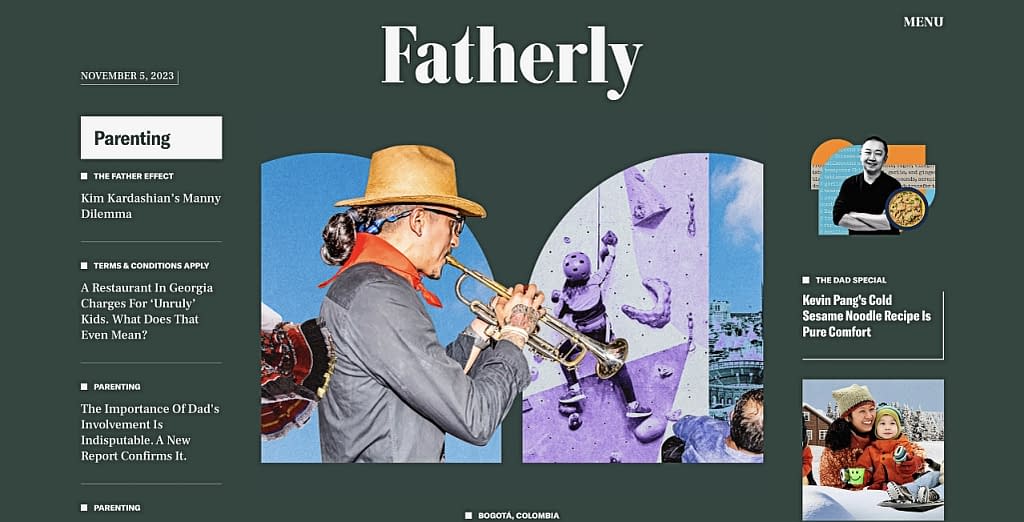 Fatherly also makes it to the top of our parenting blogs list.
As the name implies, Fatherly is a dedicated blog for dads. It targets millennial and Gen Z audiences.
You will find tips and tricks on parenting, baby names, kids' entertainment, dad jokes, kids' education, children's health, how to support mothers, and more.
Why it's superb for parenting ideas 💡
Fatherly is a remarkable blog because it delves deep into the challenges and opportunities of fatherhood.
It discusses all aspects of parenting, from the hilarious to the heartfelt. Whether you are a new or experienced dad, you will find helpful advice there.
Fatherly connects with dads in every aspect of their lives, not just fatherhood. The blog also offers advice on health and fitness, gear, travel, style, and gaming.
4. Blended Life
Next up on our top-rated parenting blogs showcase is Blended Life.
Blended Life examines the complex and challenging world of step-parenting and blended families.
Eric and Julie, the blog's founders, explore lessons on how to lead a blended family, custody agreements, tips for stepmoms and dads, and blended family bonding. While The Blended Life blog hasn't been updated since 2020, it has useful resources, and the podcast is still active.
Why it's superb for parenting ideas 💡
Blended Life is an authentic blog because Julie, the blog's primary writer, graduated from the school of hard knocks.
She draws her content from a background that includes marrying, divorcing, remarrying, surviving daddy issues, and being a wife and mother of four children. In addition to the blog, the couple hosts The Blended Life podcast, which is superb if you prefer to learn by listening, not reading.
The blog also has an excellent resources section from other blended families bloggers.
5. Mixed Up Mama
Next up on the best parenting blogs catalog is Mixed Up Mama.
Mixed Up Mama caters to parents bringing up multiracial children. The blog supports parents and families with multiracial kids so they can raise confident children who know their identity and are proud of their rich heritage.
It's a renowned blog featured on the British Broadcasting Corporation (BBC) and the Huffington Post.
Why it's superb for parenting ideas 💡
What makes Mixed Up Mama unique is the blog's credibility.
Fariba, the blog's founder, walks the talk. She has a mixed heritage background, a Nigerian husband, and is a mother of three interracial children. Therefore, her content resonates with readers because she has experience both living as a mixed-race person and raising a multiracial family.
The blog's resources section also deserves high praise. It has a wealth of posts, guides, book reviews, and interviews such as Biracial Boy Hair Care Tips, How To Ensure Your Dual Heritage Kids Feel Good About Themselves, and Diversity In The Classroom.
6. The Inspired Treehouse
The best parenting blogs base their advice on science. The Inspired Treehouse is exceptional in this regard.
Claire and Lauren, the blog's founders, are practicing pediatric occupational and physical therapists. All the info on their blog, be it developmental or kids' activities, is science-backed.
The blog focuses on child development and activities parents can do with their children to help them grow properly.
Why it's superb for parenting ideas 💡
For a science-inspired blog, The Inspired Treehouse is very simple.
The team's posts are straightforward, conversational, and fun. They don't bombard the audience with scientific jargon, so it's easy for readers to grasp the content. Another plus are their free printable handouts and activities for developing important things like fine motor, sensory processing, and visual skills.
7. Parents Magazine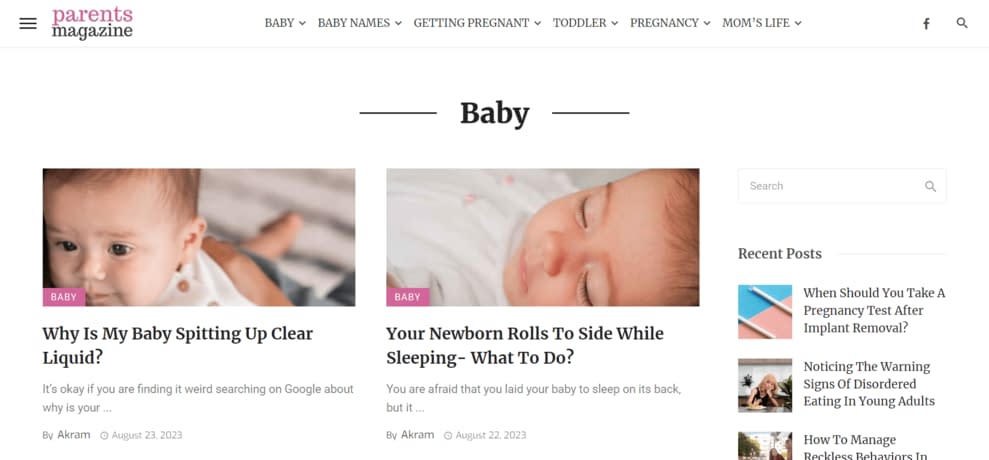 Parents Magazine prides itself on its excellent editorial integrity.
The blog's editorial team of top parenting and health experts meticulously checks and vets each article before publication. Some topics you will enjoy on the Parents Magazine blog are:
Mom health tips during pregnancy.
Preparing for childbirth.
Fatherhood tips.
FAQ around fertility and getting pregnant.
Single parenting.
Baby boy and girl names.
Why it's superb for parenting ideas 💡
Parents Magazine, like other parenting blogs, has posts from pros such as counselors, psychologists, and relationship experts. But, unlike other blogs, they also allow their readers to contribute. So aspiring moms and dads, bloggers, and veteran parents can weigh in with their wisdom gleaned from real-life experiences.
8. Single Mother Survival Guide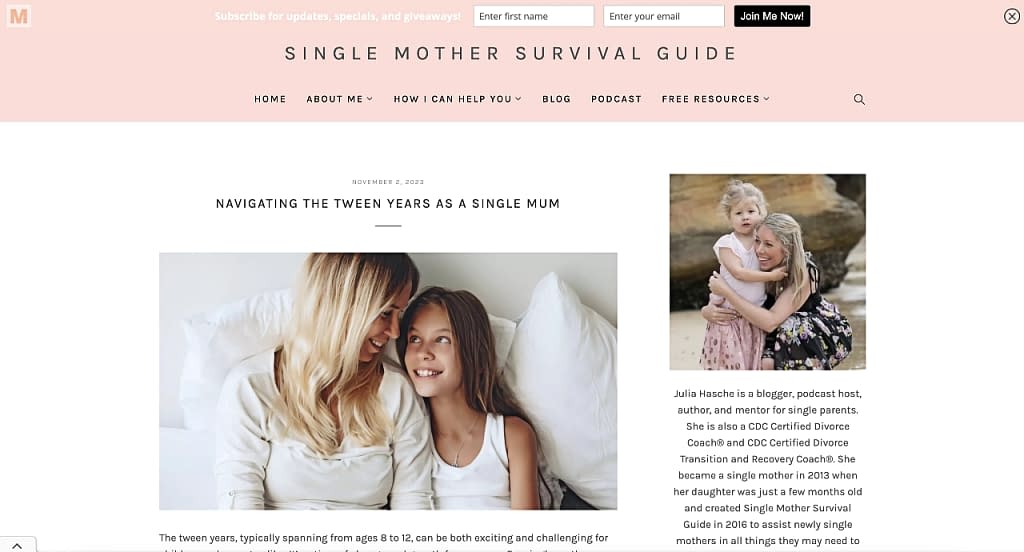 Are you a single mom?
Then you should consider following the Single Mother Survival Guide blog.
The blog gives single mothers the inspiration, motivation, and ideas to help them celebrate singleness and become rock-star parents. It covers subjects like single moms and homework, inspiring celebrity single mothers, and childcare subsidies.
Why it's superb for parenting ideas 💡
Most average parenting blogs focus solely on the written word. But A-lister blogs, like the Single Mother Survival Guide, also have podcasts for auditory learners.
Apart from tackling parenting as a single mom, it also touches on other relevant subjects, e.g., co-parenting, mompreneurship, self-care, health and wellness, DIY, etc. If you want one-on-one guidance, the blog offers a coaching program.
9. Single Dads Guide To Life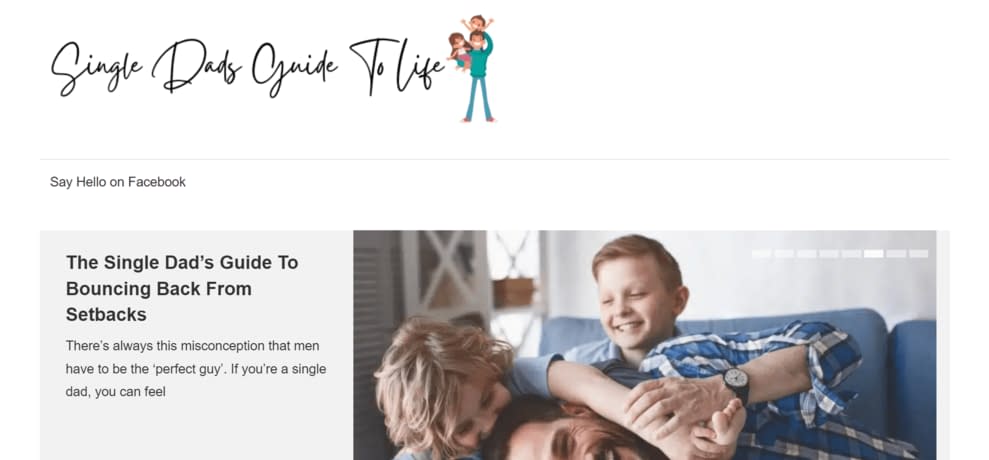 There are limited parenting blogs for single dads, so if you find a good one, follow it.
Single Dads Guide To Life is a magnificent blog worthy of a follow.
It entails parenting, relationships, education, lifestyle, and travel advice for single dads. Some high-quality posts on the blog include How To Raise A Resilient Child, Fun Father-Daughter Bonding Activities, and Tips For Successful Camping With Kids.
Why it's superb for parenting ideas 💡
Its varied post types make the Single Dads Guide To Life blog remarkable.
The blog's post types include lists, common mistakes, how-to articles, reviews, step-by-step guides, and frequently asked questions (FAQ). Its easygoing writing style also deserves commendation, as it makes it easy for readers to connect with the blog.
10. Mommy Labor Nurse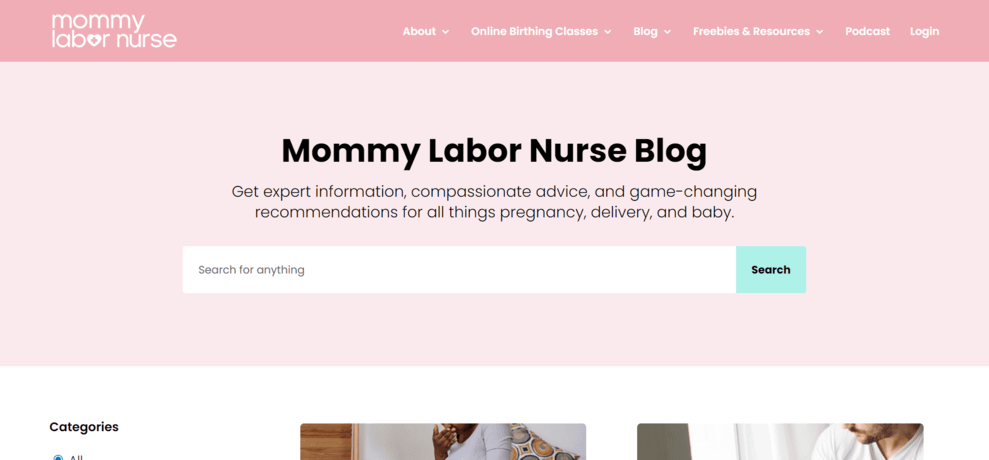 Mommy Labor Nurse is a blog for expecting and new parents.
Liesel Teen, a labor and delivery nurse and mom of two, runs the blog. Mommy Labor Nurse has been featured on Forbes, Healthline, Scary Mommy, Newsweek, The Bump, and Motherly.
It's the go-to blog for modern, transformative advice for all things pregnancy, delivery, and baby. It's all there, from labor and delivery, C-section birth, natural birth, breastfeeding, newborn care, and more.
Why it's superb for parenting ideas 💡
Mommy Labor Nurse is distinct from other parenting blogs because of its loaded free resources.
The blog's valuable freebies include birth preparation workshops, weekly pregnancy emails, trimester prep packs, and prenatal care workshops. Another star feature of this website is the product recommendations page, where Liesel endorses her favorite products. You can get value for your money by taking advantage of the discount coupons on most products.
Best parenting blogs wrap up 🏆
That wraps up our top parenting blogs to follow in 2023 and beyond.
We trust the above blogs will inspire you on your parenting journey. 🧑‍🍼
Whether you are a parenting couple, a single parent, an aspiring mom or dad, a blended family, or any other kind of parent looking for a blog with a vibrant community of supportive parents, we hope you'll find a couple of blogs that suit your needs. Once you've identified blogs that are a great fit, follow them right away. They'll help you sharpen your parenting skills and become a top-level parent.
If you are thinking of starting your own parenting blog, read our blog launch checklist to ensure you don't miss any crucial steps.
Was this article helpful?
No
Thanks for your feedback!