Amazon FBA 2024 – Predictions & Trends for the Future Ahead
2023 was another big year for ecommerce and Amazon. More and more, we're seeing sellers come to Amazon with big ambitions, even as consumers have tightened spending to address concerns around recession. Despite this, Amazon remains the top retailer of choice for consumers in the U.S. (51% of online shoppers in the U.S. start their searches from Amazon in late 2023) and is undoubtedly heading into another big year where a lot can happen.  
A year ago, we predicted what would change in 2023 for Amazon sellers — particularly those who use Fulfillment by Amazon (FBA). We're back for another round, this time for 2024. 
Let's look to the future and make new predictions for how running an FBA business will differ in 2024. 
Amazon FBA Predictions for 2024
1. AI will be integrated at every level of ecommerce, and those not leveraging it will be at a significant disadvantage
Since late November 2022, AI has surged to the forefront of social consciousness with the release of ChatGPT and OpenAI. Since then, it has become a huge part of many ecommerce tools — including our own — and continues to appear in new, innovative ways across many industries. Greg Mercer, the CEO and founder of Jungle Scout, has been observing this trend all year, and thinks it's about to take off in a bigger way than we've seen so far. "AI will transition from providing 'weather reports' to more sophisticated, proactive insights," he notes. "It will be able to identify the highest-impact things a business should be working on, and offer recommendations on how to improve them."
Stephen Curial, Jungle Scout's Chief Technology Officer and Amazon veteran, agrees. "It's going to enter every aspect of ecommerce. From customers looking to make purchase decisions to sellers looking to get an advantage on the competition."
Ecommerce expert and Amazon seller Jake Zaratsian agrees: "AI is maturing so rapidly that soon the main benefit won't only be 'time saving.' It's becoming advanced enough to fully understand an entrepreneur's specific business, and help them make impactful decisions. AI will become your new CEO, CFO, and CMO."
It's not just for sellers either. Mike Scheschuk, President of Small & Medium Business at Jungle Scout, believes that ecommerce will get even more personalized, because AI-powered recommendations will be everywhere in 2024.
We already know that using AI streamlines ecommerce businesses and frees up time for sellers to get more done. Those who are unable or unwilling to adopt AI for their online businesses in 2024 will be at a significant disadvantage against businesses that do. 
2. Written how-to content will become significantly more prevalent in ecommerce
One of the advantages AI offers users is the ability to quickly write effective copy. Jungle Scout already allows users to take advantage of this feature in Listing Builder, which enables AI to write entire product listings based on keyword data in seconds. 

This significantly lowers the barrier to entry for writing how-to content. With unlimited prompts to coordinate with, sellers can take full advantage of any AI chatbot's ability to write paragraphs instantly to create elaborate how-to content for a product or idea in their market. 
More than this, ecommerce platforms will be able to increasingly use AI to analyze customer data and provide highly personalized shopping experiences. This could include tailored product recommendations, content, and special offers based on individual preferences and behavior. Personalized how-to content is invaluable for anyone offering products or services across a wide market, and AI will make it significantly easier to create in 2024.
3. Augmented and virtual reality will play a bigger role in ecommerce
It's not just AI that is pushing the boundaries of what technology can do in 2024. Virtual and augmented reality are two trends we predicted would have a strong impact on ecommerce in 2023, and we believe this will continue into 2024 as well. Already, 40% of U.S. consumers find augmented reality helpful when shopping online, and 34% say these tools make them more likely to make online purchases.
This also highlights an important recurring theme in our predictions for 2024, stated best by Greg Mercer:
"The companies that are able to utilize cutting-edge technologies the best will have a larger advantage over those who are not."
Scheschuk believes that this will include augmented reality, both in new and familiar ways. "Augmented and virtual reality will become more prevalent," he claims, "allowing you to see what new clothes or new furniture would look like in a simulated scenario." Arming consumers with this level of information and personalization creates a stronger shopping experience, so it makes a lot of sense for businesses to invest in this technology now.
4. AI chatbots will increasingly work with customers to handle routine issues
We anticipate that customer service is going to benefit significantly from AI in 2024, as it is increasingly capable of handling routine customer service issues. Already, many companies are integrating AI chatbots to be a customer's first point of contact. Jungle Scout's own AI Assist Chat is a great example of this. We expect this phenomenon to spread very quickly in the new year.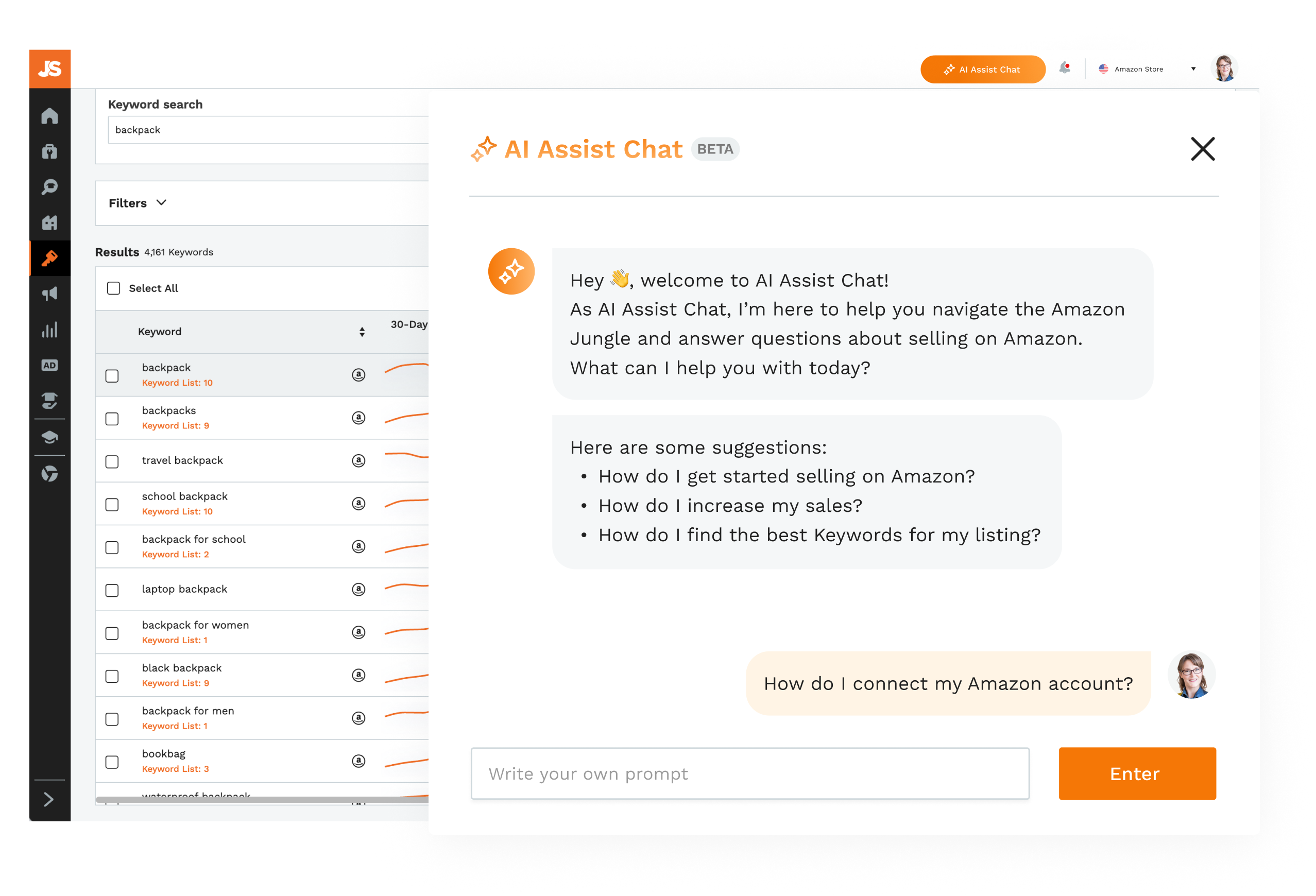 In particular, Scheschuk sees AI chatbots as being a big part of the future of customer service. "Customer support will get streamlined," he notes, "with AI chatbots taking over most routine CS issues." 
5. Social media platforms will further integrate ecommerce features
It seems like social media never quite stops rising, and 2024 will be no exception — but we expect to see ecommerce on social media expand significantly, as platforms like TikTok Shop and Facebook Marketplace compete to be the place consumers go to find unique and cool products. 
So social media platforms will likely further integrate ecommerce features, allowing users to discover and purchase products directly from their feeds. This may be bolstered by an increase in AI's role in image editing. Image generation with AI is already a thing, but in 2024, it will evolve into image generation for infographics, A+ Content, and even video. 
Curial agrees that AI is going to disrupt the way consumers find products online. "AI is going to make it easier to find what you are looking for." Amazon is already working on this one with an AI-powered search bar set to launch as early as January 2024, which will offer consumers improved, more personalized suggestions for their searches.
This also means that it's not just social media that will incorporate and enhance ecommerce features to make the buyer's journey easier. Amazon sellers and affiliates will need to be ready to adapt to sell on any and all platforms in 2024!
Here's to a successful 2024! 
I don't know what exactly will happen in 2024, but I'm confident in the predictions my fellow Amazon experts and I have made. All of us are excited to see what the new year — and Amazon — bring us, and we hope you are too! 
What are your predictions for selling on Amazon in 2024? Let us know in the comments below! Also, if you haven't done so already, make sure to join our exclusive Amazon FBA Competitive Edge Facebook group, where Amazon sellers can get advice from fellow entrepreneurs, including Jungle Scout's experts.