Amazon Seller Holiday Prep Guide: Preparing for the 2022 Holiday Season
And just like that, the holiday shopping rush is right around the corner. From Halloween to New Year's (including Thanksgiving, Black Friday, Cyber Monday, Hanukkah, Christmas, Kwanzaa, Boxing Day, etc.), consumers are online, buying gifts, and spending more money than at any other time of the year. The holidays can be a windfall for ecommerce sellers. So is your Amazon business prepared? 
At the time of writing, you only have just over four months to be sure you are fully prepared for the surge of gift-hunting customers – so you still have plenty of time to work on launching a new product or to order more inventory for your current products.
2023 Holiday Peak FBA Fulfillment Fee Update: Amazon announced in Seller Central that there will be a Holiday Peak Fulfillment Fee for Fulfillment by Amazon orders from October 15, 2023, to January 14, 2024. Please check out our FBA fees article to learn more about the fee increase.
On Wednesday, November 16, we hosted a webinar to learn tactics you can use NOW to ensure your Amazon business is set up for success this holiday season. Watch it here!
1. Optimize your listings 
To prepare for the increased traffic on Amazon during Q4 and the holidays, a critical step to take is to ensure all of your listings are optimized for search and conversions — especially for holiday-related terms. You want customers to find your listings, but you also want them to convert. 
Here's what you can do to prepare your listings:
Update your images

. Add some holiday-themed images to your listing, such as photos of your product with a festive background, or lifestyle shots in a special setting. 

Conduct market research. One way to do this is by A/B testng different images to see which ones customers prefer. If you are

Brand Registered

, you can use Amazon's "Manage Your Experiments" tool to split test your main image, bullet points, description, and title. 

Conduct fresh keyword research. Use

Keyword Scout

to ensure you're not missing any important search terms. The tool will show you the 30 and 90-day search trend of each keyword.Look for keywords that are currently trending upward and include them in your listing if you haven't already. 
Leverage tools to build better listings. Use

Listing Builder

AI Assist

 to optimize your listing with recommended keywords. Import your keyword lists from Keyword Scout and let the tool help you identify easy-to-rank keywords to include in your product listing. 

Use Brand Analytics. If you are enrolled in Brand Registry, you can use the Brand Analytics tool to see which keywords your product or a competitor's product ranked for during a specific time period during the shopping season last year. Try out some high-performing keywords on this year's listings. 
Add a product video

to your listing. Did you know that all sellers can add a video to their listing, even if they aren't brand registered? Create and edit a simple video on your phone for free or hire a videographer/editor to create a video for you. Check out

Fiverr.com

to hire a professional to help. 

 Add holiday-related keywords throughout your listing. You can also use backend search terms such as "gift," "last minute gift," "gifts for ___," "Christmas," "Hanukkah," and so on. 

Pack your listings with all relevant details. Make sure your listing is filled with as much information as possible, so potential buyers don't leave with questions. For example, if you are selling clothing, make sure to include proper sizing details and measurements, so there is no confusion. 
If your listings are already the best you think they can be, simply add holiday-related keywords throughout your listing to ensure you take advantage of increased search volume and gift shoppers. 
Deadline: Work on this step as soon as possible to be sure your listing is ready for Black Friday and Cyber Monday.
2. Adjust your PPC campaigns and overall budgets
To account for the large increase in traffic Amazon will experience over the next few weeks, it's a good idea to adjust your PPC campaign budgets and keyword bids,  so you can be sure your ads are always running. A rise in customer traffic also causes PPC ads to become more competitive, meaning you'll also need to increase your keyword bids. 
The holiday traffic will likely cause an increase in clicks, which means you'll go through your daily budget faster than usual. If your ads are currently running profitably, you should consider increasing your daily budget to account for the expected increase. If you notice that you're going through your daily budget before the day is over, increase it incrementally until you find a good number to keep your ads running.
Use Advertising Analytics 
Advertising Analytics is a comprehensive tool within the Jungle Scout suite that aggregates Seller Central and Campaign Manager data to help sellers evaluate PPC success. 
This is especially important during this time of year so you can always be aware of your PPC campaigns' performance and profitability. 

Figure out your target ACoS and RoAS
Understand what your breakeven RoAS and ACoS are to keep an eye on how your campaigns perform during the shopping season. You'll likely be spending more per click during this time of year, so know your numbers before your ads become unprofitable. 
Increase your keyword bids
As more sellers start to advertise products during the holiday season, your current keyword bids will likely not cut it. Depending on your products, it may be worth increasing your keyword bids to ensure you receive as many impressions as possible. 
Instead of manually changing the bids for each one of the keywords you're targeting, you can change your bidding strategy in Seller Central's Campaign Manager. By choosing "Dynamic bids – up and down," you allow Amazon to automatically adjust your keyword bids by up to 100% when your ads will more likely convert into a sale. If Amazon does not think your ad will convert, they will lower your bid. 

Test different ad strategies 
If you are enrolled in Brand Registry, you can access many different ad types that other sellers can't. Test various ad types during this time of year — the ones you don't typically use may now work better for you. 
The more ad placements you can land on Amazon (and even off-Amazon) during Q4, the better. 
Sponsored Brands ads

allow you to create a customized shopping experience on Amazon and avoid the throng of competitor ads. Once customers click on your ad, they'll be taken to your

Amazon Storefront

or a custom landing page, where they can learn more about your products and brand. 

Sponsored Display ads

allow you to target a competitor's products by placing your ad on their listings. On top of that, sellers can retarget customers who have previously visited your listings in the past but did not make a purchase. This gives you a huge leg up on the competition who are not brand registered. 

Sponsored Brands Video ads

allow brands to post video ads within the search results on Amazon! When your customer is faced with so many options to choose from, these eye-catching ads help to break up the search results and grab your customer's attention. 

Target holiday keywords
Target new keywords in your campaigns that will more than likely be searched for during the holiday season. Anything gift- or holiday-related would be a good idea to target. 
For example, if you are selling a woven basket, you could connect it to a Thanksgiving theme. You could target keywords such as "Thanksgiving decor," "Thanksgiving holiday basket," and so on. 
Deadline: If you sell Halloween products, start making adjustments to your campaigns now. Otherwise, late October/early November is fine for the rest of the shopping season.
3. Increase your reviews 
Do everything you can to increase the review count on all of your product listings. This one may seem obvious but the more you can add now, the more it will help you during the holiday rush. 
As Amazon sellers, we're all aware how important and powerful product reviews are to your business. Here are some things you can do to grow your reviews. 
Use Jungle Scout's Review Automation tool
Review Automation makes it extremely easy for sellers to automatically request reviews from their customers — while being 100% Amazon TOS compliant. Simply turn the feature on, and it will begin sending Amazon-generated review requests to your customers. 
While you can manually request reviews in Seller Central, Review Automation automates the process so you don't even have to think about it. If you receive lots of orders per day, this will save you hours of time.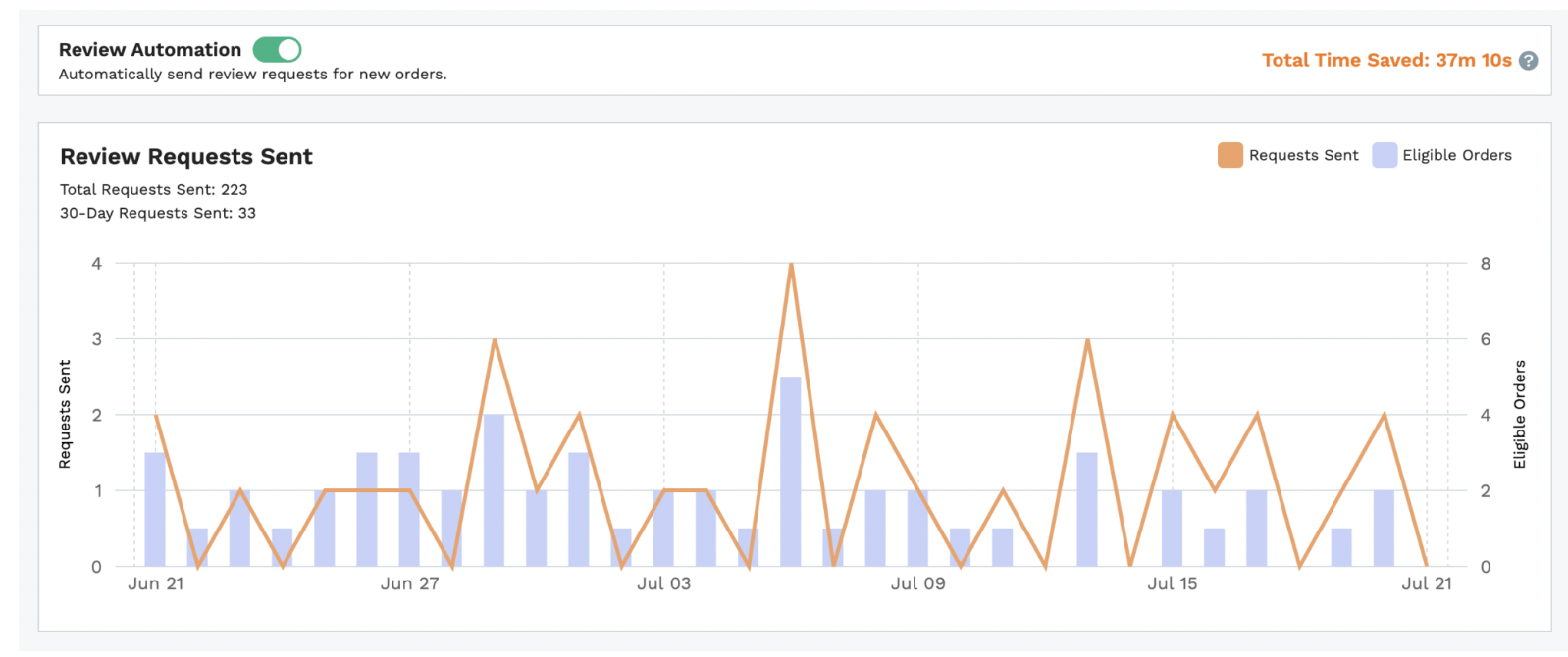 Want to learn more about Review Automation? Check out our article "How to Earn More Amazon Reviews with Review Automation."
Amazon Vine Program
If you have a brand enrolled in Brand Registry, you can take advantage of this opportunity to generate reviews from Amazon's best reviewers. Amazon Vine is a product review program created by Amazon to ensure customers are reading honest and unbiased reviews. 
Reviewers will receive your product for free in exchange for a product review. Now to be clear, this does not guarantee you will receive a product review. In fact, Vine reviewers are typically pretty critical of the products they receive. But if you are confident in your product, enroll in the program. 
There is a $200 enrollment fee

Your product must have fewer than 30 reviews

You must give away each product for free
4. Create holiday deals
Whether you are brand registered or not, you have the ability to create deals and coupons within Seller Central. Running deals can be an engaging way to boost sales on Amazon when you offer customers a discount on their purchases, especially during big events such as Prime Day or Black Friday. 
To create a deal in Seller Central, go to the Advertising tab and click on "Deals." Then click on "Create a new deal."
Amazon will list the deals your products are eligible for along with the deal price, discount per unit, and deal fee. Keep in mind though that if you want to run a deal on Amazon, they will charge you a fee. For a 7-day deal, the cost is $300 and for a lightning deal, the cost is $150. During a big event or holiday, the deal fee may be more than that. If the costs make sense for you, test the deals out. 
Create a coupon 
Sellers can also create a "clippable" coupon that customers can see on your listing. If you create a coupon for your product, it will be visible from the search results page so customers can immediately see that they will receive a discount if they purchase your product.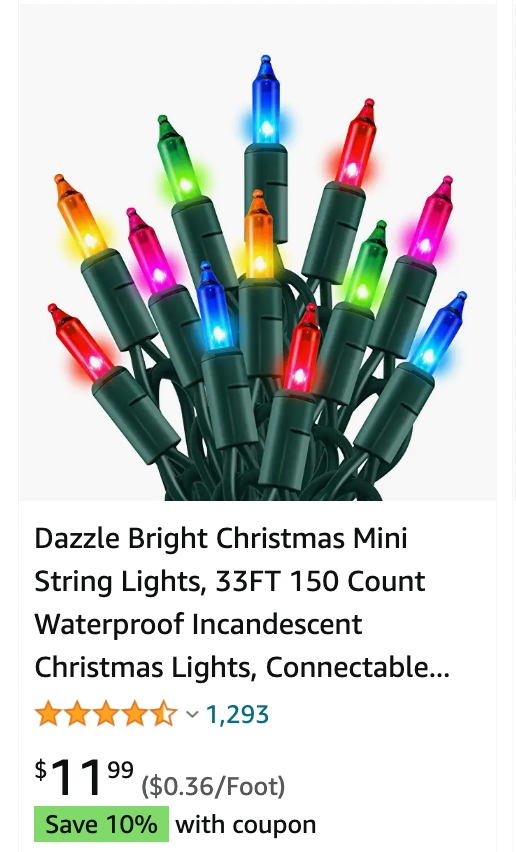 To create a coupon, go to the Advertising tab and click on "Coupons." Then click on "Create a new coupon."
You can choose to offer a percentage discount or a price discount. Keep in mind that there is a $100 minimum budget for running a coupon and that budget will be shared with the discount you are offering plus a $0.60 redemption fee for every discount redemption.
Deadline: Create deals a couple of weeks before a big shopping event or holiday.
Prime Exclusive Discount
With this type of deal, you can offer an exclusive discount just for Amazon Prime members. Products with a Prime Exclusive Discount will show a discounted price with the regular price crossed out along with how much they're saving in the search results.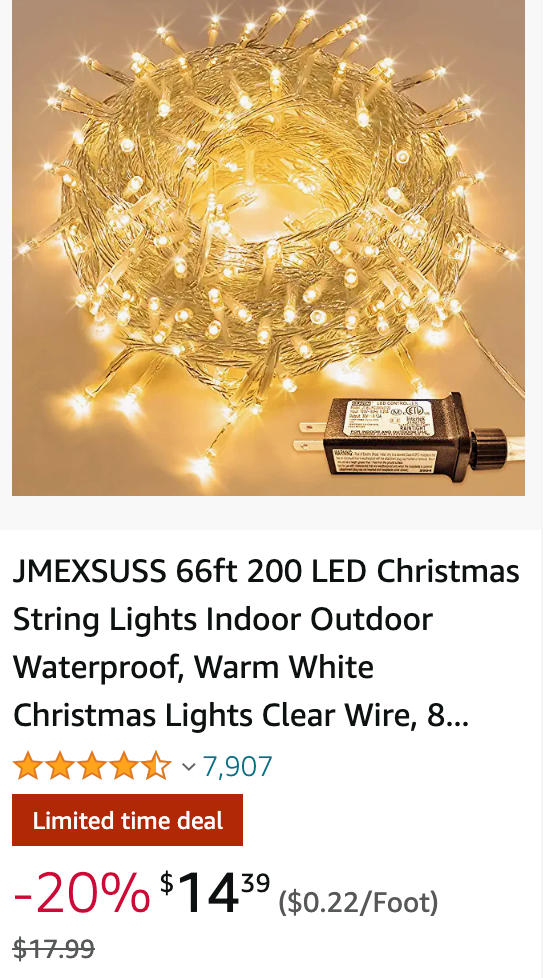 During this time of year, try to always have some kind of deal or discount running to entice customers to purchase from you and not your competitors.
5. Anticipate potential Amazon delays
If you've been selling on Amazon for a while, you know how backed up Amazon fulfillment centers can get — especially as we near the end of the year. The longer you wait to send products to inventory, the more you can expect delays in shipments to Amazon.
"To stay in stock during holiday deal events, we recommend that your FBA inventory arrives at US fulfillment centers by the following dates:

Prime Fall Deal Event: September 12Black Friday and Cyber Monday: October 26"
As of August 2023, Amazon has not yet annouced when inventory should arrive for Christmas, but for Christmas 2022, Amazon wanted inventory to arrive by December 1st, so expect the same for 2023.
More recommendations from Amazon: 
"​​As you prepare your shipments, be sure to take the following actions:

Request more capacity with Capacity Manager. Review your capacity limits in the Capacity Monitor to understand how much inventory you can send to and store with Amazon during holiday deal events. If you need additional capacity for products that are expected to be popular with customers, you can request limit increases via Capacity Manager.

Plan your shipment ahead of time.: Allow ample time for supplier lead times, carrier lead times, or both. It may take longer to ship inventory to fulfillment centers during the busy holiday season."
We also suggest creating an FBM offer (Fulfilled by Merchant) on your listing so you can still fulfill orders if your inventory experiences delays at an FBA fulfillment center. This will work well if you have the space and ability to ship from your warehouse or home office. You can also utilize a third-party fulfillment center.
Shipping items via FBM is a clever way to compete with competitors who may run out of stock. This is especially true if you are eligible for Seller-Fulfilled Prime. You will still have the Prime badge even if you fulfill the orders yourself. 
Yet if there is enough demand for your product, the Prime badge will not matter during the holiday season — customers will still order products as long as they receive them on time.
6. Understand the financial health of your business
Ensuring that your business is running profitability during this time of year (or any time of year) is extremely important — especially if you are running more promotions and spending more on PPC.
Using a tool such as Sales Analytics will help you fully understand each and every cost associated with your Amazon business. Think of it as your financial command center. 
Sales Analytics organizes and tracks all your Amazon sales data (including PPC spend) in real time so you can focus on strategies to increase your sales and profitability. 
Sales Analytics provides useful metrics so you can easily track each individual product performance and overall company performance.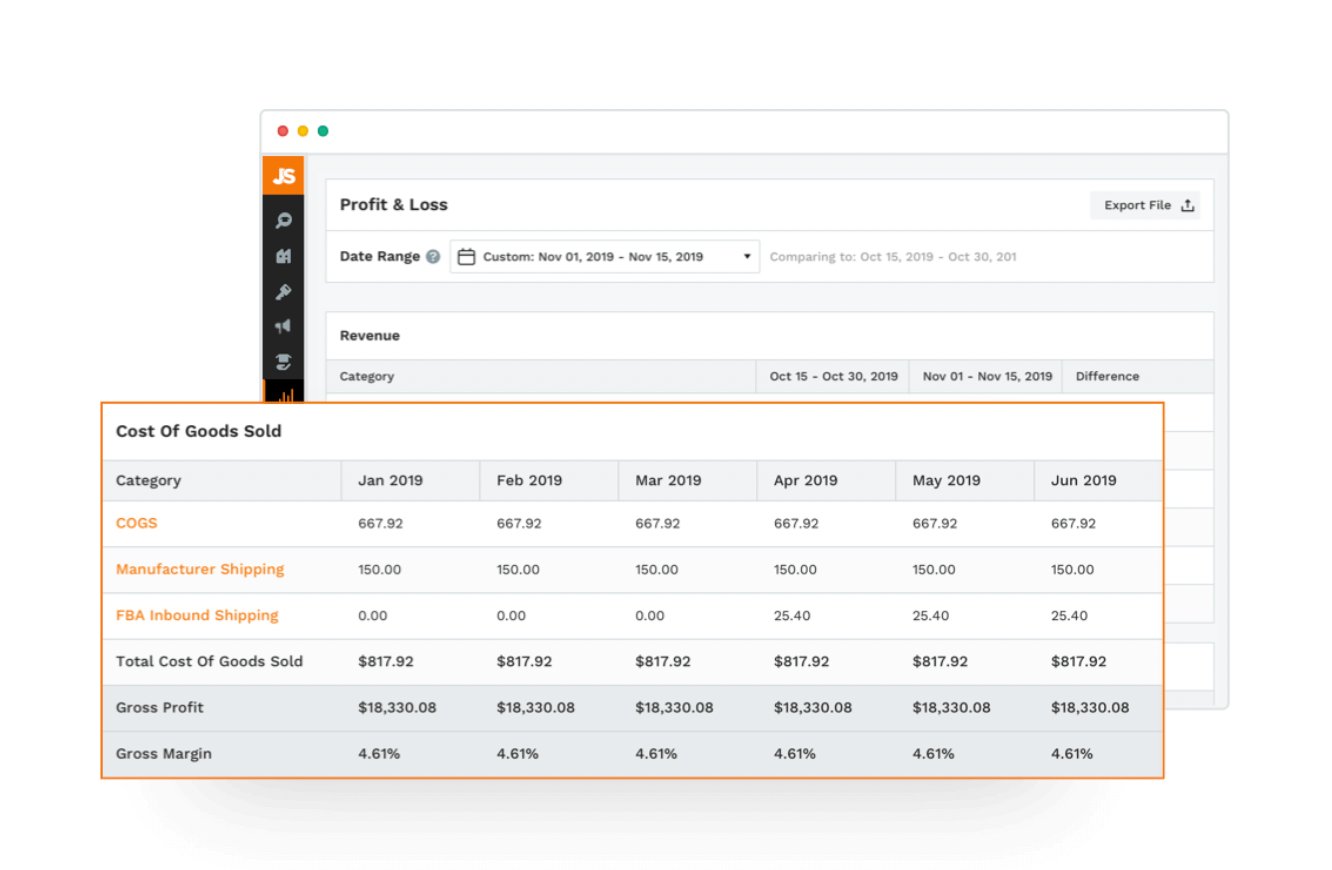 7. Prepare for holiday returns
One downside of Amazon sales is the inevitable product returns. It's just a part of doing business. While many sellers can expect December to be their best sales month of the year, January is usually the busiest for returned items. 
In 2022, Amazon offered an Extended Holiday Return Policy for any orders placed between October 11 and December 25, 2022 are returnable until January 31, 2023 – so expect the same for the 2023 season.
Get ready for a successful holiday season
If you stay proactive and properly prepare for the weeks ahead, you will be well on your way to success. Use the data readily available to you within your own Seller account and from Jungle Scout to accurately predict sales volume for the upcoming shopping season. 
Want to learn more about selling on Amazon? Check out our complete guide.
We hope you gain value out of this step-by-step guide. If you have any more questions, feel free to drop a comment below!