How to Sell on Amazon
Did you know that anyone can sell products on Amazon.com? Whether you are a Fortune 500 company or a single-member operation selling products out of your apartment, you have a chance to reach millions of customers by selling on Amazon. 
This is still true in Q1 of 2023. While the competition has been heating up for quite some time, Amazon is still a massive market with plenty of opportunities for new sellers to earn some money. 
Q1 is the perfect time of year for new or experienced ecommerce sellers to launch products on Amazon as consumers begin shopping for the new year.
Think of specific occasions you can offer products for, such as Mother's and Father's Day, and other gifts and items for the summer months — the profitable possibilities are endless.
Becoming an Amazon seller is not as difficult as you might think. Let's go over the steps for selling products on Amazon. 
The basics of selling on Amazon
If you want to start selling products on Amazon, you should set up your Amazon seller account — even if you don't yet know what you want to sell.
The reasoning behind this is the verification process can take a couple of weeks once Amazon receives your information. As Amazon verifies your account, you can jump into the fun stuff — product research, sourcing products, and contacting suppliers! 
Once Seller Central approves your account, you can list products whenever you are ready. If you are not prepared to sell anything yet, you can set up your account as an individual seller account. Let's jump into that now.
Individual vs. Professional Amazon seller accounts
Amazon has two seller plan options when creating an account: individual or professional. The individual account is free, and the professional account is $39.99 per month. 
Individual account
No monthly cost

$0.99 per-item fee per sale

Not eligible for the

Buy Box

Not eligible for Amazon Advertising

No access to

seller reports

Cannot set shipping rates for seller-fulfilled orders
Professional account
$39.99 per month

Access to Amazon Advertising tools such as

Sponsored Product ads

Access to business reports to evaluate how your business is performing

Ability to connect your Amazon account with tools such as Jungle Scout through

MWS keys

Eligible for the Buy Box

Add users to your account
If you plan to sell more than 40 items per month and want access to the Buy Box and Amazon Advertising, we recommend signing up for the professional seller plan. If you have the individual plan and sell more than 40 items per month, the $0.99 per-item fee will cost you more than the professional plan. 
While you conduct your product research and determine what you want to sell on Amazon, sign up for the individual plan and upgrade to the professional plan when you are ready to go live.
Now that you know the difference between the two seller plans, let's go over the different ways to sell products on Amazon. 
Amazon business models
There is more than one way to sell products on Amazon. You can create your brand or resell other brands' products.
Here are the different types of Amazon business models:
Private Label

: Creating your unique product and brand

Wholesale

: Buying products in bulk directly from a brand or distributors to resell on Amazon

Retail Arbitrage

: Buying discounted products at other retailers such as Walmart and reselling them on Amazon 

Online Arbitrage

: Buying discounted products from online retailers and reselling them on Amazon

Dropshipping

: Have a supplier or manufacturer fulfill Amazon orders on your behalf without purchasing products in bulk

Handmade

: Creating/crafting your products to sell on Amazon
In this article, we'll focus on creating and launching your own private label product. 
Amazon fulfillment methods
You have two options for fulfillment: fulfillment by Amazon (FBA) or fulfillment by Merchant (FBM.) There's a big difference between the two:
Fulfillment by Amazon
Through FBA, Amazon handles everything from storage, picking, packing, shipping, and even customer service. When you use FBA, your products are automatically eligible for two-day Prime shipping, which means your products will display the "Prime" badge.
Fulfillment by Merchant
Through FBM, sellers manage their own storage, shipping, customer support, and order fulfillment, or use a third-party fulfillment center. Sellers can still offer 1- to 2-day shipping to their customers through Seller-Fulfilled Prime. 
What to sell on Amazon FBA
Now, onto the fun part: finding a product to sell! Take your time with this step, as it is crucial. If you rush through product research, you could end up with a product that no one wants to purchase. 
Here are some tips before doing product research:
Validate your idea with data

Take your time

Use a tool like Jungle Scout to easily sort through millions of products
Want to know which products would be a good fit for Q1? Check out our article on What to Sell on Amazon FBA in Q2 2023. 
READ MORE: Product Research 2023 Guide: How to Find Profitable Products
How to find a profitable, high-demand, low-competition product to sell on Amazon
To find a worthwhile product to sell on Amazon, you need to analyze candidates for profitability, demand, and competition. 
1. Profitability
Before selling any product, you need to be sure you will make a profit on each sale. To estimate this, we generally consider the rule of 3s: ⅓ of the sale goes to fees, ⅓ goes towards your landed costs and advertising, and the rest goes to you as profit. 
This rule isn't one-size-fits-all, but keep it in mind as a minimum when researching your product.
AMAZON SELLER COSTS
Landed costs
This includes the costs to produce, prep, and ship your products to an Amazon fulfillment center. 
Cost of goods

Inspection fees

Air or sea shipping costs

Taxes and duties
Amazon fees
If you want to sell on Amazon, you have to be familiar with all of the associated costs of selling with FBA. 
Referral fee.

 This fee is typically 15% of each sale and is Amazon's "commission."

Selling plan fee.

 Professional sellers will pay $39.99 per month, and individual sellers will pay a $0.99 per transaction fee (no monthly fee).

FBA fees.

 If you sell using FBA, you will be charged a per-product fulfillment fee that covers picking, packing, and shipping your orders. The FBA fee depends on the weight and dimension of your product.

Storage fees.

 If you store your products in an Amazon warehouse, Amazon will charge you monthly and long-term storage fees, depending on how long your inventory has been in storage.
Advertising costs
Most new private label sellers will need to advertise their products to get those initial sales needed.
REVENUE
To sell profitably on Amazon, you need to sell a product at a high enough price point to account for all the associated costs and fees. 
To allow for healthy profit margins, we recommend selling a product for $20-$70. Sell below $20, and the profit margins may be way too low after all the fees. Sell above $70, and customers may not be willing to pay so much for an unknown brand. 
Of course, this is just a general guideline, and you don't have to follow it to a T. Just make sure you factor in all the costs before making a decision. 
2. Demand
Are consumers actively searching for and purchasing this type of product on Amazon? Is there enough demand for you to launch a new product in this market? These are the questions you need to ask yourself when doing product research. If there is not enough demand for this product, you may not see the sales you were hoping for. 
3. Competition 
What's the competition like for similar products on Amazon? How many reviews do they have, and what are other customers saying about it? How do their listings look? Evaluating the competition is an integral part of product research to determine whether or not there is an opportunity for a new product in this market. 
The metrics we follow when evaluating competition are the number of competing products and the quality of their reviews. 
Next, we will use Jungle Scout to show you how to find a profitable, in-demand, and low-competition product to sell on Amazon.
RESEARCHING PRODUCTS
Using Jungle Scout's tools, we will show you how to find product ideas based on the metrics above. 
Using Jungle Scout's Product Database, we're going to use the many filters available to find an in-demand and low-competition product. 
You can use your own filters to find products that meet your criteria. 
Here are the filters we typically use: 
Price (for profitability).

 Aim for $20-70

Sales (for demand).

 Aim for at least 300 units per month (~10 sales per day)

Number of reviews (for competition).

 Of the top 10 products, we want to see an average of 500 reviews or fewer, and ideally 3 to 5 of them have fewer than 50 reviews

Rating.

 Find products with low star ratings, aiming for a maximum of 4 stars (these will allow you to improve products and beat the competition)

Listing Quality Score, or LQS.

 Find products with listings that have room for improvements, aiming for a maximum of 5 to 7 LQS
For this example, we chose the toys & games category to sort through but choose as many or as little as you'd like! 
Once you fill in your criteria, hit search. Here are some potential product ideas we can dig more into.

Other factors you'll want to evaluate should include:
Size and weight of the product (for standard, affordable shipping)

Ease of sourcing/manufacturing the product

Seasonality (ideally, your products will be in demand year-round)

Uniqueness (an existing brand does not dominate the market)
If you find a product that you may be interested in and what factors to investigate further, add it to Product Tracker. Product Tracker will show you historical sales over time, seasonality, units sold per day, price, inventory levels, and more. 
To learn more about researching products to sell on Amazon, check out this video on our YouTube channel!
Don't miss our guide, How to Sell on Amazon FBA for Beginners. Our experts put this together just for you — bookmark it, read it, and refer to it as your ultimate Amazon FBA resource! 
If you're interested in learning more about Jungle Scout's suite of tools, click the link below. 
How to source products for Amazon FBA
Once you've found a product to sell on Amazon, you need to begin your search for a reliable and trustworthy supplier.
This step can be a little intimidating if you've never done it before, so be patient. 
We'll walk you through 4 steps to finding reputable suppliers and getting your products to Amazon. 
1. Research suppliers 
There is a couple of ways to find manufacturers for nearly any product imaginable. 
Alibaba.com 
Alibaba is a business-to-business platform that connects retailers with suppliers and manufacturers. Simply search for the product you are looking for, and you will find many suppliers looking for your business.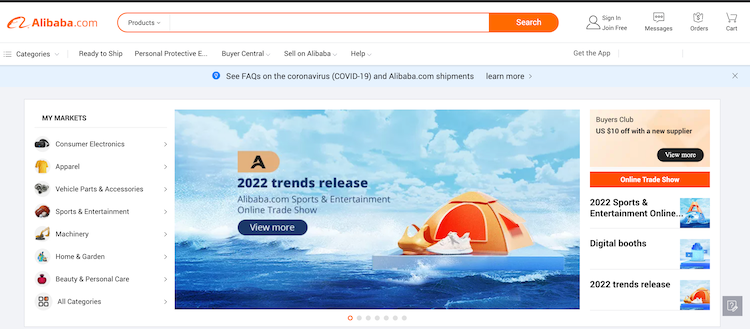 For a more in-depth guide on using Alibaba for your Amazon business, check out this guide: How to Buy on Alibaba and Sell on Amazon. 
Jungle Scout Supplier Database
The Jungle Scout Supplier Database allows you to search an extensive global database to find legitimate and verified suppliers for your products. You can search the database by product name, company name, supplier name, and ASIN.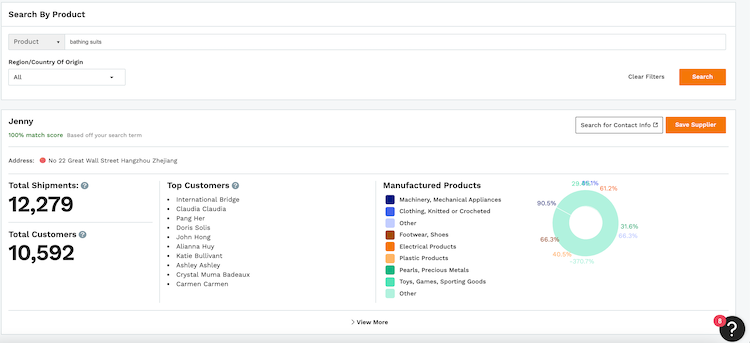 To learn more about using the Supplier Database, check out this YouTube video:
 READ MORE | How to Find a Supplier to Source Your Product
2. Contact suppliers
Create a list of 5-10 suppliers that you would be interested in working with and send out an initial email. Alibaba also has a simple request for quotation form you can fill out to receive a quote. 
We recommend sending a longer informative email so the supplier can answer all the questions you may have. 
Download our complete How to Sell on Amazon FBA Guide for an email template you can use when reaching out to suppliers. 
If you want to learn more about how to choose the right supplier, here's the video to watch:
Million Dollar Case Study S05: Episode 4 | Narrowing In… | Finding a Supplier
3. Order and evaluate product samples
After narrowing your options down to a couple of suppliers you'd like to work with, order samples from at least 3 to 5 suppliers to get an idea of who offers the best quality product. 
You should expect to pay $50-$150 per sample with express shipping. Once shipped, you can expect your samples within 1-2 weeks.
Carefully examine each sample to ensure they're up to your expectations and standards. We recommend ordering some of your competitors' products and comparing the samples to those already live on Amazon. If possible, choose a product that is superior to your competitors. 
Another important question to ask your supplier is if they can offer custom branded packaging. This extra addition to your product helps it stand out on Amazon and build some brand recognition.
4. Decide on a supplier and ship your products to Amazon
Chose a supplier and agreed on the price? Great! Now you can place a large bulk order and work on getting your products to Amazon. 
Some key steps in this process:
Choose a competitive price for your product

Establish pricing terms with your supplier and pay the invoice

Hire an inspection company to evaluate your products before they get to an Amazon warehouse 

Decide on shipping terms (we recommend working with a

freight forwarder

to simplify international shipping)
A freight forwarding company will help you through each step of the process, from getting your products from the supplier to the shipping port, receiving the products at the destination port, to getting your products shipped to an FBA fulfillment center. 
To learn more about ordering and shipping your product from a supplier, download our Amazon selling guide.
Want some tips on placing your first order with a supplier? Check out this informative clip: 
Creating your Amazon product listing
Now, it's time to create an optimized product detail page for your product. This section will go over everything you need to know to build the best listing in your niche. 
1. Purchase a UPC barcode
The first thing you should do is purchase a UPC barcode for your product. Amazon will not let you create a new listing without one (unless you apply for a GTIN exemption). 
When purchasing a UPC, only buy from GS1. Do not buy from just anywhere, as Amazon will not accept it. You can now purchase a single-use UPC or GTIN from GS1 for just $30. 
2. Create your listing in Seller Central
After purchasing a UPC, you can now create your listing in Amazon Seller Central. It's a simple process, and you do not need to have your copy written to create it. You can always go back and edit your listing. 
In Seller Central, navigate to the "Catalog" tab, then choose "Add Products."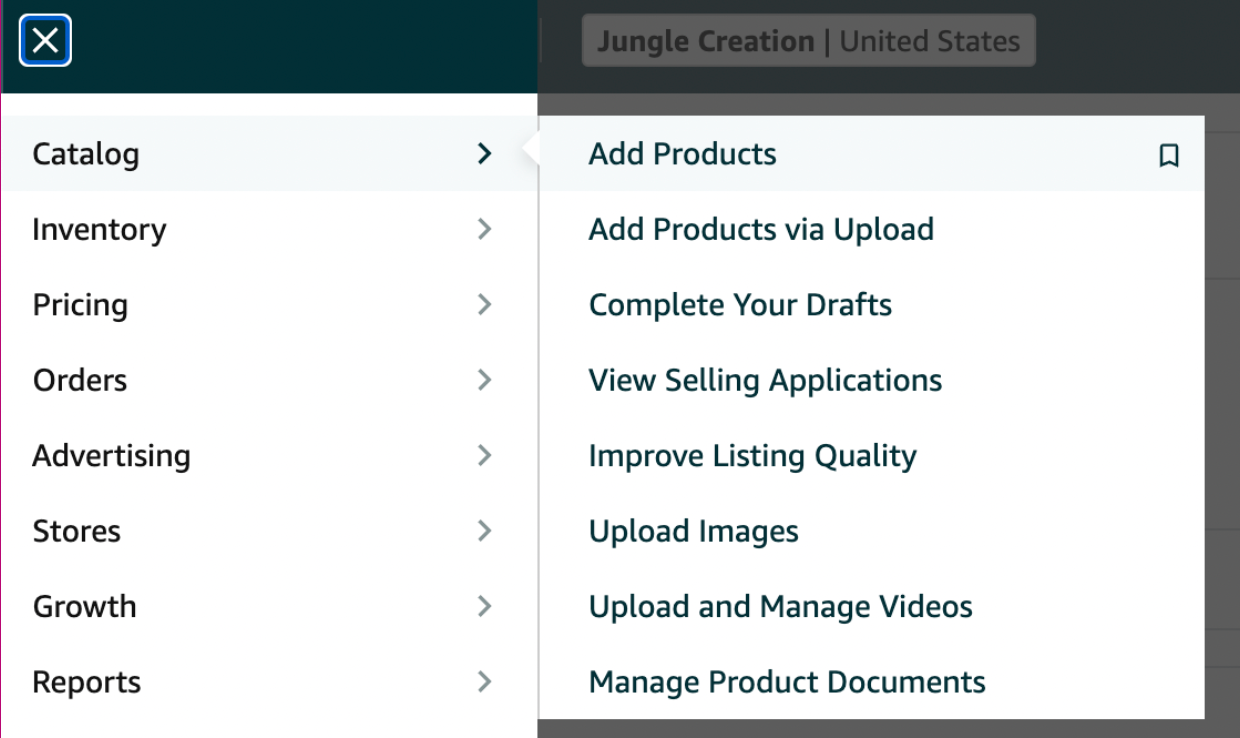 Choose "I'm adding a product not sold on Amazon." Then select the product category your product best fits in. 
Now you can fill in your product information, including your UPC, which you will enter in the Product ID section. Also, when filling out the "Brand name" section, make sure this name matches the brand name used in the GS1 database. 
If you do not have the title and description written yet, simply add placeholders, save the listing, and make edits later.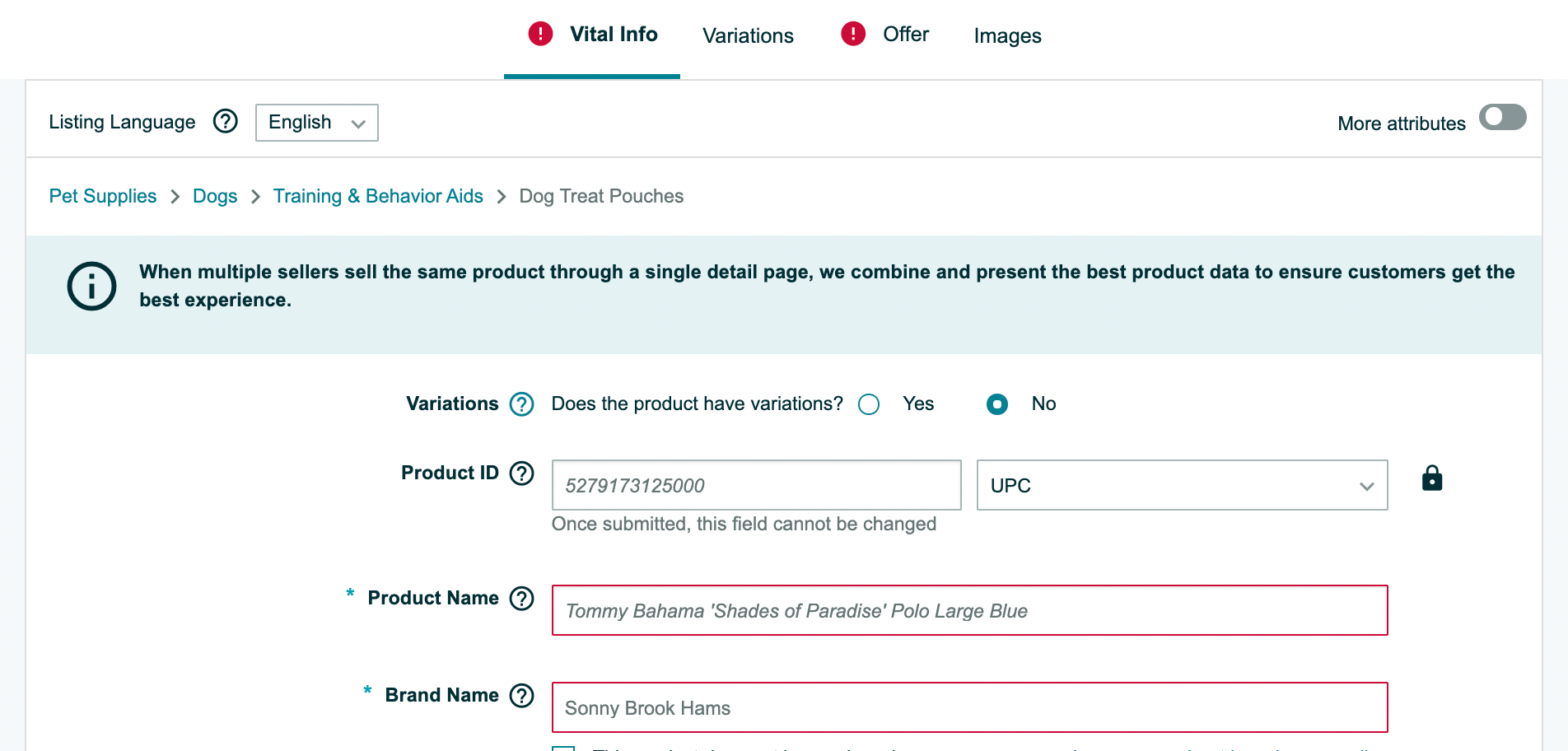 3. Keyword research
This is a vital step. Without relevant, high-volume keywords placed throughout your listing, customers will not be able to find your product in the search results. Come up with a list of keywords that you can use in your listing using Jungle Scout's Keyword Scout tool. 
You can use Keyword Scout by entering a keyword or competitor ASIN to determine which keywords they're ranking for.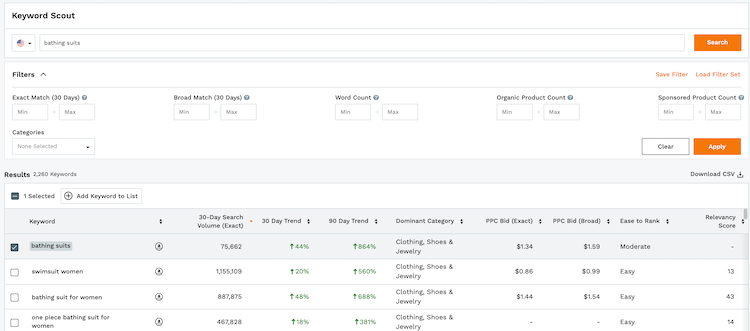 Create a list in Keyword Scout to keep track of keywords you want to use.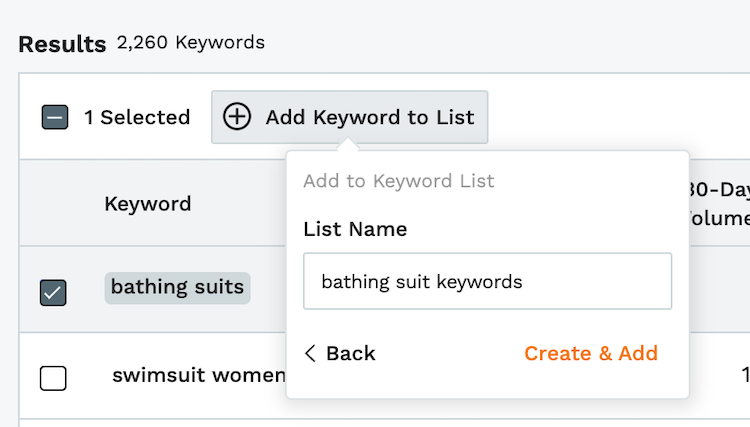 This video shows you all you need to know about keyword research:
Download the full How to Sell on Amazon guide for a more in-depth explanation. 
4. Draft your title, bullet points, and description
After doing keyword research, it is time to write the listing. If writing is not your strong suit or you want to be 100% sure your listing is optimized for search and conversions, we recommend hiring a professional Amazon listing copywriter.
Your title should include the top keywords most relevant to your product and have the highest search volume. The product title will hold the most weight in search performance but be sure you avoid stuffing it with keywords. 
Use the bullet points to inform your customers about the features and benefits of the product. It is best to get to the point here. You have a lot of space, so be sure to sprinkle in more high-volume keywords that you couldn't fit in your title. 
Use your description or A+ Content to reiterate what you mentioned within your bullet points. This is also an excellent place to include any keywords or information you could not fit within the title or bullet points. 
Keep in mind that the description section is shown before the bullet points on a mobile listing, so do not leave out any information! 
Want to learn more about creating an Amazon listing that sells? Check out this video!
READ MORE | Amazon Product Listing Optimization
5. Product images and video
Since customers are shopping online versus in person, they need to understand what the product is, what it does, and what it looks like. Having high-quality product photography, infographics, and videos will best showcase your product.
We recommend always using a professional photographer for your product images. Don't cheap out and try to do it yourself, as you'll want to outdo your competitors and display high-quality images.
Adding a product video is also a powerful way to get your message across to potential customers. 
Amazon product image tips:
Create lifestyle images that show your product in use

Produce

infographics

that explain product features and benefits

Include unique backgrounds that are specific to your product

Make sure your main image is on a pure white background

Your image should be at least 1000px by 500px to be zoomable
READ MORE | Amazon Product Images Requirements & Best Practices
How to launch a product on Amazon FBA
You chose your product, found a reputable supplier, and created your Amazon listing; now it's time to launch. Getting those initial sales is very important as it helps increase your Best Seller Rank and improve your organic keyword rankings. 
Three factors that affect your ranking include:
Well-stocked inventory.
If your product goes out of stock, your listing will no longer appear in search, causing a loss of sales and rank.
Relevance. The keywords used within and in the back end of your listing determine your products' relevance to a customer's search query. The more relevant keywords used throughout your listing, the better.
Customer success metrics. These are the metrics used to measure how well your product performs and how customers interact with your product on Amazon. These include click-through rates, add-to carts, purchases, and reviews.
How to start earning sales on a new Amazon product
When first launching your product, no one will be able to find it right away. A way to get the first few sales and have your product in front of customers is by using Amazon PPC ads. 
This allows you to target related keywords, so your product shows up at the top of the search results, even if it is brand new. 
There are three types of pay-per-click ads sellers can run on Amazon. Sponsored Products, Sponsored Brands, and Sponsored Display. 
If you are not enrolled in Brand Registry, you can only run Sponsored Products ads. This ad type shows up at the top and bottom of Amazon's search results page and in the product carousel on a competitor's product listing.
Learn more about how to create and optimize your Amazon PPC ads with this video:
You can also check out our Amazon PPC Strategies guide. 
How to earn more reviews on Amazon 
Reviews are a critical part of your success as an Amazon seller and significantly impact your conversion rate. Earning those initial reviews is one of the most challenging parts of launching a brand new product. 
How do you get reviews?
Use the "Request a Review" feature inside Amazon's order detail screen. Amazon will email your customer, asking them to leave a review within 30 days of purchase. 
Jungle Scout's
Review Automation
feature takes the simplicity a step further by allowing sellers to have review requests sent automatically to any and all eligible customers. It offers a built-in button that will automatically send Amazon's review request email out to up to 100 people at a time, eliminating the manual work for sellers who have large numbers of customers.
Participate in
Amazon's Vine Program
, which is comprised of a group of Amazon-verified reviewers who post their unbiased, honest opinions about products.
Want to learn more about Review Automation? This video walks you through how it works, and its benefits:
Is Amazon FBA still worth it?
While Amazon is more competitive than a few years ago, it is still worth your time and effort to build a sustainable business online. 
The demand for products on Amazon (and other ecommerce platforms) is at an all-time high. 62% of consumers start their product searches on Amazon, and with 54% of Amazon sales coming from third-party sellers, yeah, there's still a lot of money to be made. 
Do you want to learn why we think it is still worth selling on Amazon FBA? Check out this article: Is Selling on Amazon FBA Still Worth It?
How much do Amazon sellers make?
As you've discovered you can sell products online, I'm sure you've asked yourself, "How much can I make selling on Amazon?"
Let's look at some stats on what current sellers earn from selling on the platform. 
Amazon sellers see relatively higher profit margins compared to traditional brick-and-mortar businesses. 
73% of Amazon sellers achieve profit margins greater than 10%

35% of Amazon sellers earn at least a 20% profit margin

47% of Amazon sellers have seen lifetime profits over $100,000

46% of Amazon sellers are profitable within three months

New Amazon sellers earn nearly $30,000 in annual profits on average
Not bad, considering many new sellers start this venture as a side hustle!
Profit margin
Percentage of Amazon sellers
~1-5%
7%
6-10%
16%
11-15%
19%
16-20%
17%
21-25%
19%
26-50%
16%
51-100%
3%
Not currently profitable   
8%
Check out this article to learn more about how much sellers make and what it takes to sell on Amazon: How Much Money Do Amazon Sellers Make?
READ MORE: Jungle Scout's 2023 State of the Amazon Seller Report
Are you ready to sell on Amazon?
We hope this article gives you a better understanding of each step involved with launching new products on the biggest ecommerce marketplace in the world.
For a deeper dive into each section, download our How to Sell on Amazon for Beginners guide. Filled with expert advice and best practices, it's a comprehensive resource in a PDF, so you can save it on your device and keep it as a reference. 
(P.S. No one gives away this much information about selling on Amazon for free!)
Ready to jump in and become a seller? Check out Jungle Scout to access the industry's best Amazon selling tools.
How's your seller journey going? Got any questions about selling on Amazon? Let us know in the comments below!