Jungle Scout Changelog: Latest Additions and Updates
Want to know what Jungle Scout has been up to lately? Check out our Changelog, highlighting all of the new feature enhancements we've introduced over the past few weeks.
And stay tuned for more improvements at the beginning of each month!
Take full advantage of this month's updates with a Jungle Scout subscription, and begin selling on Amazon today!
October 2023
Product Updates
Opportunity Finder table improvements
Jungle Scout has updated the UI/UX of the table in Opportunity Finder, improving data visualization and allowing users to customize the columns they see and download to a CSV file.
Improved data visualization in Opportunity Finder:
Improved the slide-out interface to make it easier to instantly assess a potential category: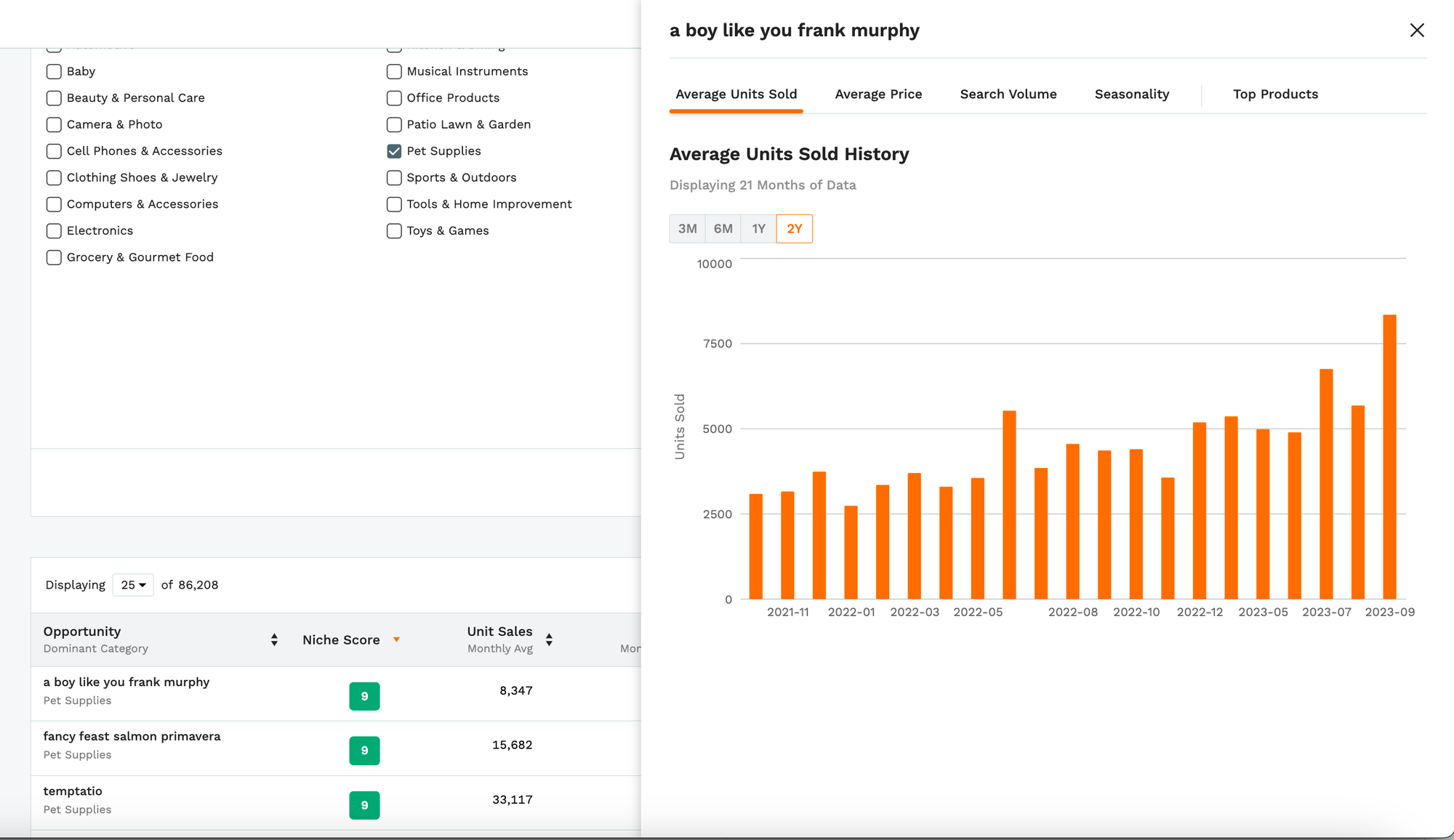 Added the ability to customize table columns in Opportunity Finder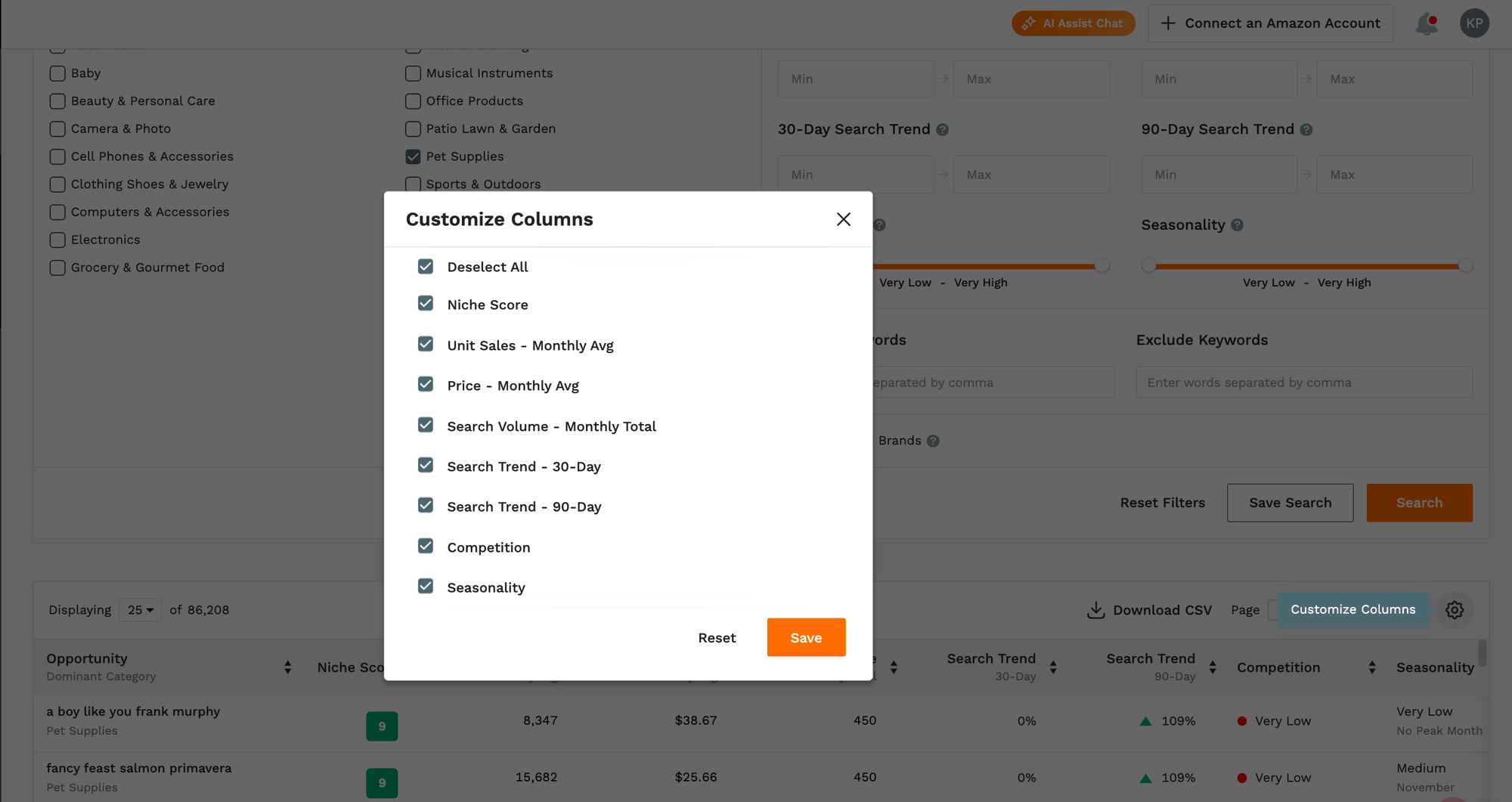 Product Tracker Heatmap
Jungle Scout has added a heatmap into the overview table in Product Tracker that highlights trends to users when they are evaluating their opportunities in Product Tracker. This will provide insights into the relative performance of the opportunities you are tracking. You'll be able to tell at a glance which of your product groups has the strongest potential no matter how many you're tracking.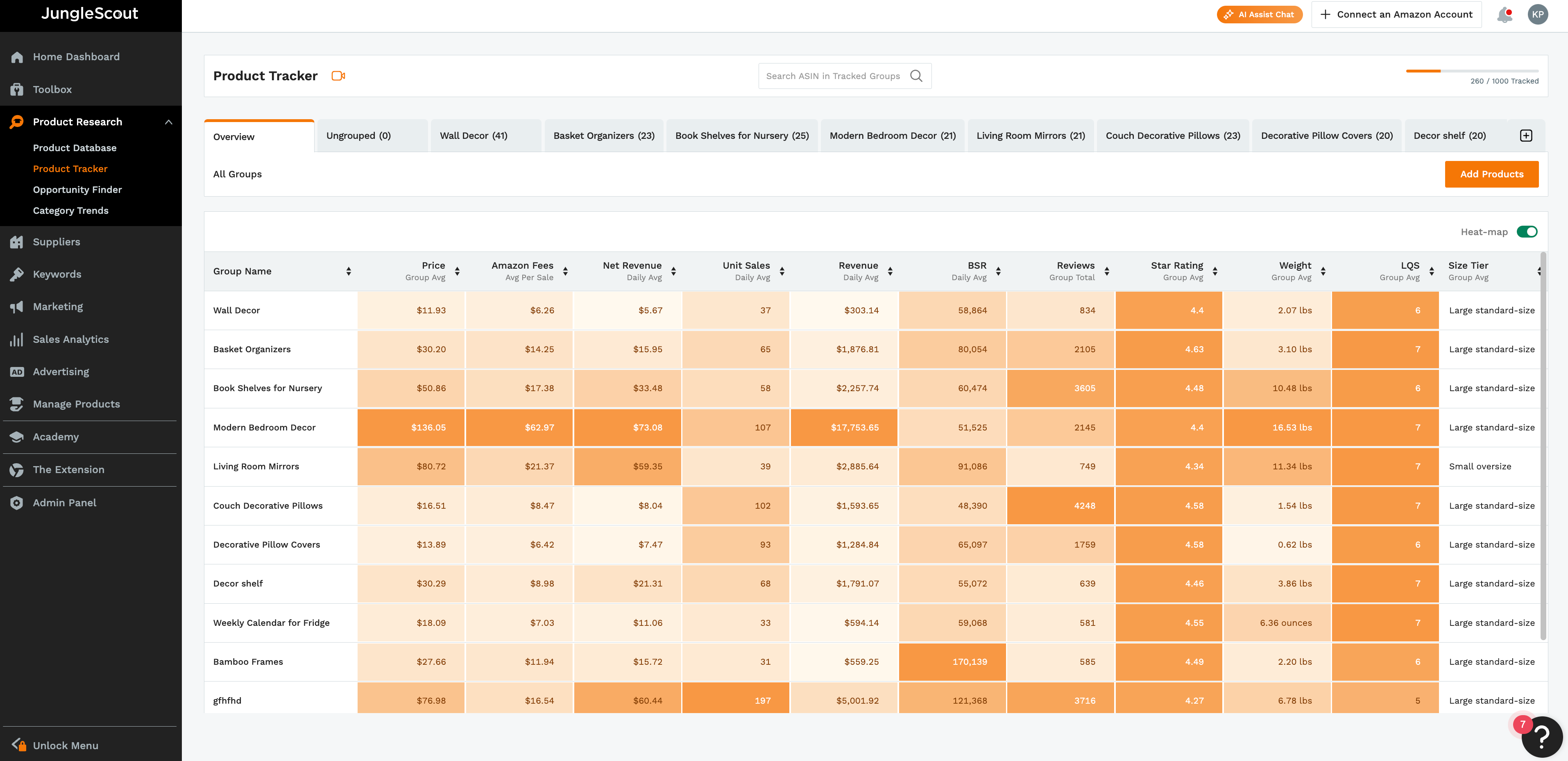 September 2023
Product Updates
AI Assist — Now in FOUR Jungle Scout tools!
Jungle Scout has expanded AI Assist, its powerful artificial intelligence solution that helps Amazon sellers automate tasks and uncover new, critical insights to grow their business. AI Assist, originally launched in Listing Builder, now powers three additional tools within Jungle Scout.
AI Assist for Review Analysis
AI Assist for Review Analysis analyzes the ratings and reviews of a product, identifies themes, and delivers instant insights including common positive and negative comments to help sellers understand what customers are saying about their products and how they can improve their offerings.
In fact, it can be used to analyze any ASIN, allowing Amazon sellers to further vet product ideas by assessing the reviews of any competitive or inspirational product to consider improvement opportunities or find a viable product to sell. 
How it works: AI Assist for Review Analysis examines an ASIN, presents an assessment of reviews and ratings of that product, and delivers a summarized analysis of the reviews, featuring: 
Common positive comments

Common negative comments

Suggestions for how to improve the product

An assessment of how the product compares to others in market

Recommendations for how you or a competitor could compete with the product

Other trends in the reviews
With Review Analysis, sellers can analyze product reviews at scale, automatically gathering reviews of any given ASIN with comprehensive and actionable takeaways for each.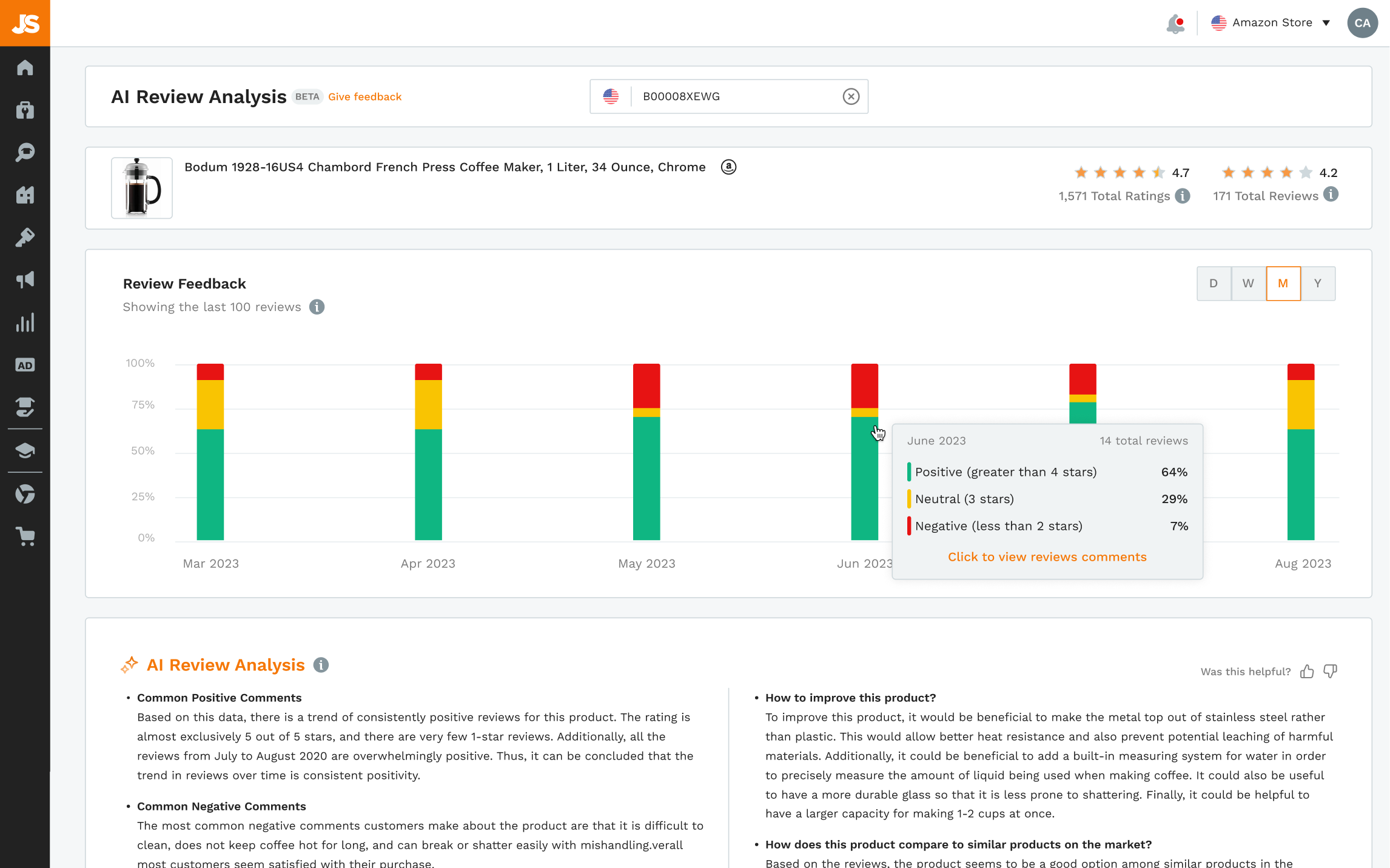 AI Assist for Profit Overview
AI Assist for Profit Overview uses AI to analyze the performance of your Amazon business and instantly deliver actionable insights to help improve your sales and profitability. It's like having your own AI-powered CFO, guiding you towards smart investments in your own Amazon business.
How it works: Within Jungle Scout's Sales Analytics feature, AI Assist connects to the Profit Overview tool to generate a report featuring key insights, trends, and actions a seller can take, all based on an analysis of the seller's own financial data, including: 
Net revenue 

Net profit

Net margin

Gross profit

Gross margin

Cost of goods sold (COGS)

Units sold

Order fees

Seller fees

PPC fees
Leveraging AI saves you time by sifting through enormous amounts of financial data and making sense of it, sharing the need-to-know information you can take action on.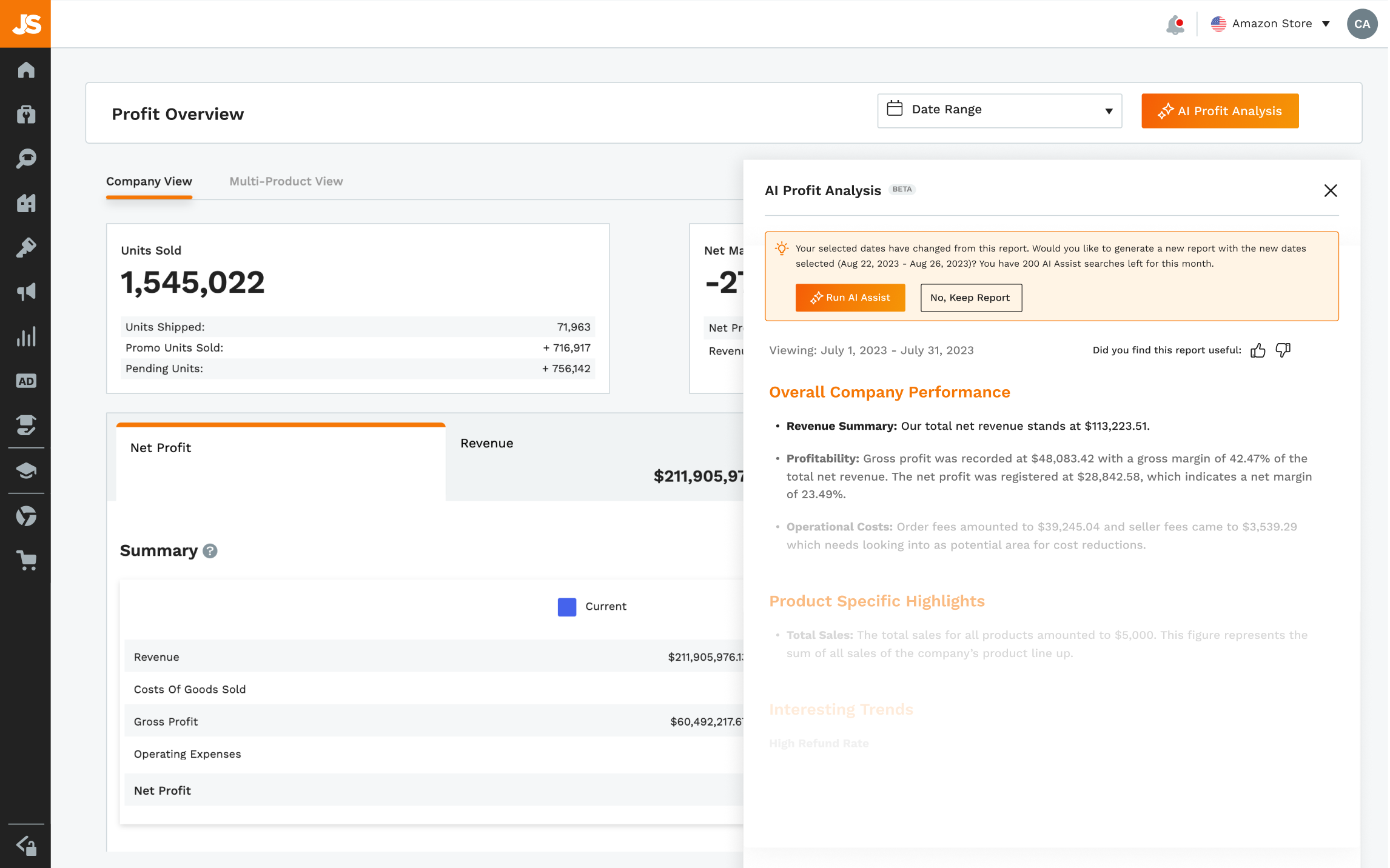 AI Assist Chat
AI Assist Chat gives Amazon sellers immediate, specific answers to their questions about selling on Amazon, growing their business, and more. AI Assist Chat sources from Jungle Scout's unmatched library of thousands of expert resources to help sellers keep their business moving — anytime or anywhere they need it. 
Plus, AI Assist Chat is continuing to evolve and help Amazon sellers answer questions about specific challenges or opportunities related to their own business. Stay tuned for more!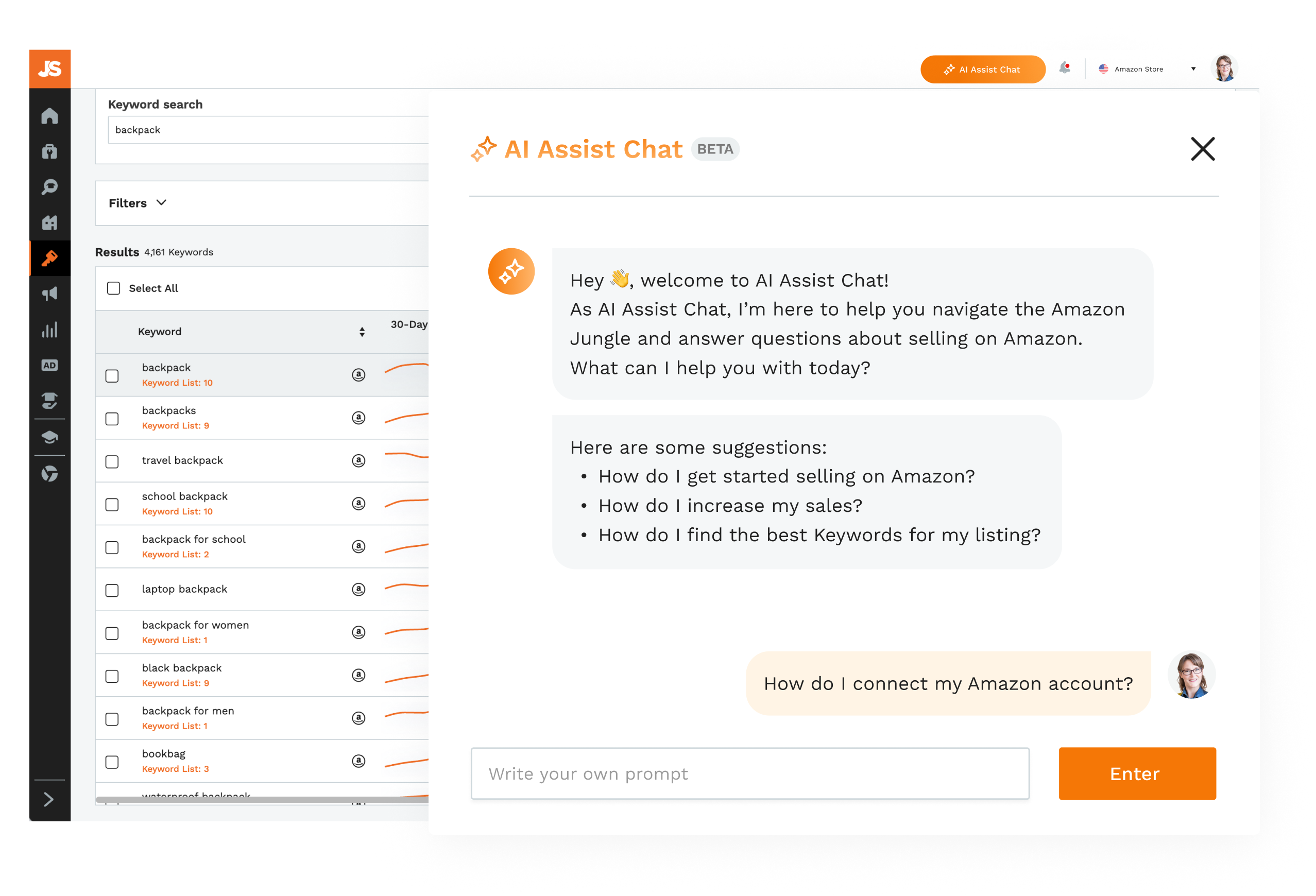 AI Assist is now available in four Jungle Scout tools to all Jungle Scout Pro and Suite subscribers. Learn more here!
August 2023
Product Updates
Product Database
We've revamped search filters in Product Database so you can use multiple presets to find the products that fit your goals. We've also made it so your presets are more prominently displayed by introducing highlighting to your selected presets.
In addition, we've added "Save Search" and "Load Saved Searches" buttons to make it easier for users to save and reload previous searches during product research.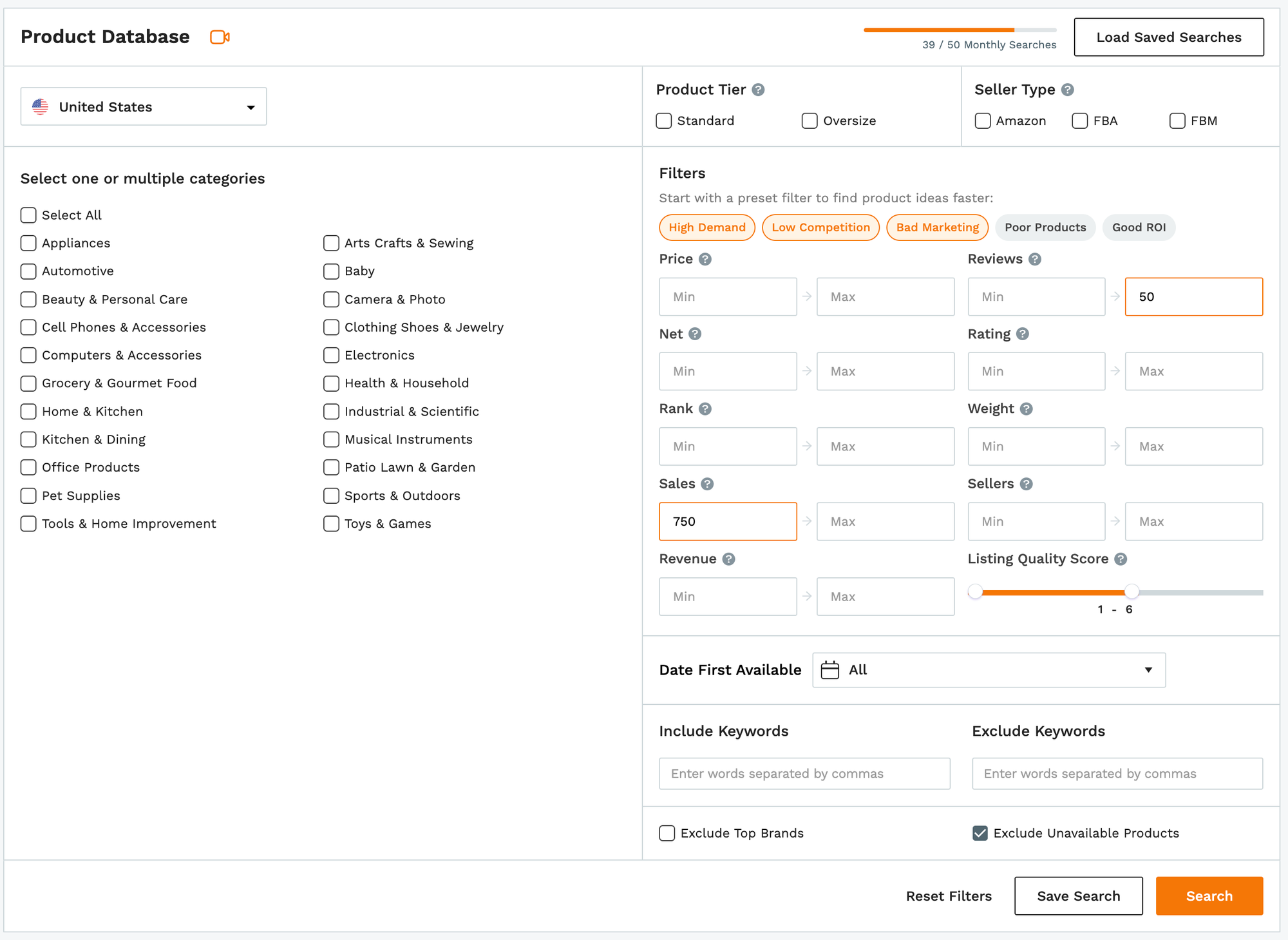 Amazon Emerald
Amazon Emerald allows Amazon sellers using Jungle Scout to see important data from the Jungle Scout app directly in Amazon Seller Central. These updates provide Amazon sellers with important information without ever leaving Seller Central. Updates may include includes weekly profit reports, review requests from Review Automation, and any urgent reminders from Jungle Scout. Users can click these notifications in Seller Central and quickly navigate to their Jungle Scout accounts for more information or to take action. 
Jungle Scout subscribers automatically have access to Amazon Emerald but need to ensure their Amazon Seller Central account is synced with Jungle Scout – or to reauthorize it if it's already synced. 
Learn more here.

April 2023
Product Updates
 Product Settings Page
Jungle Scout has simplified the process of configuring product-related information by combining the Product Cost and Product Settings pages into one page and making it easier to upload and update product information — all in one place.
All product-related settings now appear on a single page. The new Product Settings page combines the previous Product Cost and Product Settings pages to simplify your workflow.

A new slide-out panel allows you to edit an individual product's COGS and other settings — quickly, easily, and all in one place.

The new Product Settings page supports bulk operation, making it easy to update multiple products at once.
These changes make setting up and maintaining your Jungle Scout account more efficient, saving valuable time for sellers and businesses. With all your product settings in one place, updating important fields becomes much more manageable, allowing you to get the most accurate insights possible from Inventory Manager and Sales Analytics.
March 2023
Product Updates
AI Assist (BETA)
Jungle Scout has released the beta of AI Assist within Listing Builder. AI Assist is a powerful artificial intelligence integration that makes writing Amazon listings faster, easier, and more efficient than ever before. By simply clicking the new "AI Assist" button, Listing Builder generates copy using keywords from your own Keyword Bank and delivers a title, description, and features instantly. 
Start from a draft instead of a blank slate; reviewing AI-generated copy allows you to skip the tedious writing process, saving you time.

Let AI brainstorm for you, coming up with ideas for new benefits or details for your listing that might give you a competitive edge.

AI Assist writes in English, helping non-native English and ESL speakers hone their listings for English-language Amazon marketplaces, and saving potentially costly translation services.
AI Assist is a tool to accelerate the listing creation process. Make the most of it by remembering that a great listing starts with a great keyword list – so don't skip steps in the keyword research process! Once AI Assist delivers your listing draft, you can edit and refine as needed — or even click the "AI Assist" button again to view a new AI-generated listing draft. Check out the Lising Grader as you edit and make sure your listing is sufficiently long, includes relevant keywords, and most importantly – makes sense for your unique product and customer.
AI Assist is now available to Jungle Scout Pro plan users. Basic and Suite plan customers can join the waitlist if interested in AI Assist. Learn more here!
Keyword Scout
Keyword Scout just got better! With the addition of keyword insights, it's now easier than ever to understand whether the search volume for a given keyword phrase is truly trending up or down and to compare these trends to previous periods.
No more guessing whether a keyword phrase's search volume is actually increasing or whether it was more or less popular in the past than it is right now!
Basic users can now compare these trends to the previous week, Suite users can compare trends to the previous 4-week or 6-month period, and Professional users can compare trends to the previous 12-month period.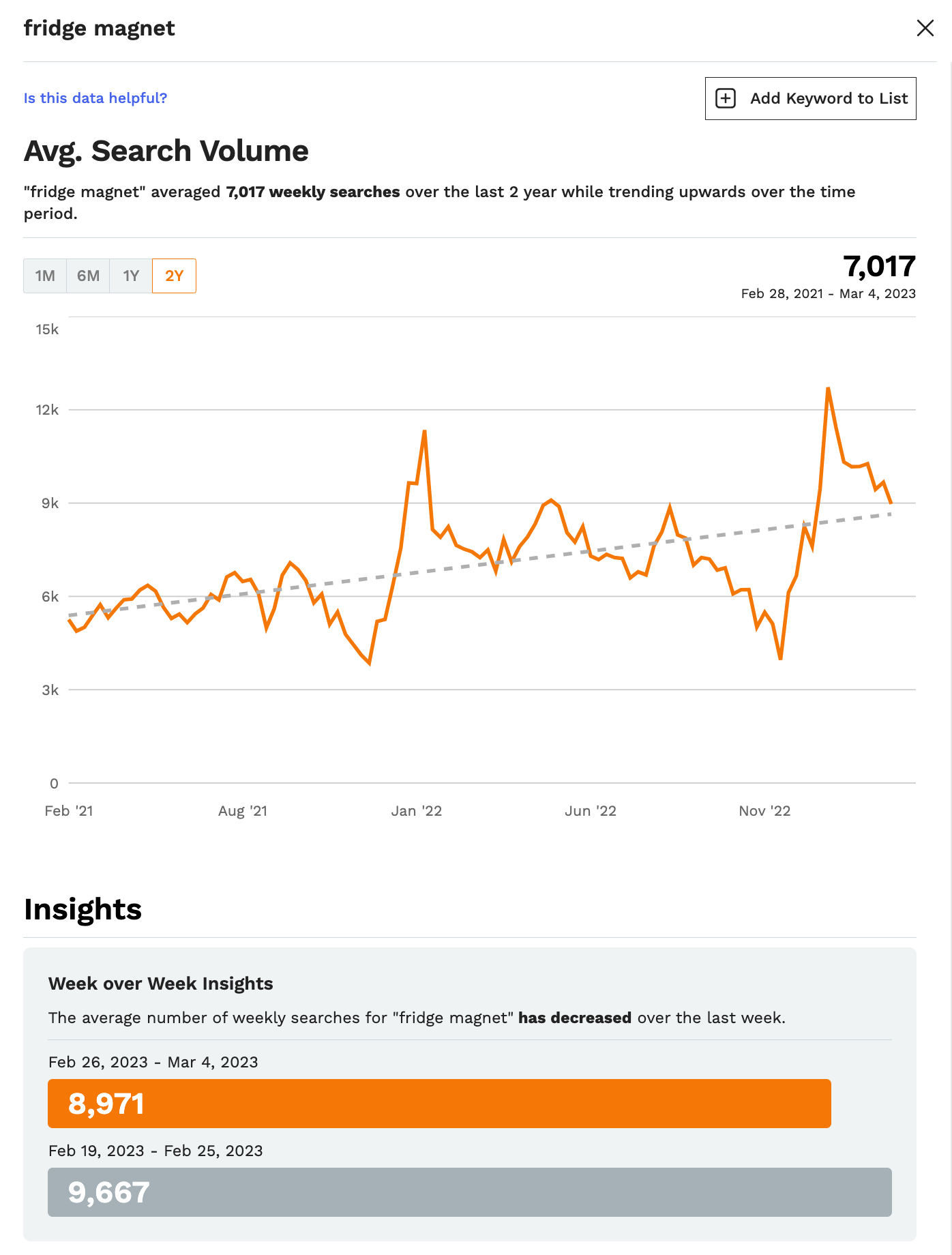 January 2023
Product Updates
Listing Builder
Jungle Scout's Listing Builder helps you create and optimize your listings for maximum visibility with the most relevant keywords. Check out our usability and intelligence enhancements including:
Auto-Save

– The new Listing Builder automatically saves your listing content so you won't lose your progress as you create your listing.
Keyword Bank

– Easily construct a keyword bank to store your keywords for listing creation and optimization. The keyword bank is more accessible and flexible than ever, helping highlight your highest-opportunity keywords, color-coding and underlining them for efficient and intuitive listing creation.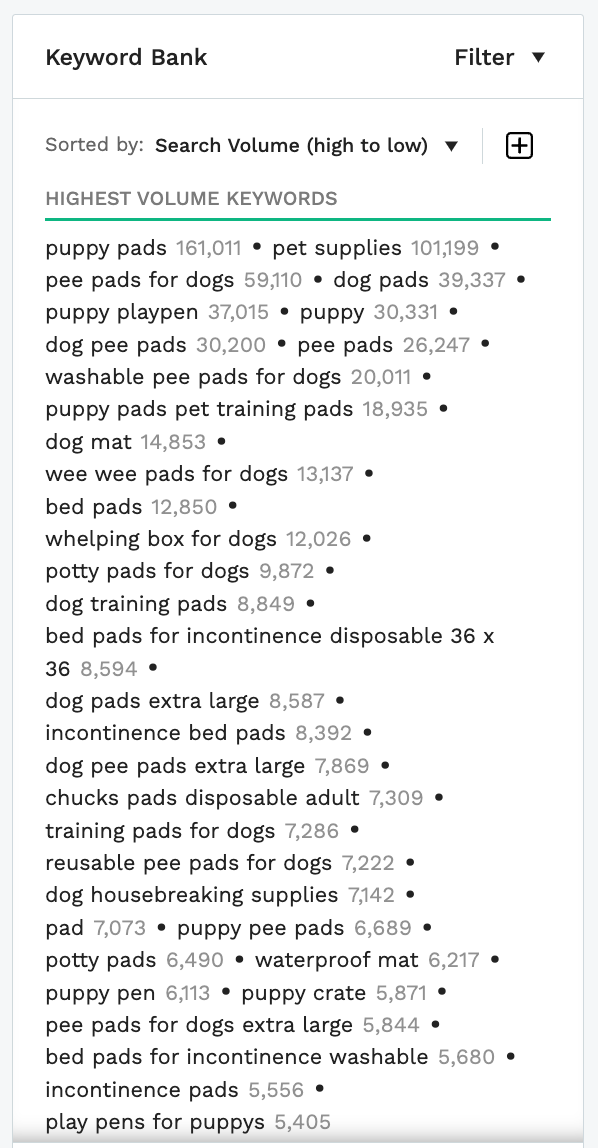 2-Step Creation

– Save time so you can focus on the quality of your listing by building your listing in just two straightforward steps.
November 2022
Product Updates
Extension
Jungle Scout's Extension for Chrome is faster, cleaner, and more customizable than ever! See what's new, including:
A new floating tab to scan eligible pages on Amazon and gain aggregate and historical sales data at a glance

Embedded widgets beneath search results and at the top of product listings that help sellers focus on the data that matters to them

The ability to select product listings in bulk to exclude from search results or to add to the Product Tracker

Advanced filters (similar to Product Database) for more refined results

Faster loading times to help you keep up with the competition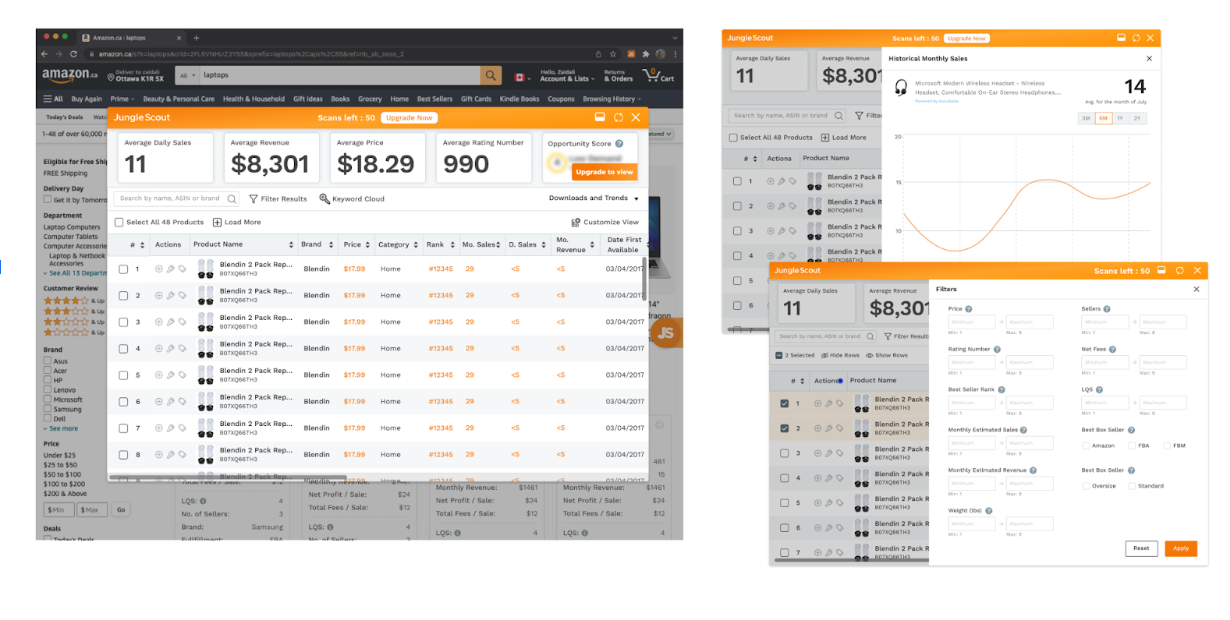 September 2022
Product Updates
Advertising Analytics
We've continued to improve Advertising Analytics since its launch earlier this year, and now it's better than ever! Advertising Analytics now supports Sponsored Brand Videos and Sponsored Display Data, allowing you to extract key insights for all of the ad types available in Campaign Manager.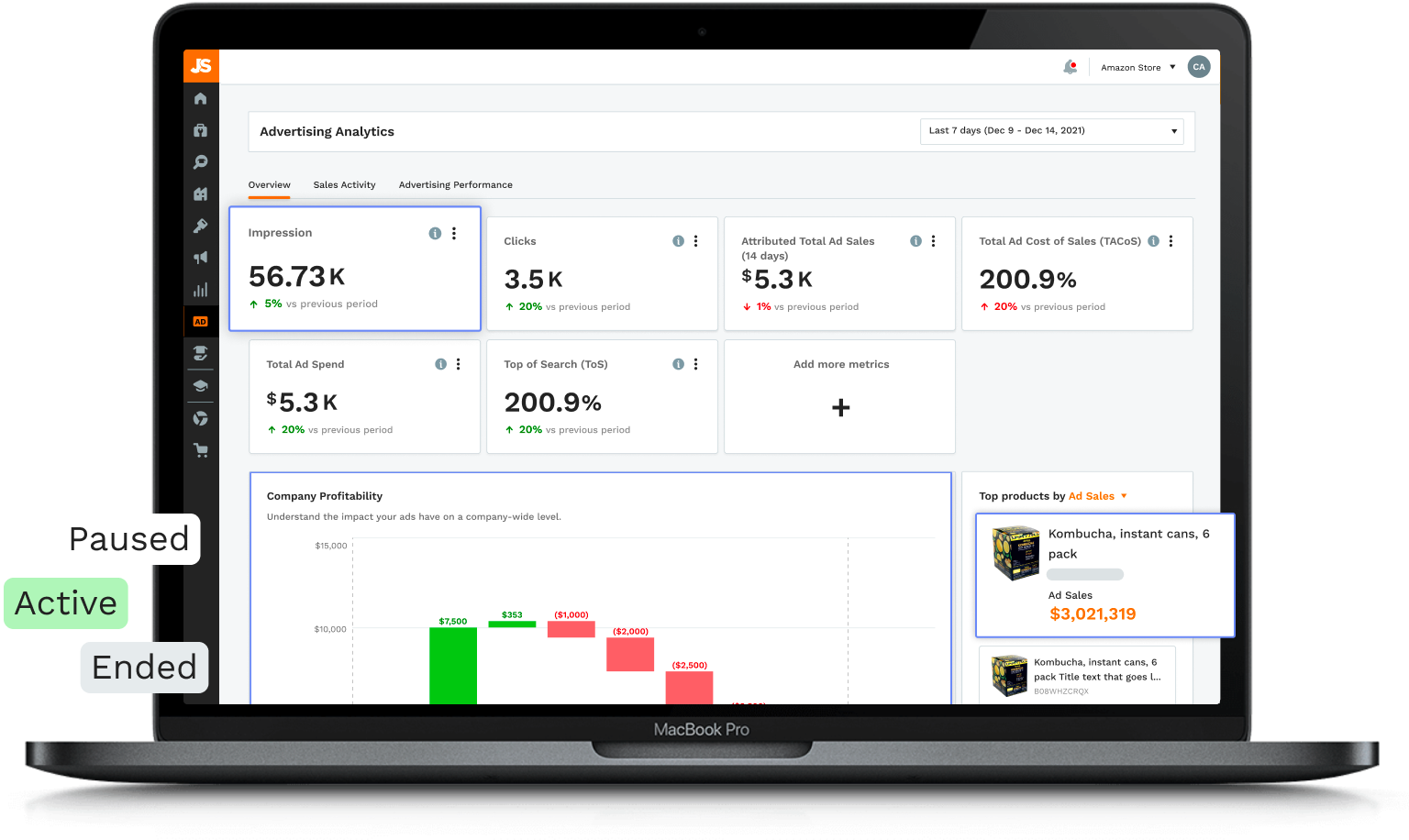 Webinars & Training
Advanced Product Research Strategy Live
This month, we explored Keyword Scout as part of a live webinar for advanced product research strategy. Learn how best to validate potential products to sell on Amazon in the latest episode of our Amazon Product Research LIVE! playlist!
August 2022
Product Updates
Keyword Scout

Keyword Scout is now better than ever at helping you find and use relevant, high-quality keywords and allowing to to see exactly what your competitors see. Build detailed keyword lists to streamline your research and view performance-over-time graphs for each keyword. Keyword Scout now features:
Advanced filters

including keyword include/exclude functionality, estimated PPC bid, organic and sponsored position, and more

Saved searches

(up to 10!) and search history

Keyword list enhancements

including the ability to save notes, see the number of keywords tracked in each list, and filtering and editing updates

Data additions

including 30-day trend, 90-day trend, and a mini-graph for instant visibility into keyword popularity over time

June 2022
Product Updates
Advertising Analytics Updates: Organize your Ad Metrics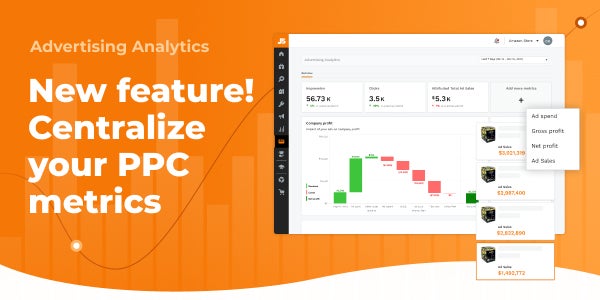 Analyze multiple campaign metrics on a single page with a clean, customizable interface. Advertising Analytics now allows you to toggle between multiple views, including top campaigns, product ads, and ad groups, and to pinpoint relevant keywords and search terms to integrate into your ads.
Webinars & Training
Advertising Analytics Webinar
Last month, we launched Advertising Analytics, allowing customers to extract key insights for your ads on Amazon. In this webinar, learn how to utilize Advertising Analytics to maximize the profitability of your ads using our new features!
May 2022
Product Updates
Advertising Analytics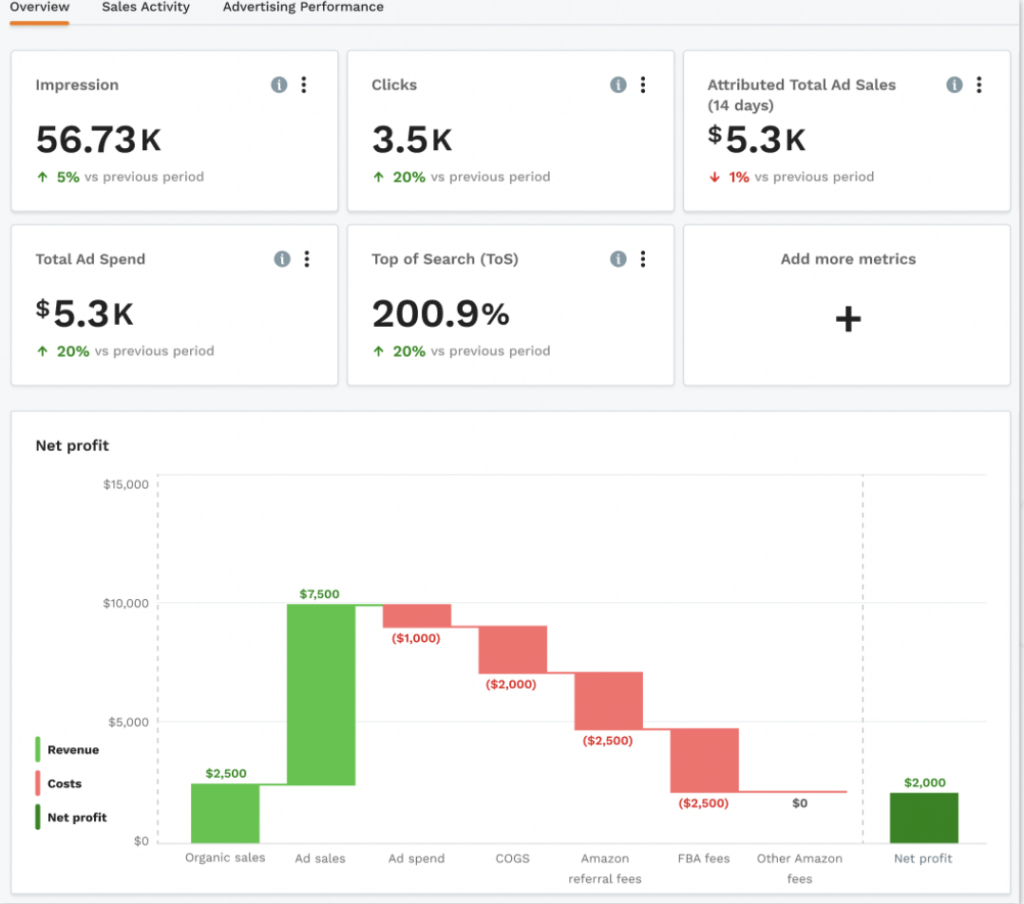 Extract key insights for your ads on Amazon with Jungle Scout's newest feature: Advertising Analytics. 
Centralize your ad and financial metrics to understand the performance of your PPC campaigns and how they impact your overall business and profitability.
See high-level PPC metrics with customizable widgets

View a detailed breakdown of your net profit, ad spend, ad sales, and more

Explore the ratio between organic and sponsored sales to balance ad spend

Identify top-performing products based on ad sales, ad spend, and more
This feature is available for Suite and Professional plans.
Webinars & Training
2021 Product Launch: A Year in Review
As a part of our annual Million Dollar Case Study, Jungle Scout launched a new product on Amazon in 2021. In this webinar, we take a look back on the journey and discuss what went well — and what we'd do differently. Plus, we'll share how we got to $180,000 in revenue and our plan for growing our business from here!
April 2022
Webinars & Training
Jungle Scout: Ecommerce Insights 
Jungle Scout is proud to introduce a brand new YouTube channel: Ecommerce Insights. This channel delivers exclusive content for enterprise brands and agencies. Excel in the ecommerce space and expand your knowledge with:
Webinars and case studies

Data reports and thought leadership

Competitive insights and industry news

Strategies for understanding market share, ROI, and more
Watch our trailer and subscribe for the latest and greatest on Amazon, Walmart, and beyond.
March 2022
Product Updates
Review Automation 2.0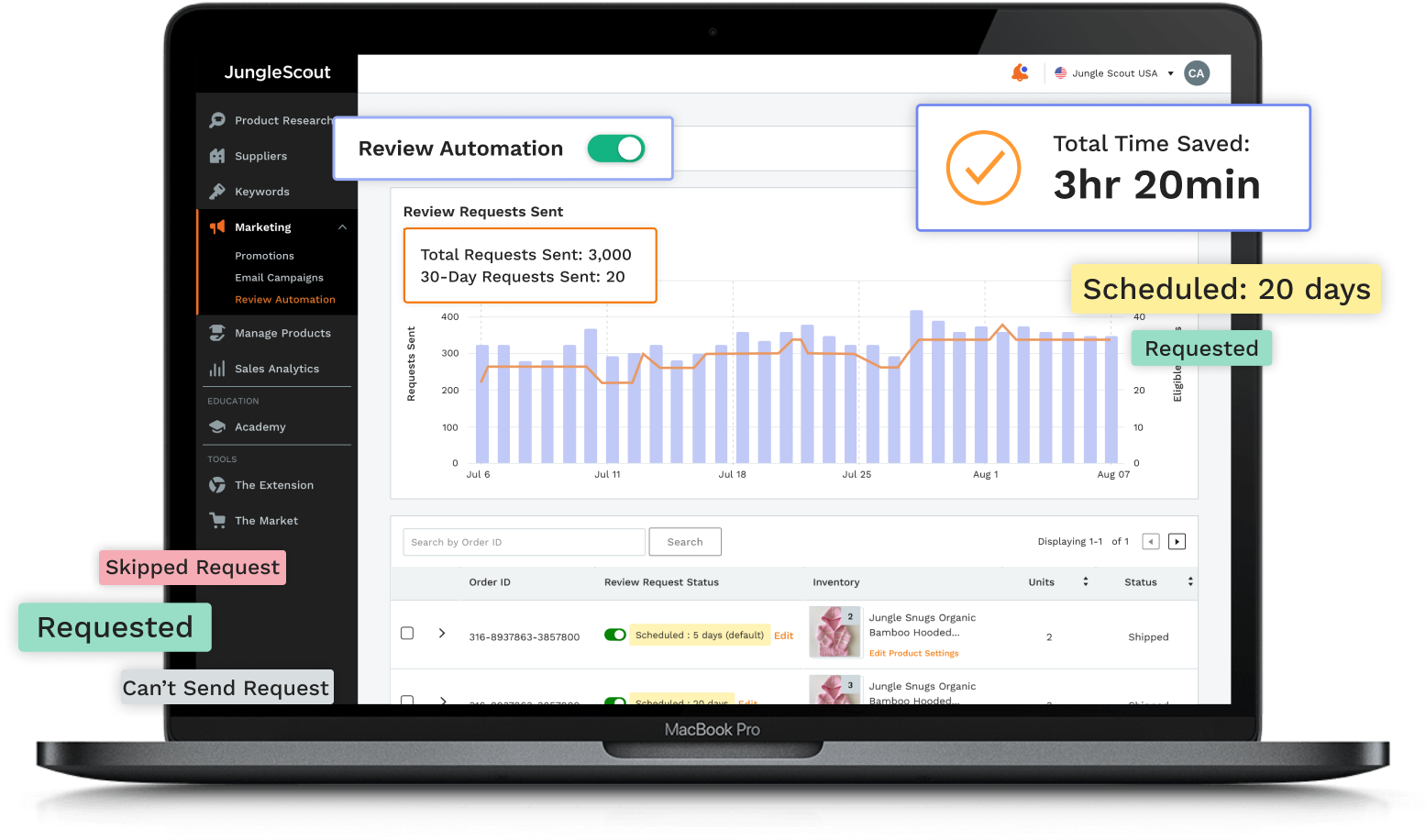 Review Automation got a refresh! Jungle Scout's Review Automation feature allows you to automate Seller Central review requests to drive traffic to your listing, boost sales, and earn shopper trust.
This TOS-approved feature is now available for all Jungle Scout plans.
Plus, Review Automation has even greater customization for our Suite and Pro plans:
Decide which customers

get a Seller Central revi

ew request and when

Customize delays at the marketplace, product, or order level

Edit review requests in bulk

Filter review requests by status
Webinars & Training
How to Get More Reviews in 2022
Acquiring product reviews is one of the best ways to add value to your Amazon business — reviews are essential for driving sales and earning shopper trust.
In this webinar, Amazon experts Jake and Lenny share three strategies to increase traffic to your listings and boost review requests for your products. They also share how Jungle Scout's Review Automation feature helped them achieve 500 new product reviews in their latest launch on Amazon. 
February 2022
Product Updates
PPC Support Rollout
Sellers in Singapore, Japan, and Australia marketplaces can now sync their Amazon pay-per-click (PPC) advertising accounts with Jungle Scout's Sales Analytics tool. 
Webinars & Training
Live Amazon SEO Keyword Research Guide
This webinar shows you how to create a successful SEO keyword strategy to get your product ranked on page one of Amazon's organic search results. It also covers other aspects of product listing optimization, including listing titles, descriptions, and backend search terms, as well as competitor keyword research.
January 2022
Product Updates
Product Database Table Improvements
This update enhances the horizontal scrolling experience within the results table to match the format used in other Jungle Scout tools.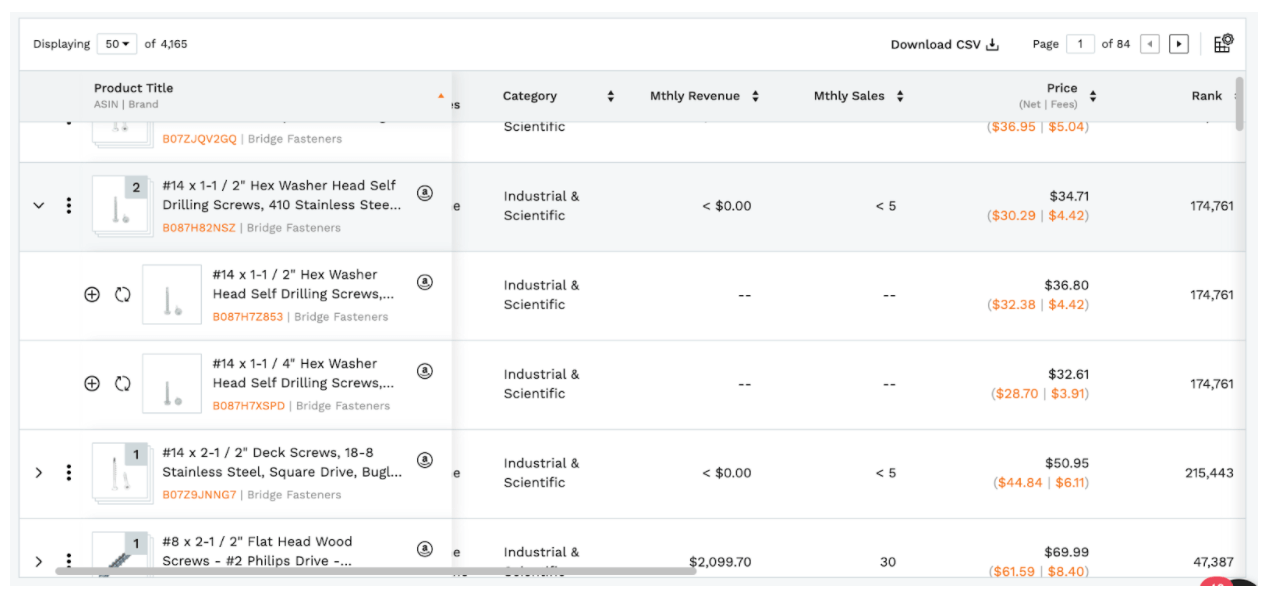 Keyword Scout: Advanced Filter Discoverability
This update relocates Keyword Scout's filters into a new prominent location below the search bar. Keyword filters are now easier for users to find, use, and edit.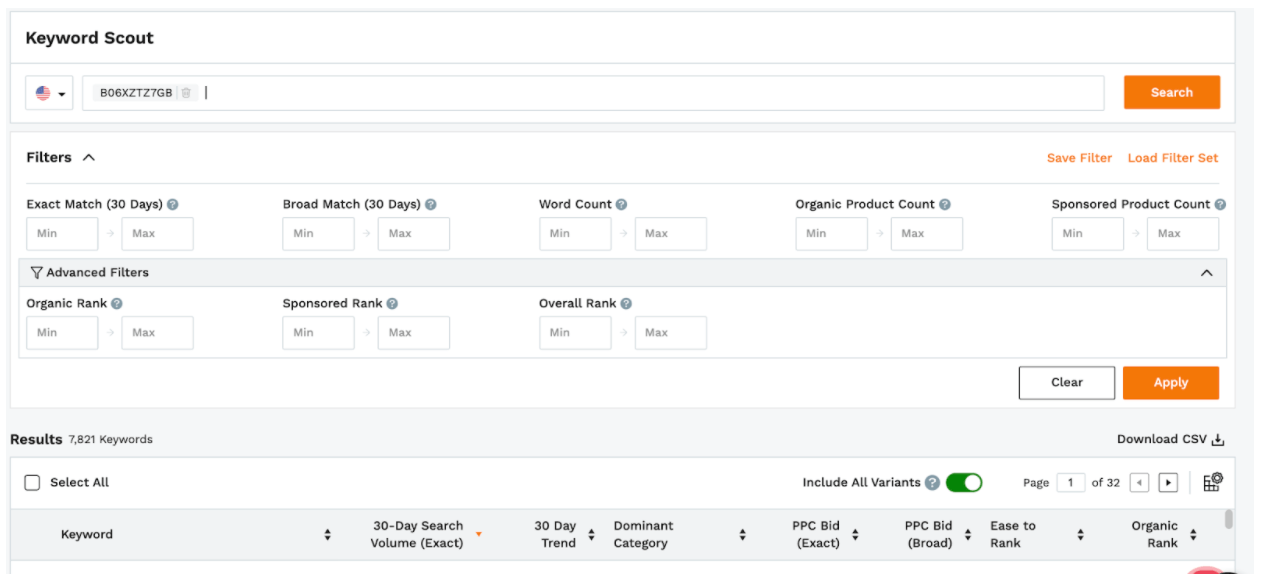 December 2021
Product Updates
New Seller Central Product Data Resync Functionality
This update allows the user to seamlessly sync their Seller Central data with their Jungle Scout account. By resyncing, you can work with the latest and greatest data and stay on top of your business. 
Resync a variety of metrics from Product Settings pages and Listing details, including:
ASINs and SKUs

Product titles

Product dimensions

Prices
How to resync your products:
In Jungle Scout, navigate to the Manage Products tab on the left-hand menu and click on Product Settings. In your Product Settings display, you'll see two new columns titled "Status" and "Last Synced Time." 
The "Status" column displays each product's resync status as one of the following: Needs to Sync, Sync in Progress, Synced with Amazon, or Failed to sync. The "Last Synced Time" column tells you each product's most recent resync date.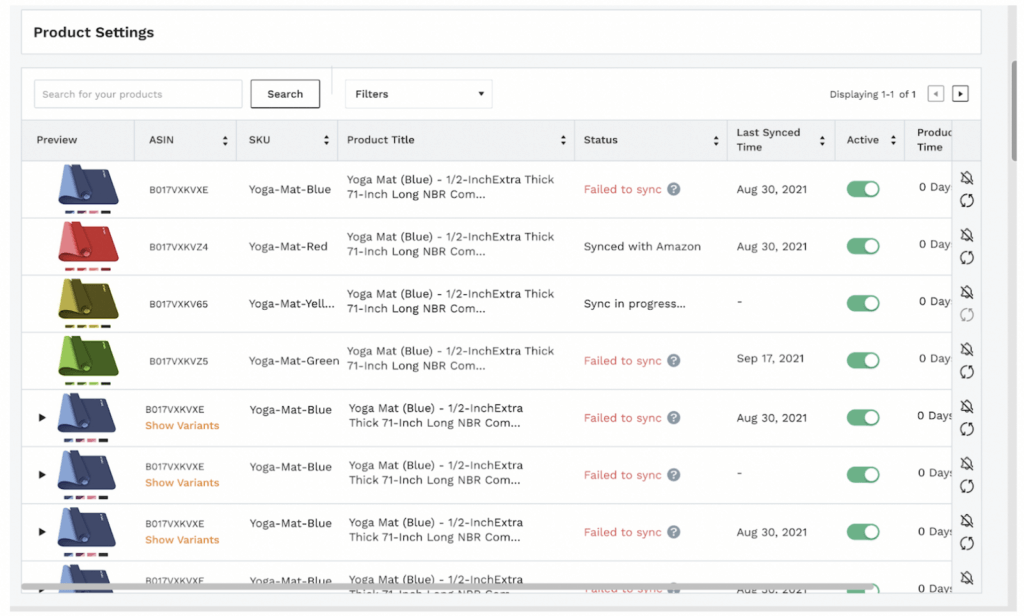 Request a sync for one product at a time using the new sync button located at the far right of each row in the display. You can request 10 resyncs per day. 
November 2021
Product Updates
Home Dashboard
Jungle Scout's Home Dashboard is here! With our new sales widgets, view high-level metrics the moment you log in like units sold, total sales, revenue, PPC stats, and more.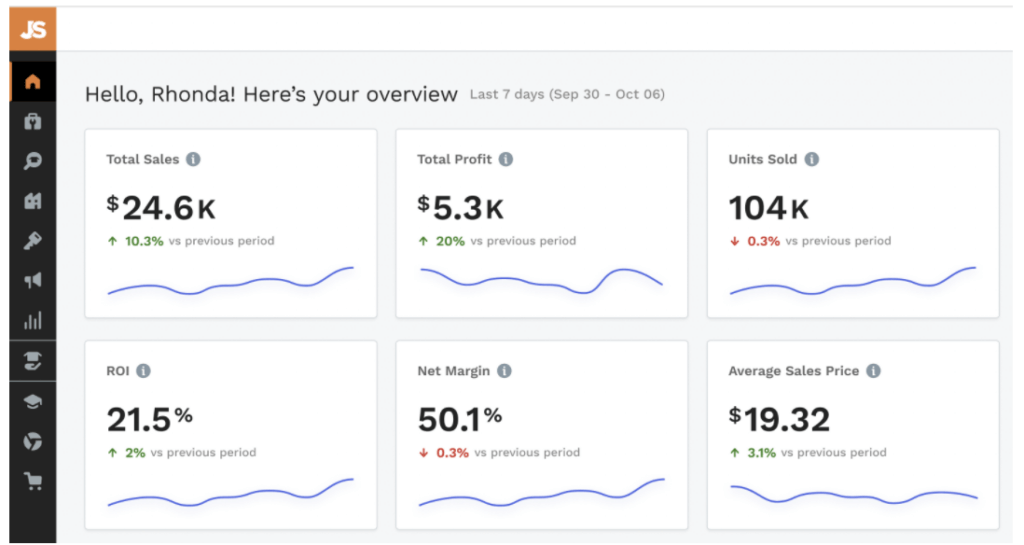 Your dashboard serves as a quick status update of your weekly business stats.
With our new dashboard, you can:
Understand your business performance

See which metrics are impacting your bottom line, in real time
Plus: 
Find out more about Jungle Scout's features and how to use them to  streamline your business

Explore our resources — packed with the latest and greatest from Jungle Scout and Amazon, including product updates, blogs, and reports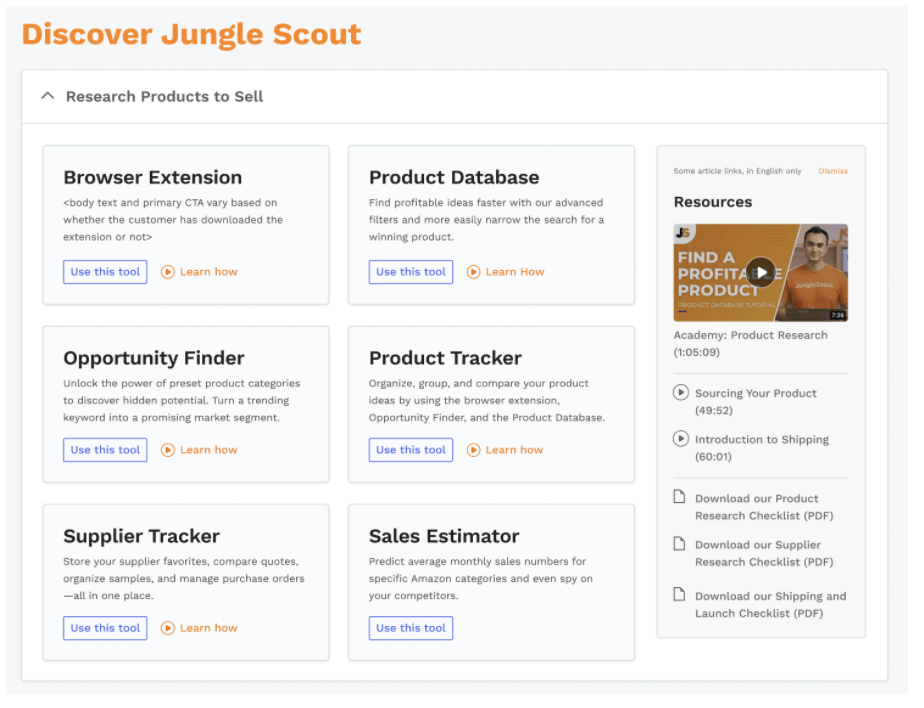 With Jungle Scout's Home Dashboard, beginner and advanced sellers with a synced Seller Central account get the most optimized experience.The Home Dashboard is now available to all Jungle Scout users.
Chrome Extension 
Jungle Scout just keeps getting better. We've added more useful metrics for sellers in Jungle Scout's embedded product page overlays.
We've supercharged our data so you can see the metrics that matter to you most in one consolidated view — just the way you like it.
See your historical data on a single graph. Check out the view: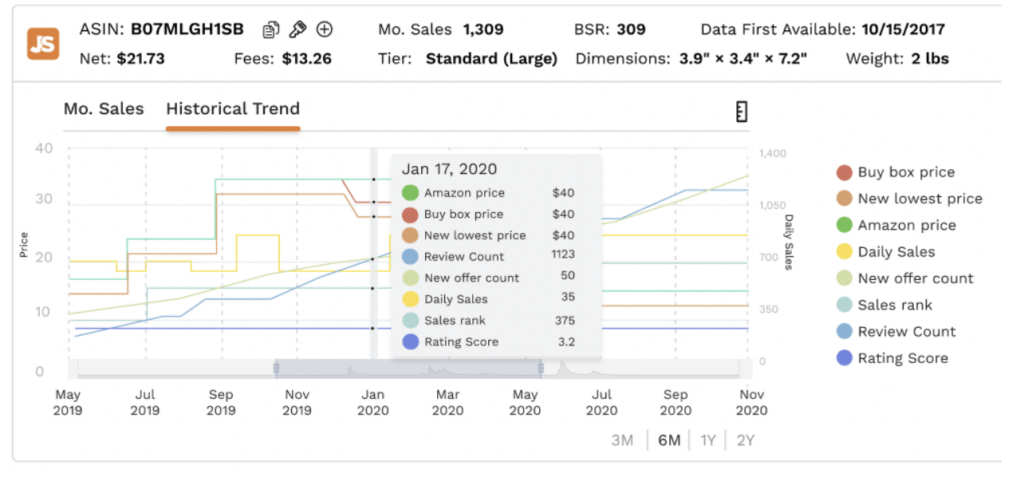 Get what you need to efficiently make more informed decisions for your business.
August 2021
Webinars & Training
This month, we shared two stories from Amazon sellers who have used Jungle Scout to successfully launch their dream businesses. You can find tons of helpful lessons and tips in their recorded interviews below. 
Amazon Success Story: Kim Meckwood of Click & Carry 
Kim Meckwood's Amazon success story is one we couldn't wait to share! This entrepreneur took a slightly different route to Amazon FBA success than many: she invented her own product. 
Today, Kim's success on Amazon and at brick-and-mortar retail stores has allowed her to work on her own business full time — including pitching her product on prime-time TV. Thanks to the record-setting sales she earned after her Shark Tank episode aired, she's halfway to reaching her projected goal of $500,000 in sales by the end of 2021. 
Amazon Success Story: Morgan of Cajunventures
In this Amazon FBA Success Story, we chat with Morgan of Cajunventures, a self-made millionaire who shares how she was able to quit her day job and build a new life for herself by selling on Amazon. 
Morgan shares her journey to $4.5 million in sales on Amazon and how her life has changed since becoming her own boss. She also discusses the challenges she's faced along the way, what inspires her to keep going, and some of her pro tips for people looking to get started.
July 2021
Webinars & Training
Advanced Product Research
In this webinar and recorded live Q&A, Amazon experts Lenny and Jake took a deep dive into Jungle Scout's product research features: Product Database, Opportunity Finder, and Extension. Using these tools, they demonstrated how to identify profitable products to sell on Amazon. Then, they discussed how to further narrow down your ideas based on their performance using Product Tracker.
If you're not sure how to use our tools' advanced filters, or how to make sense of demand, profitability, and product trends, this webinar is for you.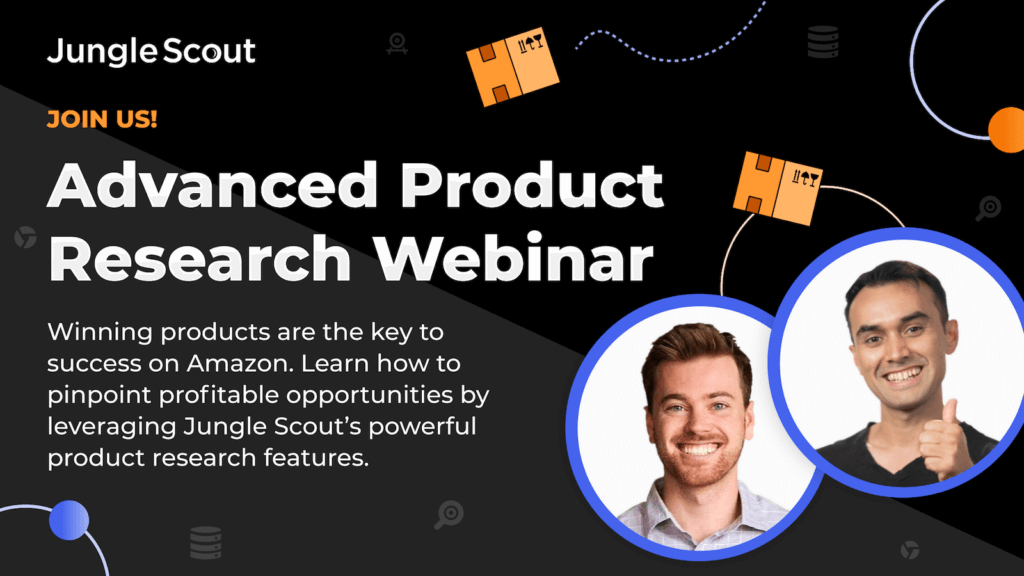 June 2021
Product updates
Keyword Scout
Sellers can now choose to include or exclude ASIN variants inside of Keyword Scout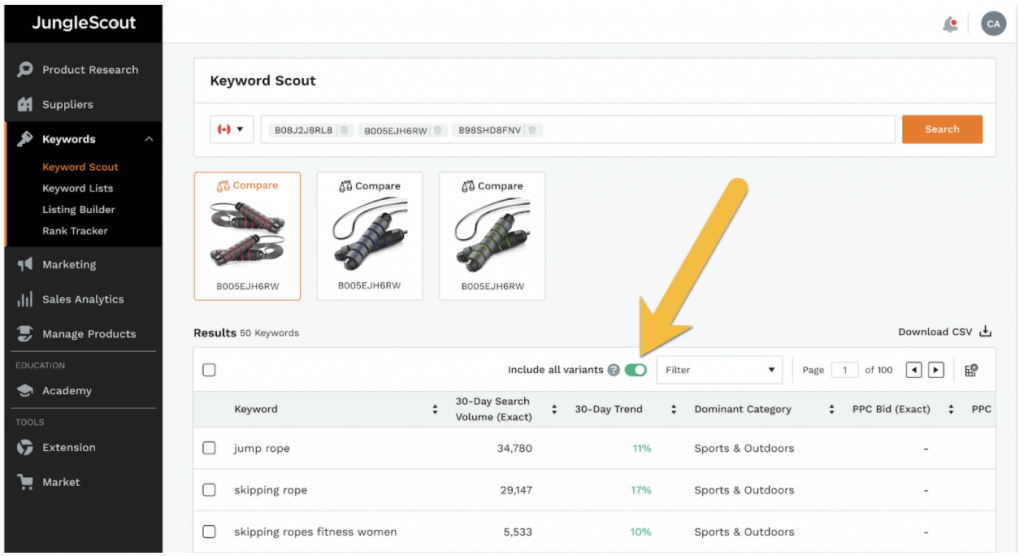 Webinars & Training
In June, we launched several videos and a training webinar to inspire sellers to strengthen their marketing strategies and take their ecommerce brands to the next level.
How to Create Amazon Sponsored Brands Ads
Want to target shoppers, drive more sales, and maximize brand visibility for your business on Amazon? Amazon Sponsored Brands ads can help. In this webinar, learn three core strategies for using this form of Amazon PPC, plus our top tips for increasing your ad performance on Amazon.
Amazon FBA Success Story: Brian Meert & Maricia Magaña's Journey to $1 Million Using Jungle Scout
In just a few years, sellers Maricia Magaña and Brian Meert launched and built a successful selfie light brand using Amazon FBA. In this recorded interview, find out how they used branding, influencer marketing, and Jungle Scout's product research tools to drive their brand, LITTIL, to $250K in first-year sales — and a projected $1 million by the end of 2021. 
How to Create a Product Video for Your Amazon Listing 
This video walks you through how to create a product video for your Amazon listing, the different types of listing videos you can make, and why they're important. Plus, learn ten simple production tips to help your product videos stand out and increase your conversions on Amazon. 
Step by Step Guide to Building an Amazon Storefront
On Amazon, your storefront is the only place where customers will see your products and your products alone. Competitors can't advertise on your Amazon storefront, so you can tell your brand story without any interruptions — plus, it's free to set up for brand-registered sellers. This step-by-step guide walks you through how to create your storefront and all the perks that come with it.  
Amazon Brand Registry Guide 
Learn all about how Amazon's Brand Registry helps you boost sales and brand recognition in this step-by-step guide. We'll walk you through the benefits of being brand-registered, including access to A+ listing content, Amazon Storefronts, Amazon Attribution, and more. Then, we'll show you how to register your brand, including how to get a trademark.
May 2021
Product updates
Sales Analytics
Increased loading speeds for the Profit Overview and Profit & Loss pages
Webinars & Training
JungleCon
On May 5-6, Jungle Scout held its first-ever virtual seller conference, featuring exclusive presentations, tutorials, and insights from Amazon seller experts. 
Want a replay of all the expert-led JungleCon sessions? Watch them on our YouTube channel or our website. It's free and you don't need a Jungle Scout plan to follow along.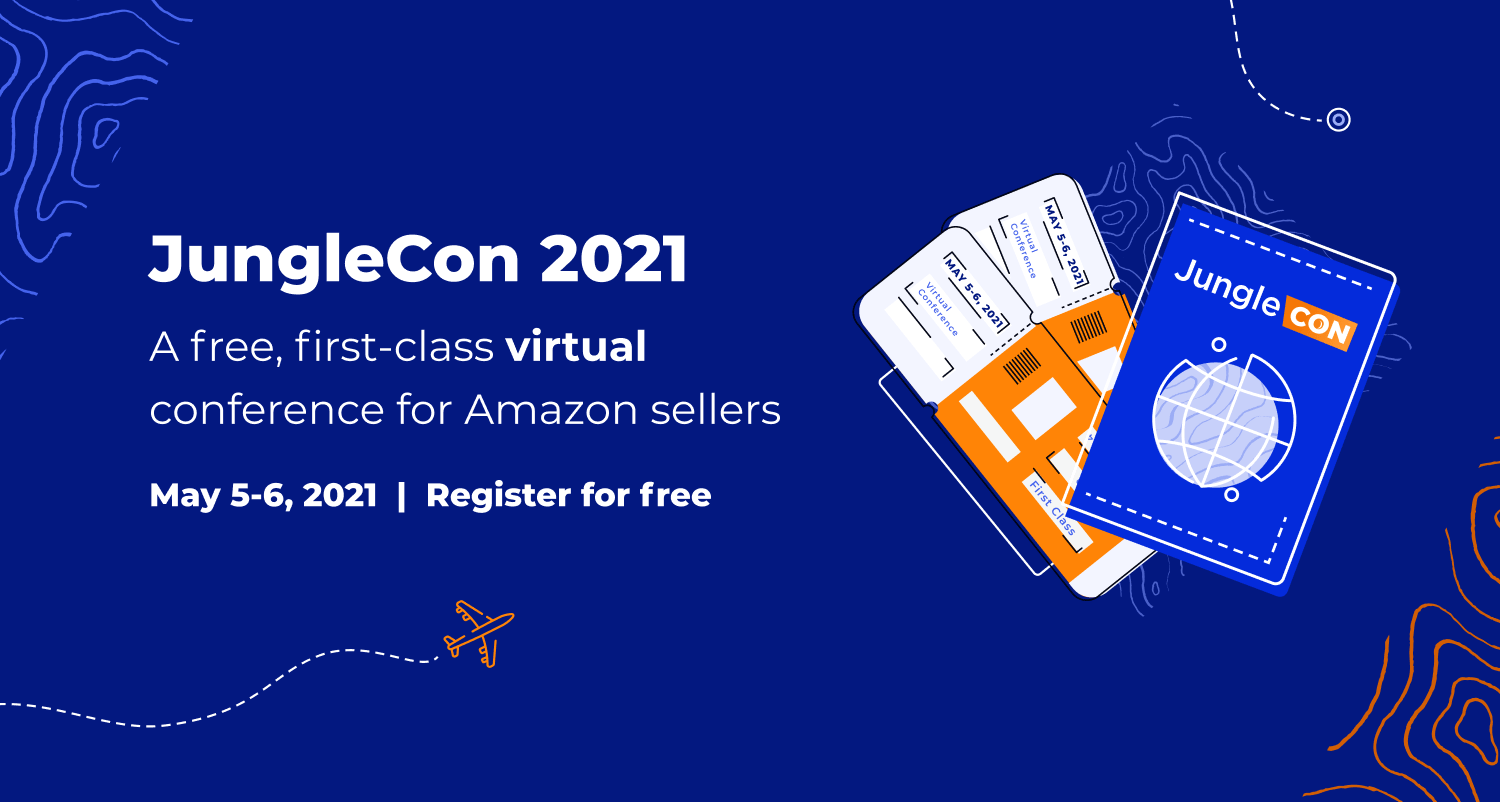 April 2021
Product updates
Product Tracker
Additional interactions and a new intuitive view for product tracking history

Improved table styling and alignment for increased usability

UX updates to accessibility and responsive tables

Refactored scrolling within the Product Tracker and column customization options

Save default views and preserve views between product groups
Webinars & Training
Million Dollar Case Study Season 5
This month, we wrapped up the latest season of the Million Dollar Case Study. Head to our YouTube channel to watch all the episodes from Season 5 — and keep an eye out for future updates on how the MDCS product is doing on Amazon.
March 2021
Webinars & Training
Amazon Keyword Research in 2021 | Step-By-Step Demo of Keyword Scout and Rank Tracker
This step-by-step webinar shows you how to leverage the full functionality of Jungle Scout's improved Keyword Scout and Rank Tracker features to find winning keywords — whether you're an aspiring, new, or a seasoned seller.
Get an in-depth demo of Keyword Scout and Rank Tracker

Learn when to use Keyword Scout vs. Rank Tracker

Get the newest updates for both features

Learn how to maximize your keyword potential on Amazon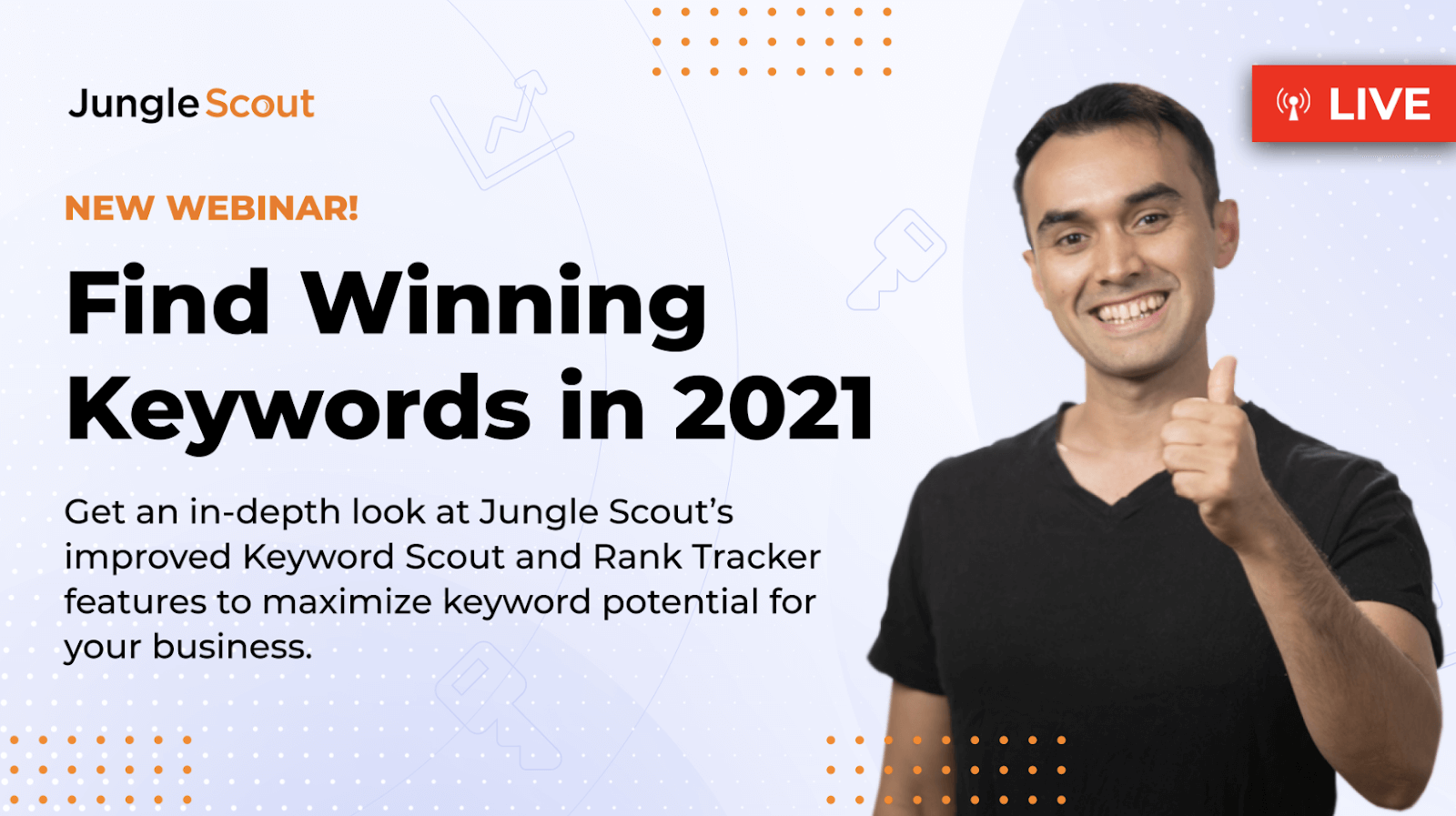 Product updates
Rank Tracker
Improved loading speeds on the historical keywords graph and keyword list integration
February 2021
Webinars & Training
What Amazon Category Should I Sell In? | Jungle Scout's 2021 State of the Seller Report
Don't choose a product category on a hunch—let Jungle Scout's data-driven insights help you find your next best-selling product. In this webinar, tune in to watch Lenny and guest speaker Leslie break down Jungle Scout's 2021 State of the Amazon Seller Report. You'll learn this year's most profitable and least popular categories, as well as where we recommend beginners start their selling journey.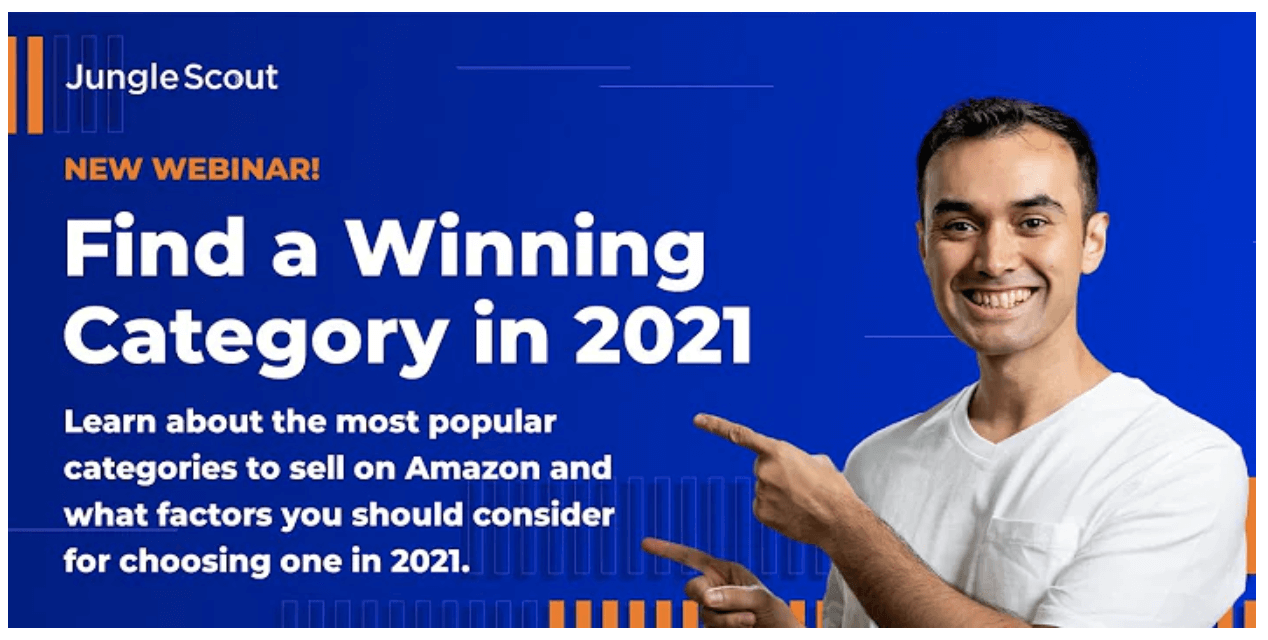 Jungle Scout updates
Jungle Scout vs Extension – What's the Difference?
Need a refresher on what your Jungle Scout subscription includes? We discuss the differences between Jungle Scout's seller features and the Chrome Extension, plus how to use them to grow your ecommerce business.
January 2021
Product updates
Extension Overlays
New updates to Extension are here! Now you can conveniently view metrics directly on Amazon search pages, top 100 pages, and product pages.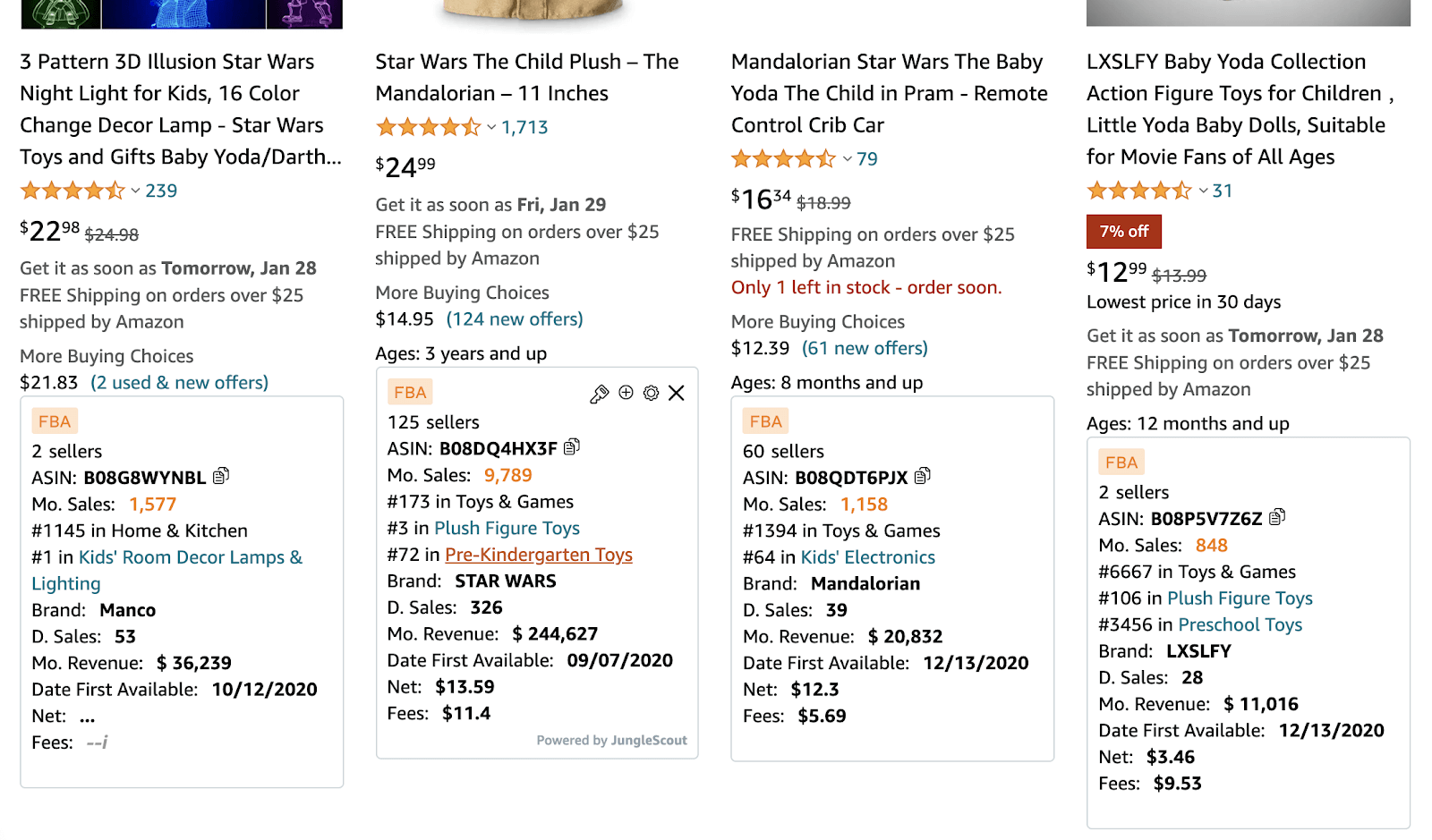 Search & Top 100 Page Overlays

View ASIN metrics directly on Amazon search pages and top 100 category pages as you browse on Amazon.

Customize your view to see the data that's most important to you, like brand, price, monthly sales, rating, Listing Quality Score, and more.
Product Display Page Overlays

See important product information embedded directly on a product listing page.

View graphs of historical data like monthly sales, price, and rank as well as current data like product fees, category rank, and Listing Quality Score. 

Easily add products to Keyword Scout and Product Tracker with a click of a button.


In-App Listing Grader in Toolbox
We've added another Jungle Scout tool for in-app use! 

Listing Grader

gives any listing a real-time rating to evaluate how likely it is to rank and convert sales on Amazon

You can also open the opportunity in Listing Builder to draft and optimize it with embedded

details (product title, features, description)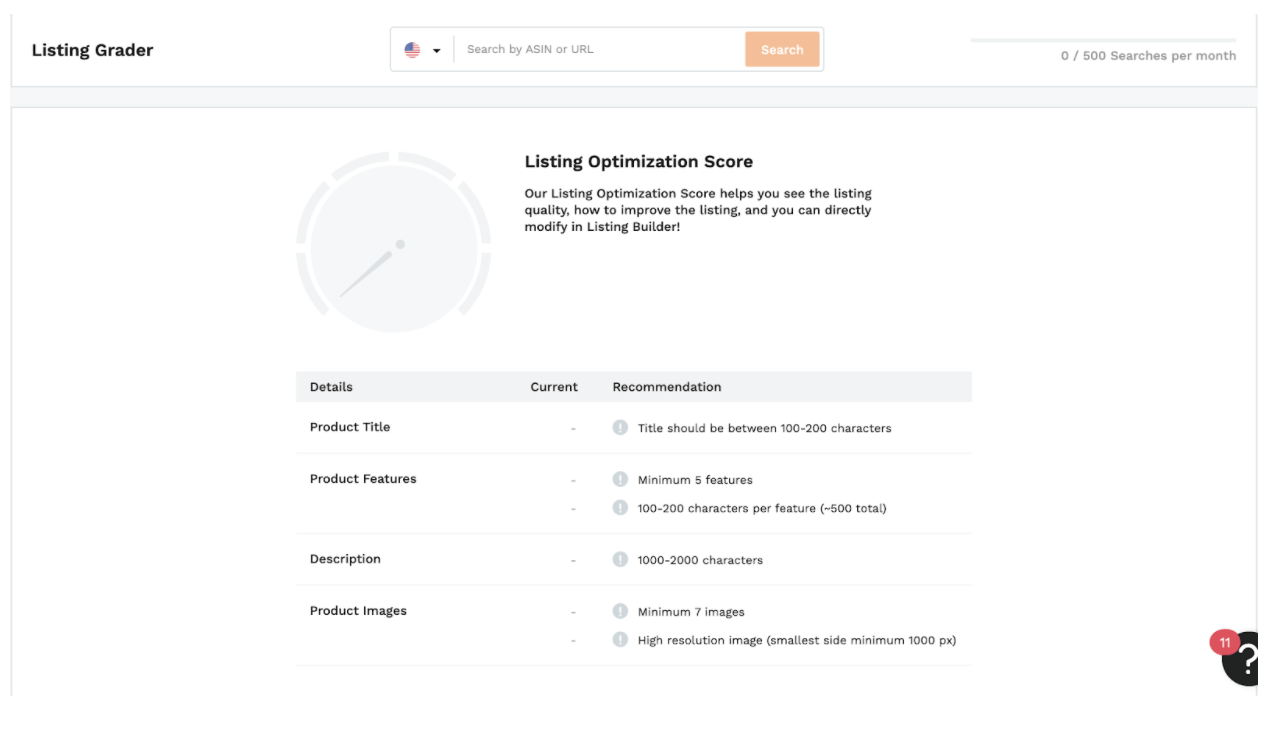 Keyword Scout & Keyword Lists Table Updates
We're excited to announce the following updates:

Usability improvements- improved table styling and alignment, UX updates for accessibility and localization needs, consistent interactions, and responsive tables

Enhanced scrolling on Keyword Scout

The ability to reorder columns and customize data within tables

Saving defaults and user sessions

Evaluate historical search volume trends

Improved data visualization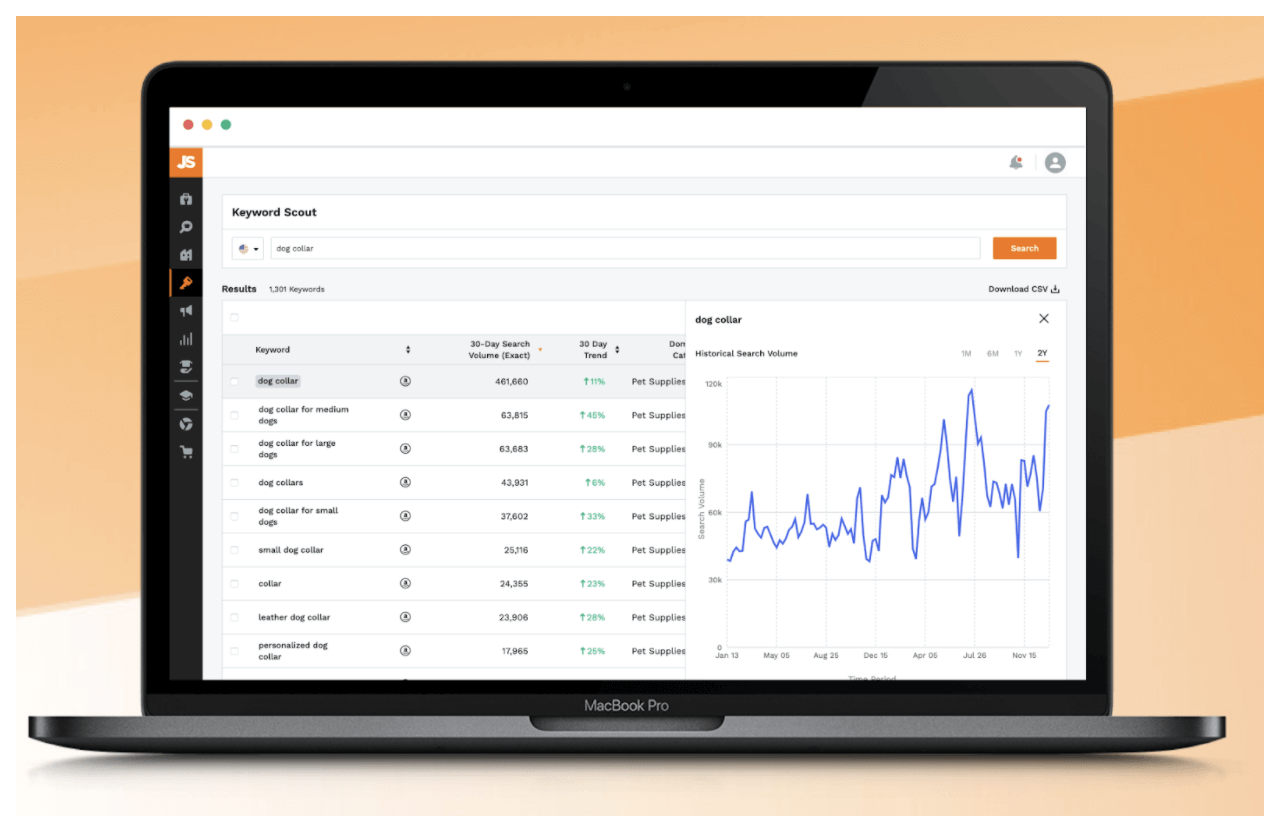 Webinars & Training
Launch Your Product in 2021 Webinar
Whether you're just starting out or looking to expand your portfolio, finding the right product is often the biggest challenge for sellers — but it doesn't have to be.
In this webinar, Lenny shows how to leverage Jungle Scout's tried-and-true Product Tracker, Opportunity Finder, and Extension features to discover a new product in 2021.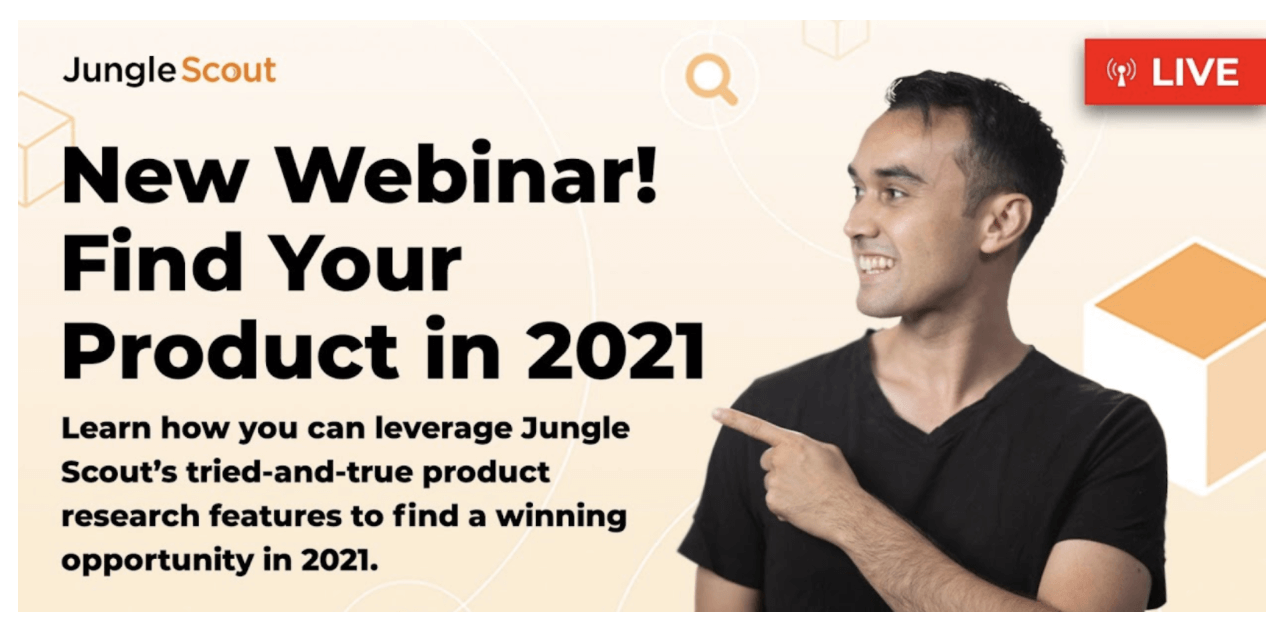 November 2020
Product updates
In-App Sales Estimator
We created a new Product Toolbox to house helpful features within the Jungle Scout app. We'll be adding popular Jungle Scout tools to it for in-app use. First up is the in-app Sales Estimator, based on the popular

Sales Estimator tool

on our website. The in-app version provides instant insights into monthly sales for a given product category and Best Seller Rank. 

Everyone—Jungle Scout member or not—can continue to use the free Sales Estimator tool on the Jungle Scout website up to 10 times per day.

Using the new in-app Sales Estimator, Jungle Scout Basic members can perform 500 estimates per month, Suite members can generate 1000 estimates per month, and Professional members get access to 1500 estimates per month.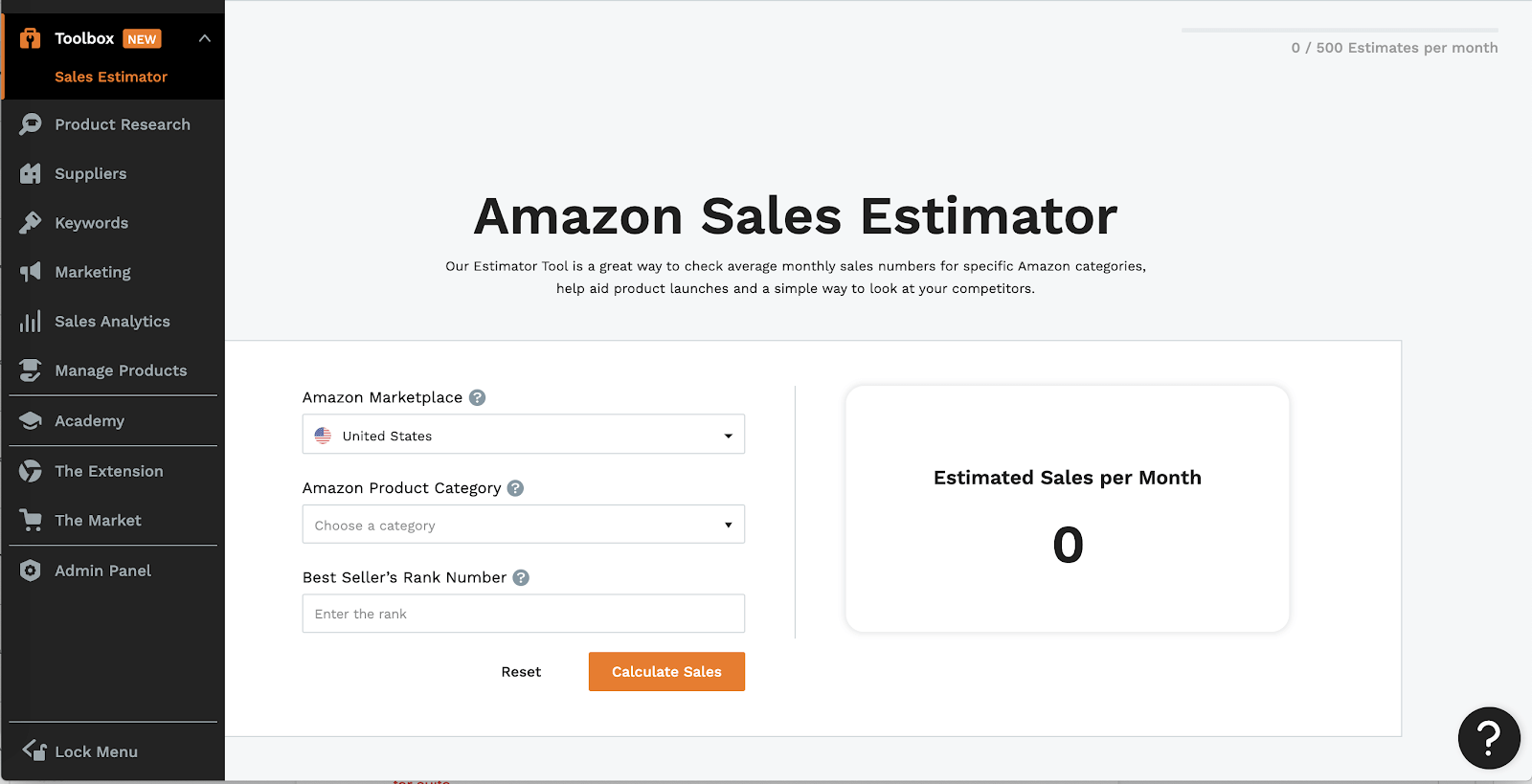 Webinars & Training
Product Research AMA
Have a burning

Amazon FBA

question? Search no further: two of our resident Amazon FBA Experts, Rolando Galeana and Joe Cardillo, hosted an "Ask Jungle Scout" YouTube LIVE event to answer sellers' questions about product research and other FBA-related topics. Stay tuned for future "Ask Jungle Scout" live sessions! 
Million Dollar Case Study
: Season 5
For the past five years, the Million Dollar Case Study (MDCS) has been the go-to resource for sellers who want to learn how to sell on Amazon FBA. Now it's back for its fifth season! 
What is MDCS?
A free video series that educates aspiring sellers on how to run an Amazon business

A step-by-step guide to finding and launching a product on Amazon in real time

Led by pro Amazon sellers on the Jungle Scout team, plus special guests

An opportunity for Jungle Scout to give back. All profits generated from MDCS product sales go to charity. So far, Jungle Scout has donated more than $150,000 to charities—including Doctors without Borders and

Pencils of Promise

—all from MDCS product sales. 
In Season 5 of MDCS, we'll show you: 
How to sell products on Amazon with the private label method

What it takes to succeed as an Amazon seller in 2020 and beyond

Expert-level seller insights on running an Amazon business from Jungle Scout hosts and special guests
October 2020
Product updates
Review Automation
Review Automation:

a first-of-its-kind solution that completely automates the Seller Central review request process for Jungle Scout users. 

Set it and forget it:

eliminate the tedious task of manually requesting reviews on Seller Central. Review Automation automatically sends out review requests to all eligible orders so you never miss an opportunity to earn a review. 

Order and review status:

monitor the status of orders and review requests. See your orders in an organized table view and identify trends with a graph of sent review requests over time.

Track time saved:

Review Automation does the work so you don't have to. See how many hours you've saved by automating your requests

.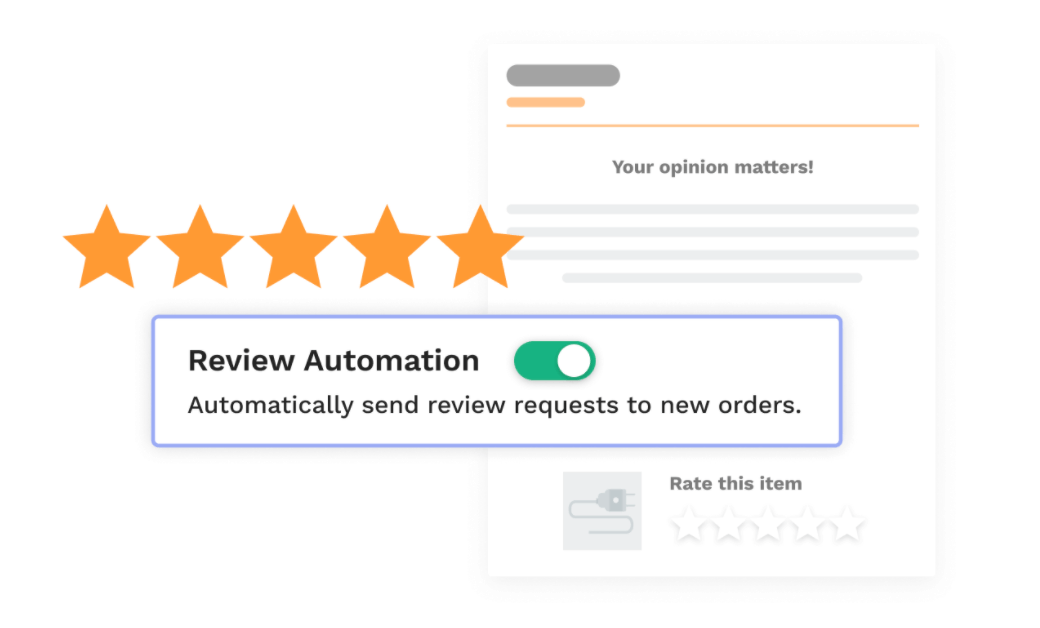 New Feature Support for India
Changes to
Promotions & Email Campaigns
New Amazon TOS

: Heads up!

Amazon's Terms of Service

for customer emails are changing. To adhere to these changes, we've updated our Email Campaigns feature in Jungle Scout.  

We have removed the prescripted messages from Email Campaigns (effective 10/29), but you can still send customized email campaigns of your own and view past campaigns.

Moving forward, we recommend using our messaging in

Review Automation

to communicate with your customers about

reviews

to ensure your account is not at risk for violating Amazon's Terms of Service.
Jungle Scout updates
Consumer Trends Report: 2020 Election Insights 
Election Insights:

This report explores projected holiday spending among U.S. consumers based on key political events in 2020, as well as shopping preferences and behavioral differences between voter segments.

How to Sell on Amazon:
Step-by-step guide for 2021
Start Selling:

Everything you need to know to start selling on Amazon, all on one page. This step-by-step guide for beginners outlines how to start a business with Fulfillment by Amazon (FBA).

Free FBA Guide:

In addition to the content on the page, our FREE 99-page PDF is the most comprehensive A-to-Z guide to selling on Amazon FBA in 2021.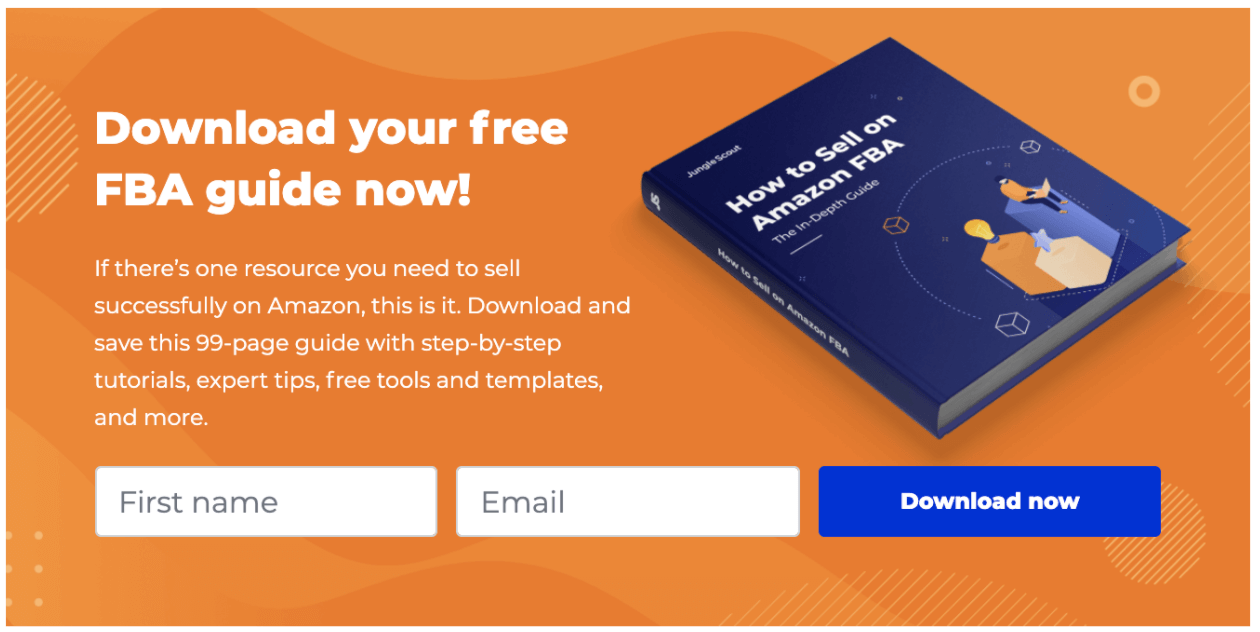 September 2020
Product updates
Opportunity Finder
Top Products Tab

: displays a list of top-ranking products for a particular niche

ASIN Images

: displays images for product opportunities

Connectivity to Product Tracker

: users can add products from Opportunity Finder to

Product Tracker

Seasonality Expansion:

displays seasonality data for Germany, Spain, France, Italy, UK, Canada, and Japan

Seasonality tags

: highlights 'trending' or 'COVID'-related opportunities

BONUS – Connectivity to Keyword Scout:

users can click through from a product to

Keyword Scout
Product Database
Variants

: easily see all variants for a specific ASIN, rank, reviews, and product differences

BSR

: distinguish between ASINs with shared BSRs & unique BSRs

Product Tracker

: easily add multiple variants to directly to

Product Tracker
MWS Sync
Functionality
New Marketplaces

: the Netherlands, Saudi Arabia, India, Turkey and the UAE can now use

MWS sync

functionality

Supported Features

:

Inventory Manager

,

Sales Analytics

, and

Email Campaigns

are now fully compatible in these regions

How to Connect

: users with seller accounts in these markets can use the Europe region in our MWS sync flow to add these countries  as their primary marketplace
Firefox Extension
Firefox Extension

: Jungle Scout is happy to announce the official release of the Firefox version of the browser Extension

Feature Parity

: the Firefox extension has all the same functionality as the Chrome Extension

Keyword Scout
Download Format:

the Keyword Scout full CSV download via email has been changed to an in-app download
Extension Embedded Overlay
Direct on Amazon:

see Jungle Scout ASIN sales data directly embedded into Amazon's search result page

Fully Customizable:

personalize your view

to only display the data points critical to your business

Connectivity to Product Tracker:

directly add products to

Product Tracker

in one click

Connectivity to Keyword Scout:

directly look up an ASIN-related keywords within

Keyword Scout

in one click

ASINs:

copy a listing's ASIN in one click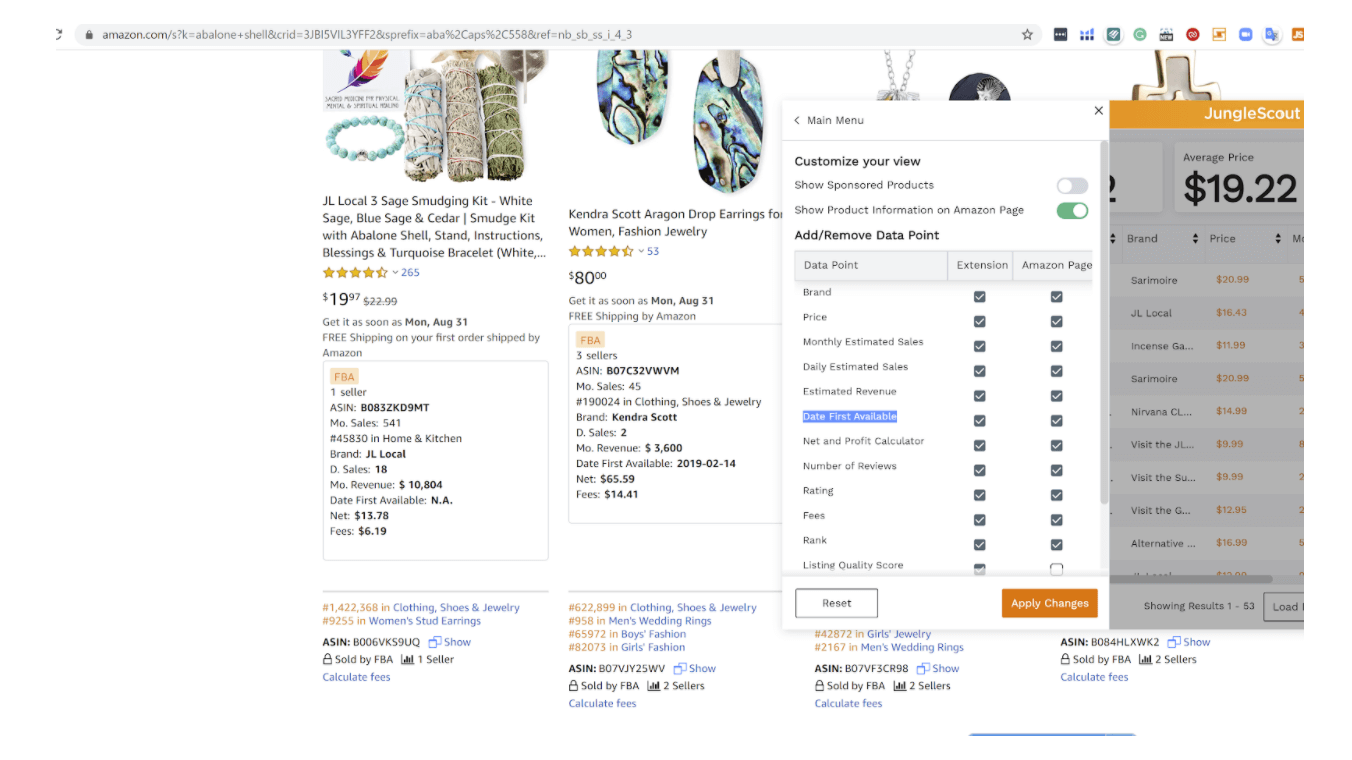 August 2020
Product updates
Rank Tracker
Annotations

: Add manual notes to each ASIN and have them displayed on your product's graph

For example, you can create a note to state when you launched a deal on your ASIN; that way you can see the impact running a discount has on your product's rank

Top 10 and top 50 search volume:

From the main table view, see the total search volume for the top 10 and top 50 keywords your product is ranking for

Multi-select

: Sellers with accounts connected to Seller Central can select and add multiple ASINs to the Rank Tracker at the same time

'Match to table' updates

: Sort your product's data by rank and view up to 10 keywords at a time on its graph

'Select All' filters:

Quickly remove filters by clicking 'Select All' 

'Partial' label to 'In Listing' column

: A new label — 'Partial' —  now displays when a product shares at least one of the words within a specific keyword phrase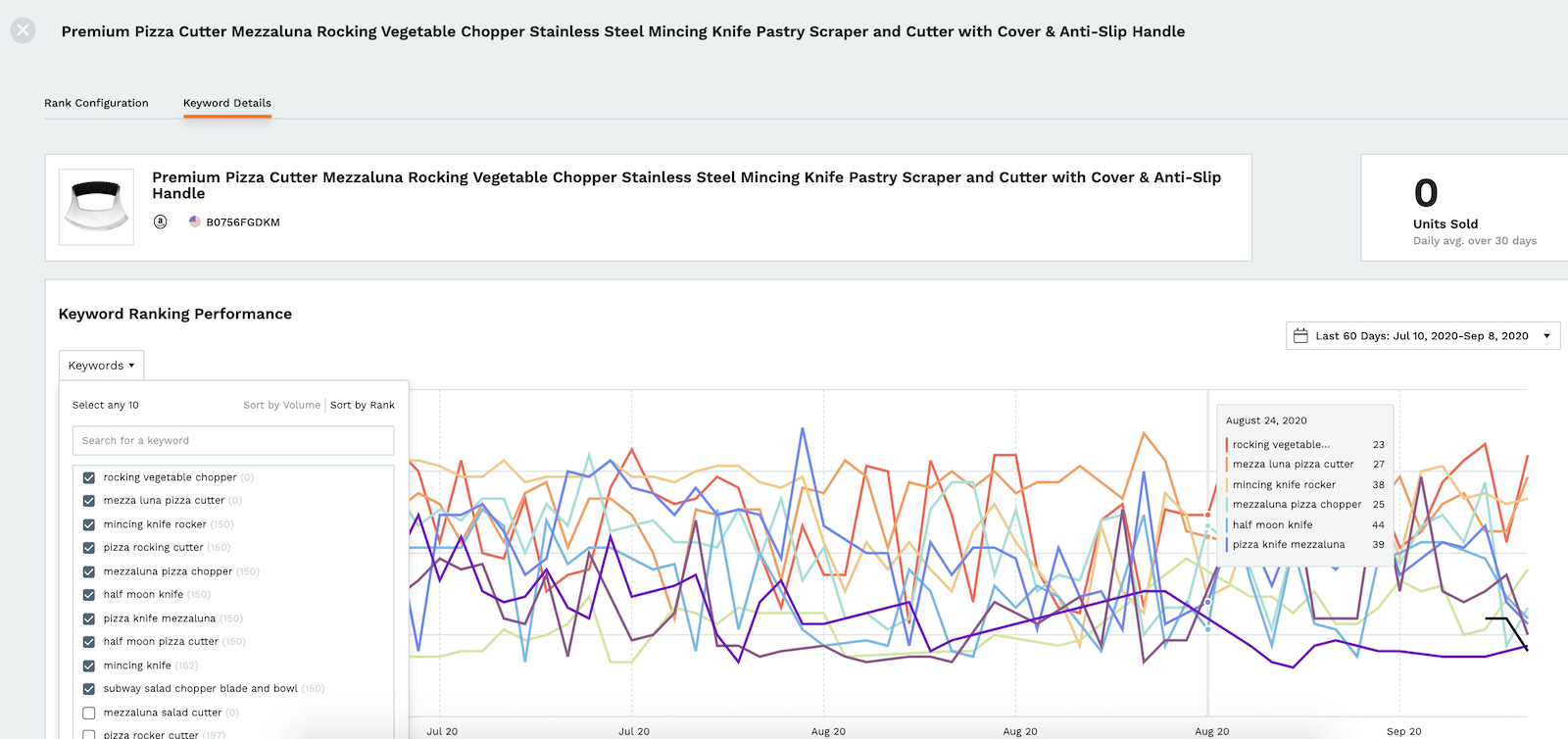 Keyword Scout
Added 'Overall Rank' column and filter

:

View your product's position for

 Amazon's sponsored and organic search page results

Full export

: Easily download full keyword lists to a CSV file
Marketplaces
MWS Japan

:

Jungle Scout now supports

amazon.co.jp

Keyword Scout and Opportunity Finder:

Both features are now fully available within the Japanese Marketplace
Product Tracker 
Historical data

: See up to six months of historical product data

New fields

:

Variant differences

Monthly revenue

Monthly sales

Date first available.
Extension
Firefox support

: Jungle Scout's fully-featured Extension can now be used in Firefox
Jungle Scout updates
Weekly Scout
Jungle Scout's weekly newsletter:

Relevant articles and reports, videos, upcoming events, and industry highlight to k

eep you up to date on the latest trends and tools to grow your business
Video releases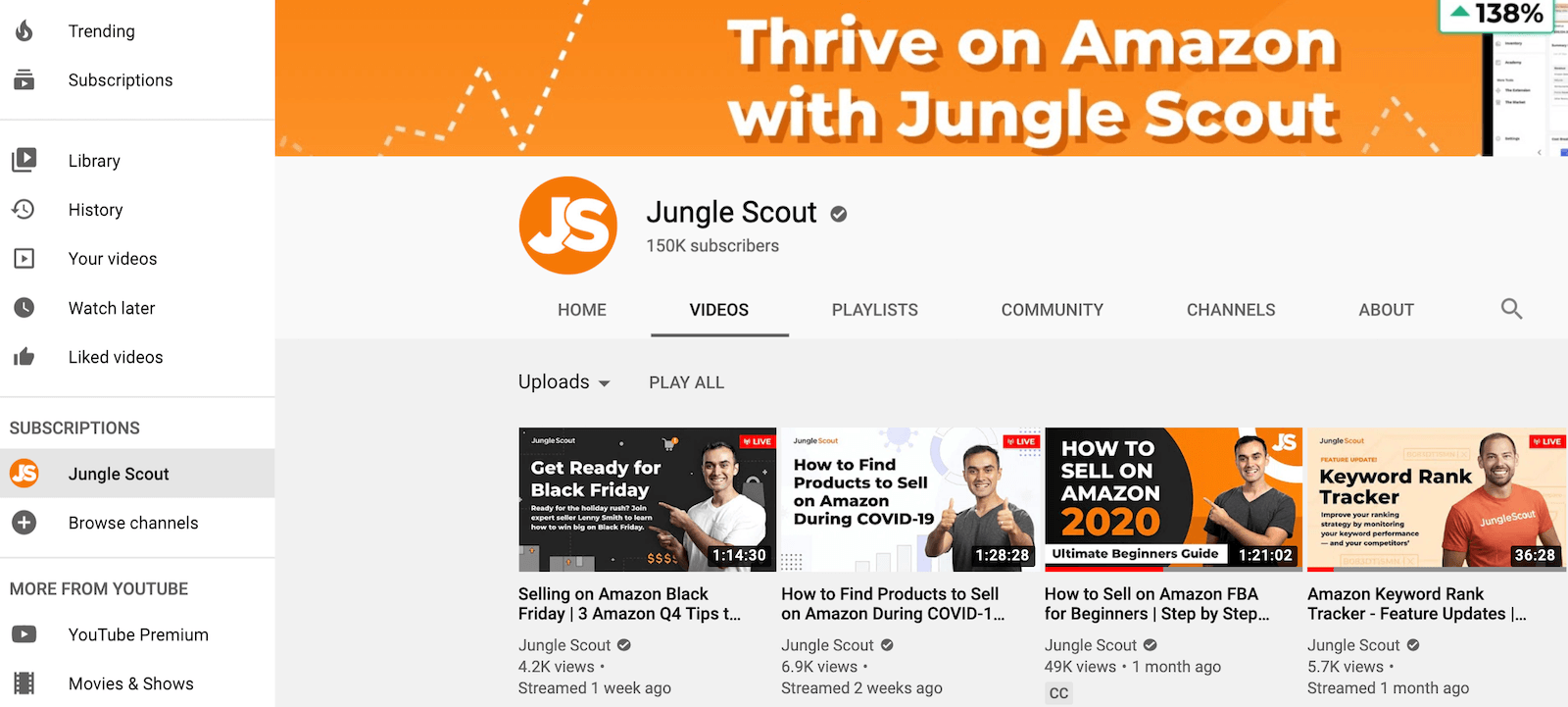 How to Find Products to Sell on Amazon During COVID-19
Changing times means changing consumer preferences. Join expert Amazon seller Lenny Smith for a webinar and Q&A on how to find products to sell on Amazon during COVID-19. Plus, learn how to navigate Amazon's new 200-unit limit.
Get Ready for Black Friday
Planning out your Amazon Black Friday strategy, but not sure how to best prepare? In this webinar, Jungle Scout's Amazon FBA expert Lenny Smith covers these three must-do strategies for success:
Inventory preparation: Learn how to estimate how much inventory you'll need
Powering up your listing: What you need to do to rank on page one of Amazon's search results
Monitoring your performance: Checking ad spend and inventory levels to get ready for next quarter
July 2020
Product updates
Alerts
Email subject lines

: New dynamic alerts keep users up to speed with important updates 

'Sales Snapshot'

: Get a financial overview of your business, and of your product sales, over time with the Sales Snapshot

'Sales Recap'

: Get a recap of your sales, plus your profits and losses, for the last seven and/or the last 30 days

Comparative trends

: Quickly identify sales performance over time 

Improved support

: For mobile devices, including fixes for iOS Dark Mode
Rank Tracker
Historical data

: Uncover which keywords have an established history of high performance, and those that don't 

Preset filters

: To see the most critical keyword data influencing your ranking strategy, check out our new preset filters

Keyword influence

: Reverse-search your competitors' ASINs to identify their high-traffic keywords and track the influence of each keyword

Comprehensive picture of historical rank

: View multiple keywords related to one ASIN or a grouping of ASINs on one graph

Add and track keyword lists

: Keyword lists and keyword groupings from Keyword Scout can now be added to, and tracked in Rank Tracker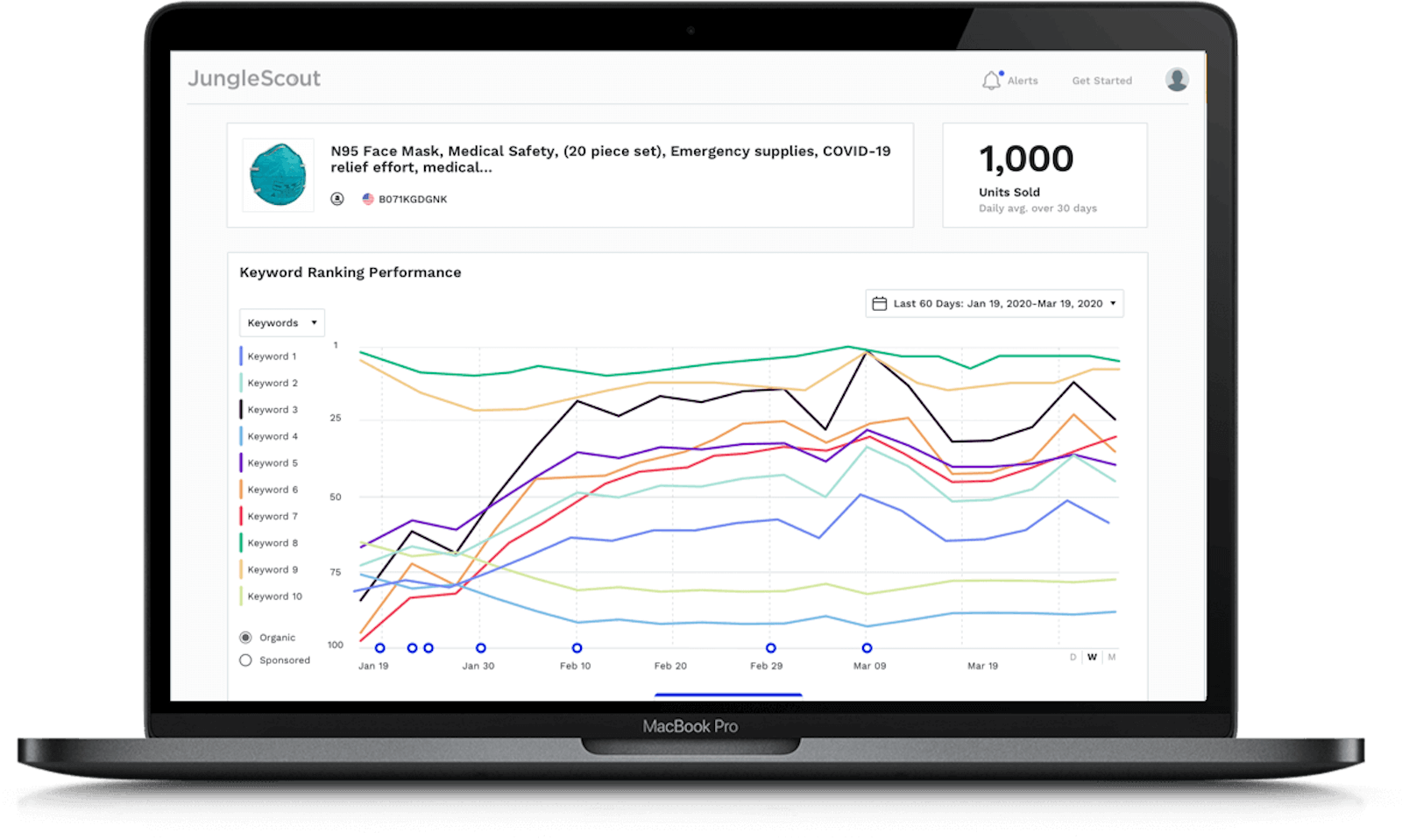 Sales Analytics
Profit Overview – Multi-product view:

See how your company-level profitability is broken down between your products

Easily identify product-level issues like high return rates and low ROI by comparing several products in the same view

New advanced sort and search functions have been added, with a customizable data selector
Video releases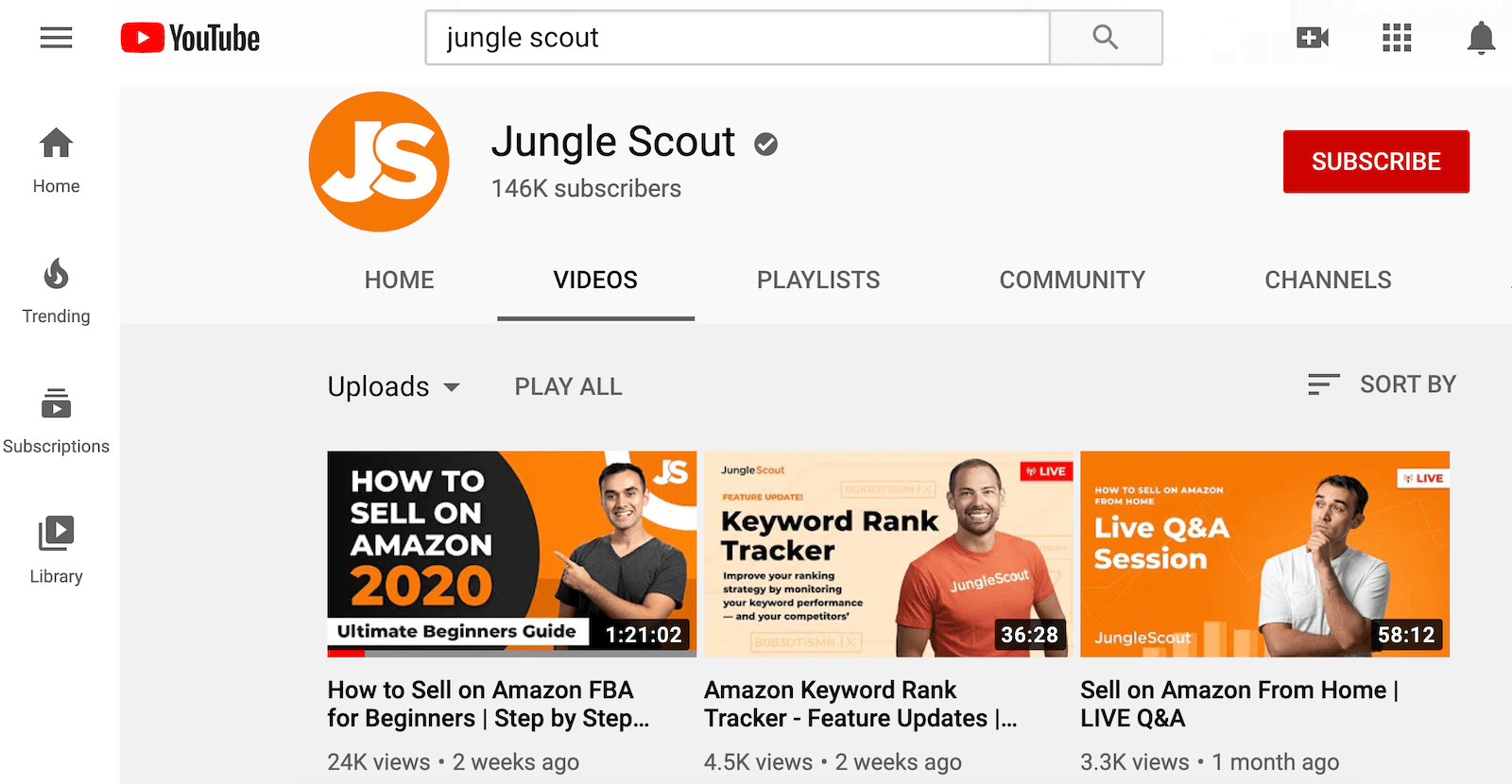 How to Sell on Amazon 2020: YouTube Premiere
This is the ultimate step-by-step tutorial for those looking to learn everything there is to know about How to Sell on Amazon in 2020. 
Mastermind Series
Stay on top of the latest Amazon news, tips, and best practices with guest experts and become a Mastermind with Jungle Scout! We'll be offering in-depth explanations of the latest information about the Amazon space.
Usability improvements

Resource Center
We've revamped our self-service options! Our more robust Resource Center now has an updated "Get Started Checklist," a new module with comprehensive product walkthroughs, product notifications and more.
Navigation Redesign
We updated our left-hand navigation. This will provide users with access to more in-product screen space without the menu encroaching on the tools.