What is Amazon Dropshipping? How to Start in 2023
Looking for a way to start selling on Amazon but don't want to spend a lot of money doing it? Try dropshipping on Amazon!
Dropshipping products on Amazon is a unique business model that doesn't require as much upfront investment as private label or wholesale would. While the low overhead and upfront costs are desirable, you need to be sure you're following the rules of dropshipping on Amazon to do it right.
In this article, we'll cover the following:
Want to learn more about selling on Amazon? Check out our complete guide.
How does Amazon dropshipping work?
Dropshipping is an ecommerce fulfillment method in which sellers will outsource order fulfillment — all without having to purchase any inventory upfront. When a customer places an order, your supplier, manufacturer, or distributor will then ship the product to your customer.
Dropshippers reposition and/or rebrand the sold goods as their own and the end consumer is never made aware that the goods came directly from the manufacturer. This practice is popular on e-commerce sites like Amazon, eBay, and Shopify.
And while this may sound somewhat complex, we've broken it down for you to help you get a better handle of how it works and how you can start dropshipping in 2023.
Here is a diagram that teaches you the basics of dropshipping on Amazon (explained in further detail below):
First, an Amazon customer (on the left-hand side of the diagram) purchases the product you've listed on Amazon. 
Second, once the transaction is finalized and you receive the funds, you purchase the product directly from the supplier (on the right-hand side of the diagram) and give them the customer's information. 
Lastly, with the buyer's information in hand, the supplier then sends the product to the customer.
Amazon's dropshipping policy: 2023 updates
Before you jump into dropshipping on Amazon, please make sure you fully understand Amazon's dropshipping policy guidelines on dropshipping so you don't end up on Amazon's bad side.
If you violate the policy in any way, you may lose the ability to sell via FBM (Fulfilled by Merchant), or even have your account suspended.
Amazon is very strict about its dropshipping policy, so please be sure to take notes from the information below. 
Is Amazon dropshipping legal?
Yes! Amazon dropshipping is perfectly legal and allowed on the platform as long as you do it correctly. When dropshipping on Amazon, there are a number of rules you must adhere to:
You must be identified as the seller

on all invoices, packing slips, external packaging, and any other information included or provided with the product. There should be no mention of your supplier or manufacturer. 

You remove any packing slips, invoices, external packaging, or other information identifying a third-party drop shipper prior to shipping the order.

You are responsible for accepting and processing returns.

You must comply with all of Amazon's

Terms of Servic

e according to the seller agreement. 

Purchasing products from online retailers, such as Walmart, including Amazon, or other third-party sellers on Amazon, and having that retailer ship directly to customers is

strictly prohibited without exception.
Do not — and I repeat — do not purchase products from another online retailer and have them ship the product to your customer. This is a big no-no from Amazon and they will suspend you for it.
Here's an example:
You list a coffee maker for sale on Amazon. 
A customer purchases the product, you purchase the same item from Walmart.com and then enter in the Amazon customer's shipping info. 
The Amazon customer receives a package with Walmart identifiers on it. 
THIS IS NOT ALLOWED! 
If a customer receives a package from Walmart, they're going to be very confused and frustrated, as they ordered from Amazon. 
You may instead practice what's called retail arbitrage, where you purchase an item from another store such as Walmart and resell it on Amazon — as long as there is no mention of Walmart on a packing slip or the packaging.
How does dropshipping compare to other methods of selling on Amazon?
Dropshipping is just one of many methods of starting a business on Amazon. Other popular — and arguably more lucrative — methods of selling products on Amazon include wholesale, private label, retail arbitrage, online arbitrage, handmade, and bookselling. 
Wholesaling is when you purchase goods at a bulk rate from a supplier to resell to another retailer or distribute as a retailer yourself.

Arbitrage is when you purchase discounted goods from other retail stores and resell them on Amazon.

Private label is a method of manufacturing your own products to sell on Amazon. 
However, there are a number of advantages dropshipping on Amazon has over wholesaling and private label.
READ MORE | How to Sell Wholesale on Amazon: The Ultimate Guide
Amazon FBA vs. dropshipping
Amazon FBA, or Fulfillment by Amazon, is a fulfillment method run by Amazon that stores, packs, and fulfills orders on sellers behalf, and even handles customer service. 
The biggest difference between FBA and dropshipping is that with FBA, you need to purchase and send inventory to Amazon's fulfillment centers. With dropshipping, you don't need to purchase any inventory upfront.
READ MORE | Amazon FBA vs. Dropshipping 
FBA also gives sellers the Prime badge on their listings, which provides another level of trust and convenience for customers. In fact, 61% of consumers have access to an Amazon Prime account, and 43% say the Amazon Prime badge is a very important factor when choosing products to purchase.
LEARN MORE ABOUT CONSUMER BEHAVIOR | Q3 2023 Consumer Trends Report 
Print-on-demand dropshipping
One popular form of dropshipping is through print-on-demand, especially Amazon Merch on Demand.
Print-on-demand allows you to advertise customized products such as t-shirts, mugs, posters, and even books without purchasing inventory. Then,. when the sale is made, the supplier creates the product for you, then ships it. 
Is Amazon dropshipping profitable?
Yes, dropshipping on Amazon can be profitable—in fact, 94% of sellers who dropship on Amazon are profitable, according to data from Jungle Scout's State of the Seller Report. It all depends on what you source your products for, how much you sell them for, and what's leftover after Amazon fees.
Remember, dropshipping is just a fulfillment method, and the way you sell products on Amazon will be no different than if you purchased products in bulk. You need to focus on product research (which we'll talk about below) and finding a supplier who can offer the products you want to sell at a profitable price. 
What does it cost to dropship on Amazon?
As we mentioned above, dropshipping on Amazon is a great way to get started selling as the upfront costs are typically low. 
Since you don't need to buy any inventory upfront, that will save you hundreds or thousands of dollars you would have spent on inventory.
The only upfront costs will be the monthly subscription fee for an Amazon Seller Account ($39.99/month), and possibly for product research software. 
Once you sell a product, Amazon will charge you a referral fee per sale, which is typically 15%. 
READ MORE | Amazon Seller Fees
Pros of Amazon dropshipping
There are a number of advantages dropshipping on Amazon has over wholesaling, private label, and other methods of selling on Amazon.
Low start-up costs.

As opposed to other popular e-commerce methods like private label and wholesaling, dropshipping does not require you to own your own inventory. Instead, when you get paid by the consumer on the sale, you simply use a portion of the proceeds to purchase the product from the supplier and have them ship it to your buyer.

No storage fees.

Since you will be having your supplier ship out orders for you, you will not need to pay Amazon FBA or a third-party fulfillment center for storage fees.

Fast to set up.

Because you don't have to own your own inventory when dropshipping on Amazon, it's quick and easy to set up. Afterall, you don't have to wait for your inventory to be manufactured and/or shipped to the fulfillment location. It's ready to go. All you need is a sale!

Fully automated business.

There are a lot of apps and plugins online that allow you to fully automate dropshipping on Amazon. For this reason, you can be (almost) completely hands off with your dropshipping business. 

Amazon allows dropshipping.

According to

Amazon's dropshipping policy

, dropshipping "is generally acceptable." Just make sure that you follow Amazon's specific guidelines for dropshipping

.

Easy to research.

Dropshipping on Amazon can involve selling pre-existing products from manufacturers (though you can dropship products that you customize with your supplier). For this reason, you can use tools like Jungle Scout — an all-in-one platform for selling on Amazon — to see how well other sellers of that particular product are performing on Amazon.
Cons of dropshipping on Amazon
Naturally, as good as it sounds in terms of its advantages, dropshipping has its realities, and a few disadvantages to consider.
Competition.

Because the barriers of entry are so low with dropshipping, competition can be high.

In addition, while there is some possibility of differentiation with the products you are selling, there is nothing stopping other Amazon sellers from selling identical products.

As such, price is one of the few levers you have to pull to set yourself apart from others, which can lead to a "race to the bottom."

Slow delivery times.

Often, goods that are dropshipped on Amazon are shipped from the suppliers and manufacturers — and often, those suppliers are overseas.

For that reason, shipping times from overseas suppliers can take as long as a few weeks to reach the end user. For this reason, you should look for local suppliers who offer dropshipping.

Lack of quality control.

Because items are shipped directly from the manufacturer to the buyer, there is no way for you to control the quality of the product.

When you consider that products may travel thousands of miles to reach their final destination, it's easy to see how they could get damaged in the process.

How to start Amazon dropshipping in four steps.

Now that you understand a little more about dropshipping on Amazon and how it works, here's how you can get set up as a dropshipper.
Step 1: Set up an Amazon seller account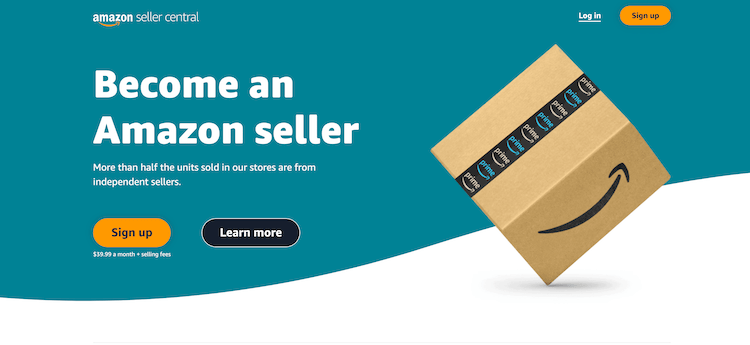 In order to sell on Amazon, you will need an Amazon seller account. You can get one by going to sellercentral.amazon.com. There, Amazon will offer you two choices for the type of account that you can start with: individual and professional. 
READ MORE | How to Create an Amazon Seller Account
Step 2: Find a high-demand/low-competition product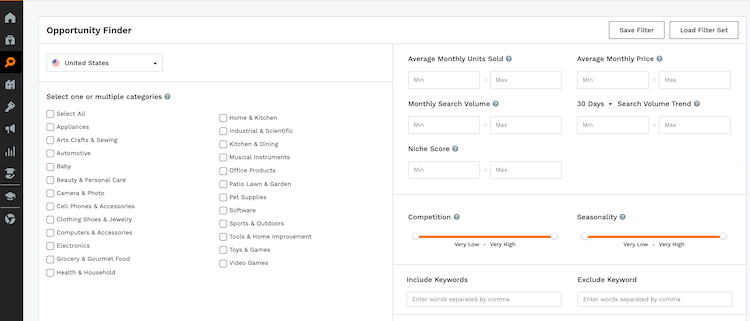 Next, you will need to find a product to sell on Amazon.
You can do this by using a tool like Jungle Scout's Opportunity Finder to find high-demand/low-competition product opportunities. And while you may have your own metrics to use for finding such products, I recommend starting with the following criteria:
100-300 unit sales per month

Set competition to "very low" to "low"

Fix the average monthly price from $20-$70

Set niche score to 7+
This should give you an excellent number of product opportunities to peruse in all categories.
Also, when starting out, I recommend keeping things simple. Housewares, sports & outdoors, patio, and home & garden are all great categories for beginners because they tend to be low maintenance.
READ MORE | 6 Ways to Find the Most Profitable Niches on Amazon
Step 3: Finding Amazon dropshipping suppliers
Once you have some product ideas, you will need to find a supplier.
The biggest connection to dropshipping products is Aliexpress. It's a business-to-business website that puts e-commerce entrepreneurs in touch with suppliers who are looking to dropship their goods.
Just type in the search terms for the product that you are interested in selling and, just like Amazon, a variety of products will come up.
Once you click on one, you're provided with a number of details such as product cost and shipping cost.
While Aliexpress may be a good option, most items come from China, so the delivery times may be slow. Since Amazon shoppers are used to receiving their orders in 1-2 days, long shipping times will be a deterrent. 
As mentioned above, search for local suppliers, such as US-based suppliers who offer dropshipping on certain products. They're out there, you just have to spend some time searching for them. 
Note: In order to dropship on Amazon, you must purchase from the supplier or manufacturer. Purchasing from another retailer is strictly prohibited.
When using Aliexpress or any other supplier to fulfill your dropshipping orders, make sure to contact the supplier ahead of time to ensure they will not ship orders with their company information — that is prohibited by Amazon.
READ MORE | Alibaba vs Aliexpress
Step 4: Create an Amazon listing
After you have a product idea and a supplier to fulfill that product, you'll need to create an Amazon product listing.
From your Seller Central account, go to Inventory > Add a product. When the Add a Product screen comes up, click " Inventory > Add a product. When the Add a Product screen comes up, click "Create a new product listing."
First, you will need to choose your product category. Then, once you've done that, you'll have to fill out the information for the listing itself.
When setting a price for your dropshipped product don't forget to account for Amazon's fees. If you are a professional seller, you will pay a referral fee of 8-15% depending on the category. Individual sellers pay an additional $1.00 per sale, too.
You can learn more about  Amazon's fees by category on their Selling on Amazon fee schedule.
Finally, as soon as you're ready, you can publish your listing and start making sales.
Five tips for success when dropshipping on Amazon
Of course, creating a dropshipping business on Amazon is a little easier than other ways of selling products on Amazon. but succeeding with dropshipping on Amazon takes a little more work.
Here are five tips to help you succeed with dropshipping.
1. Promote your listing
In order to maximize sales, you will need to drive traffic to your product listing. This can be done in a number of ways. 
First, you have Amazon's internal sponsorship program, Amazon Pay-Per-Click (PPC). With PPC, you create advertisements for your products that make your product appear higher in Amazon's search results for keywords that you set.
Next, you can drive traffic to your Amazon product listing through external methods such as Facebook ads, social media, blogging, email marketing, etc. While this method is a little more difficult to get going if you don't already have a following for your brand, it can help you differentiate your product from your competitors.
2. Focus on the customer
When you perform dropshipping on Amazon, you're taking a lot of the hard parts of being an entrepreneur off the table. You don't have to manufacture your product, nor do you have to ship it. All you have to do is make sure that the customer receives it and they are happy.
So, with dropshipping you can invest your hours into customer service, whereas you would normally spend your time running your business.
Plus, great customer service helps you get good product reviews and good product reviews can make or break your products on Amazon.
3. Focus on your brand
As I stated above, dropshipping's chief disadvantage is that you will be selling a product over which you will have no final say in its development or design. In addition, other sellers will have access to the same supplier.
This leaves you with very little competitive advantage. Therefore, it's important that you focus on the brand.
But even if your product is identical to your competitor, that doesn't mean it has to be the "same." For example, the brand YETI sells 40 oz stainless steel tumblers for $40 each. Meanwhile, their competitor, RTIC sells the same stainless steel tumblers for less than $20. Yet, somehow, YETI still dominates in that product category.
The reason is simple: people want to buy the YETI brand and the image it purveys.
4. Get samples
Before you list your product, make sure you know what you're selling. Bite the bullet and order a unit in advance. And if you can do it without the supplier knowing that you're a potential dropshipper, even better.
Once the sample arrives, inspect it. How did it look when it arrived? How long did it take? Were the products as described?
All of these little details will help you predict how your customers will receive the product once you start dropshipping on Amazon.
5. Cast a wide net
Because you have no start-up costs with dropshipping, it's a lot easier for you to cast a wide net. In other words, you can list numerous products at the same time.
Some will fail. Others will succeed. Simply double down on what works and cut the rest.
As long as you follow Amazon's rules, this approach is totally fine. Just make sure you stay organized and that you continue to focus on Tips #2 and #3.
Are you ready to start dropshipping on Amazon?
Hopefully, this article has gotten you excited to either start your first Amazon business, or to add to an existing one. But, if you need more motivation, check out our State of the Amazon Seller report; it's full of helpful insights. 
If you have additional questions or comments regarding dropshipping on Amazon, let us know down in the comments.
Happy selling!