How to Find Profitable Products
With more consumers shopping online than ever before, now is the perfect time to get into ecommerce. Between Amazon, eBay, Shopify, Walmart, and Etsy, there isn't a shortage of platforms to sell on, and product opportunities abound. But what are you supposed to sell?
To set yourself up for success, you must invest time in the product research process, so you know what customers are looking for and buying at this time. 
Product research is the first step all sellers should take because if you jump right in without any knowledge of the market or demand, you may be destined to fail. Luckily, you are here so you won't be one of those people!
If you want to learn how to research and validate product ideas to sell online, then keep on reading, and learn, step-by-step, how to find profitable products for your business.
In This Guide:
What is product research?
Pproduct research is the process of researching different products or niches and using various data points to determine if the product will be successful or not. If you choose a product just because it's something you enjoy, you'll miss the benefits of a good strategy, and that uninformed decision might cost you and your business.
When it comes to ecommerce and selling products online, you need more than just a "gut feeling" that something will sell well. Your unique candle idea may seem like a no-brainer, but is that what customers actually want? Even if they do, if there is low demand or the market is already saturated, your product may not perform well, and you could lose your investment. 
To prevent your product from taking a nosedive, you need to determine demand, analyze the competition, create a unique, high-quality product, and most importantly, produce the product at a profitable price.
How to do product research
Now that you know what product research is and why it is important, let's go over how to find profitable products to sell online. Before you start researching products, dedicate some time to determine what product criteria to use for your business. Following certain criteria will help you make sound decisions and narrow down your product search. 
Criteria for product research
1. Selling price
How much do you want to sell your product for? Too low of a selling price and you may not have enough margin for profit after your costs. Too high of a selling price means potentially higher manufacturing costs, which require bigger budgets to support your product.
Typically, Jungle Scout recommends a price point of around $20-$50. This leaves room for profitability after selling and advertising fees, keeps manufacturing costs low, and places you in the "impulse purchase" range. This puts your product in an optimal position when starting out — customers are not always willing to purchase higher-priced products from unknown brands.
Do keep in mind that the market in this price range may be more saturated because products are inexpensive to source, and competition is high.
2. Product size and weight
If you're a new or inexperienced seller, we advise you to start out selling products that are small and lightweight. This will help keep shipping costs down and make inventory storage simpler to manage. 
For example, it would be much easier (and cheaper) to source a small product such as a necklace, versus a couch. Couches may be in high demand, but can you handle the logistics of selling large-scale furniture? 
I know this is an extreme example but think about the differences in storage space and shipping costs between these two items. If you have the knowledge and capabilities to sell bigger and heavier products, however, then go for it!
3. Product simplicity
Does the item you want to sell have many moving parts or components that could potentially break? If you choose to sell in the electronics category, for example, be sure that your supplier can produce high-quality products with minimal issues. 
If you sell customers a faulty product, you'll experience several challenges, such as poor reviews, high return rates, and declining sales. If you are a newer ecommerce seller, try to stick to simple, low-maintenance products that are less likely to have potential downsides.
Let's take another example:  Bluetooth headphones. They're a popular product, but there could be many problems that come with them, especially if they're produced at a cheaper price. Check out these reviews to see what I mean:
To find common negative themes about another brand's product, check out Jungle Scout's new Review Analysis tool with AI Assist. 
Review Analysis will provide you with a comprehensive analysis of product reviews and ratings for any ASIN that includes common positive and negative comments, suggestions for improving the product, and a competitive comparison with tips for competing against the product.
If you decide to sell a similar product, figure out what customers dislike about your competitors products so you can be sure your product doesn't face the same issues.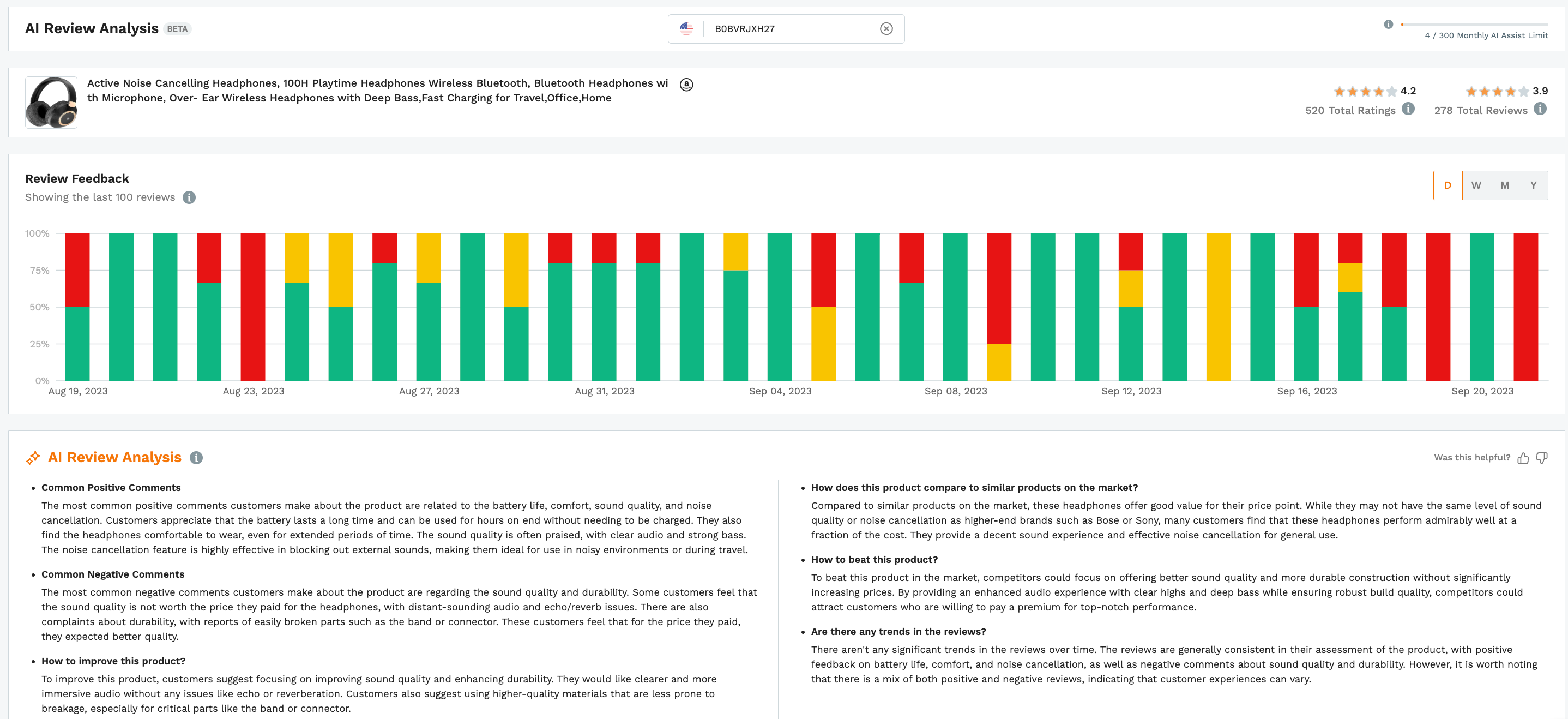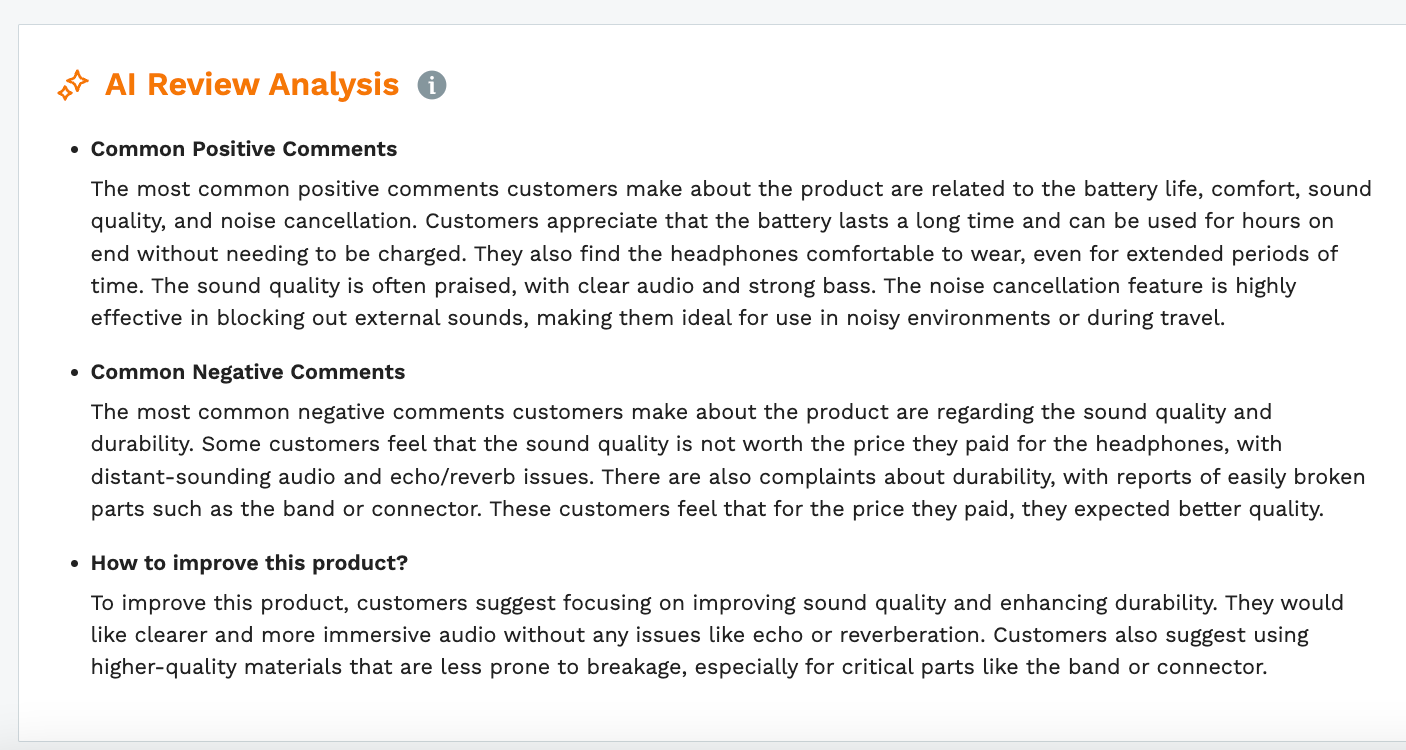 4. Perishable or consumable products
Are you considering a product that falls in the grocery or health categories? These can be profitable because you can grow a repeat customer base as buyers are likely to reorder household staples, but there are some things to be aware of. 
These types of products typically have expiration dates, so keep that in mind when deciding how much inventory you should order. If you overestimate the demand, you may be stuck with expired inventory. 
When it comes to food or supplements, be sure to follow relevant local and federal regulations regarding the product you choose to sell. Research and understand this information before you decide you're going to sell in one of these categories. 
On top of that, online marketplaces such as Amazon or Walmart may have their own rules and regulations on perishable and consumable products. 
Using the criteria above will help you narrow down your product search versus searching through a broad range of products. Of course, there may be some other criteria that you'd like to consider as your research leads you to specific items, but this is a good place to start if you don't have a niche or market in mind.
6 ways to discover good product ideas
After you figure out some general criteria to evaluate potential products, how do you come up with solid ideas? Let's go over some steps you can take to find a good product to sell online. 
1. Start with your hobbies or interests
This is a good place to start because it would be much more enjoyable to sell a product that you're interested in. Now, as we said earlier, just because you like a particular product doesn't mean others will. You will still need to evaluate your ideas, but do list down some products that would be of interest to you to start. If there's potential to sell something you can easily get behind, then why not?
For example, if you like to play pickleball, you could consider selling a pickleball set that includes a paddle, balls, and a net. 

When jotting down ideas, think about how you'd like your product to be better than what's currently available in the market. You love to play pickleball, but have yet to find the "perfect paddle." How can you outdo paddles in the market so that they can solve customer problems and needs?
2. Figure out what is currently trending
Capitalizing on growing trends is a smart way to make money selling products online — especially if you catch one at its onset. But how do you even find out what is trending? 
If you're active on social media, especially on apps like TikTok, you can get a good idea of what products people are talking about. What categories do people love? What new items are consumers raving about? This is a helpful way to harvest ideas but be wary of "fads" instead of trends. We'll go over this more later when we discuss evaluating product ideas.
Another way to view current trends is to visit "Google Trends." The free tool will show you the popularity of any topic over some time so you can find out if something is currently trending or declining in popularity. 
After searching for "halloween costumes" for example, here are the results.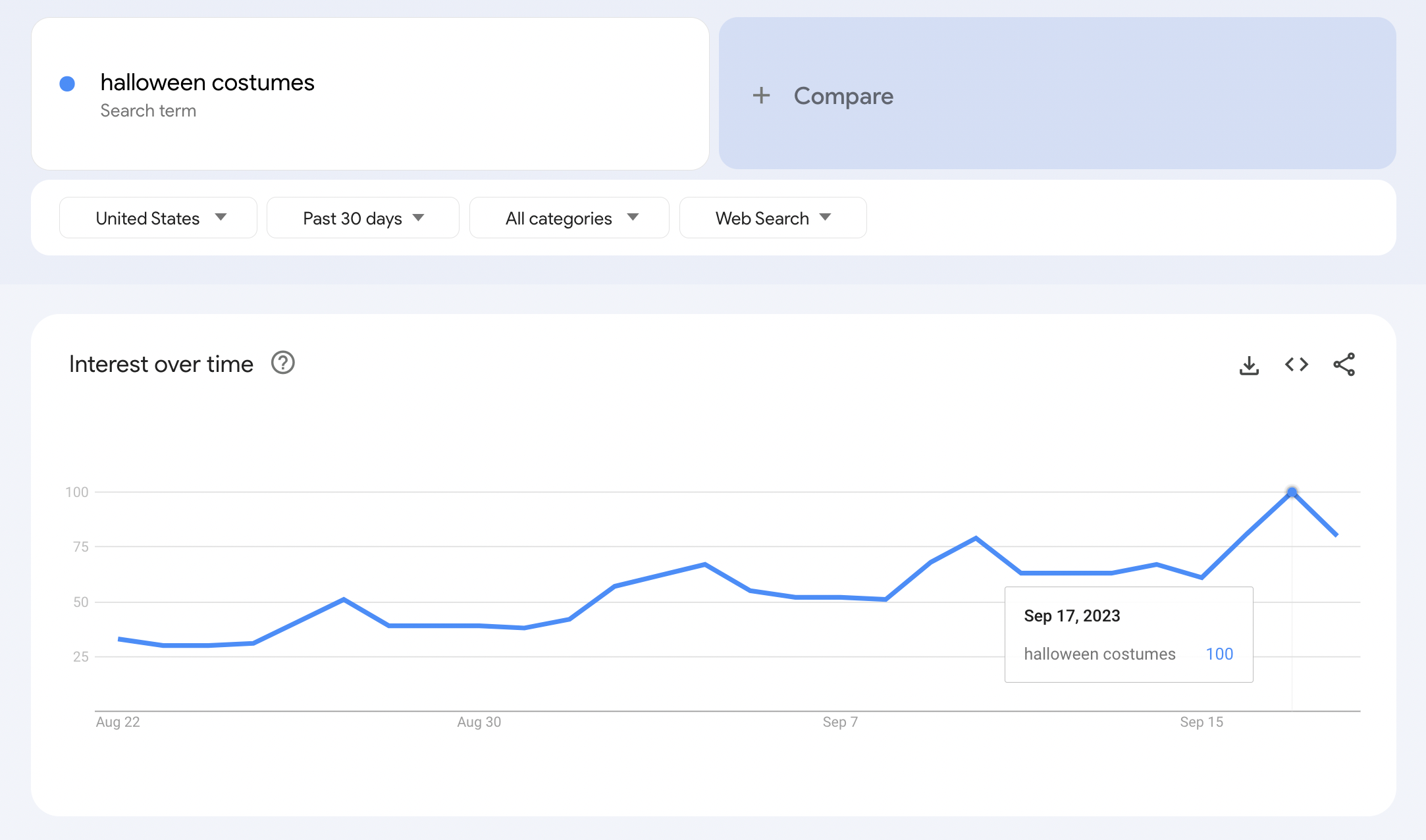 The term "halloween costumes," is currently peaking (September 2023) as halloween fast approaches. 
You can also use Google Trends to find out what people are searching for the most in a particular country. This could give you more viable ideas for products.
3. Search on Amazon
An excellent way to generate good product ideas is to go right to the source: where people are buying them! Amazon features a few different "best sellers" lists you can dig through to find ideas. Here's how to conduct that search:
First, go to Amazon's Best Seller page. You can find that in the main menu on the Amazon homepage. 

On this page, you will find the best-selling products for each main category on Amazon. While these products listed are selling very well, it is unlikely that new sellers will be able to compete with them as they have thousands of reviews and an established market share. 

Instead, you'll want to look at Amazon's other lists such as New Releases, Movers & Shakers, Most Wished For, and Gift Ideas. The products listed here will be popular and sales but will be easier to compete with over the top 100 best sellers.
Now, dig through each of these lists to discover new products you may have never thought of selling! 

These lists feature products that are rising in popularity and what customers are buying right now. This valuable information is updated every hour. Again, what you will first see are "main categories." To find low-competition products, we recommend going deeper into subcategories. 
Let's go over an example. In the "New Releases" list, I'll click on "Sports & Outdoors" and see what subcategories I can search through.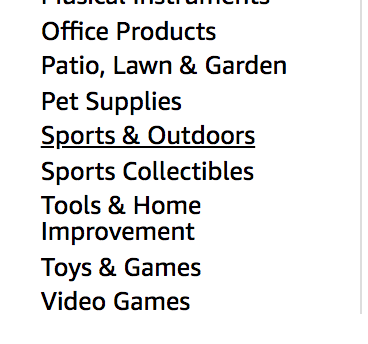 The main category "Sports & Outdoors" is way too broad and it'll be difficult for me to find a product I can profitably compete with. I'll keep clicking through each subcategory until I find something interesting. 
In this example, I started with Sports & Outdoors > Sports & Fitness > Boating & Sailing > Boating. 
Under the "Boating" subcategory, there are tons of product types I can look through.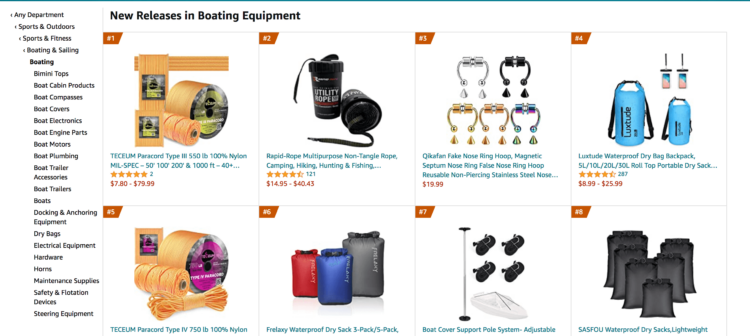 The more "niche" you get with your product research, the better. This way, you can find products that not everyone may have thought of but will still have lots of potential customers. 
4. Attend wholesale trade shows
Trade shows are a fantastic way to meet suppliers and manufacturers in person. They're also where you can actually touch and experience different types of products first hand, and discover new innovations in the market.
Meeting suppliers in-person versus contacting them online through sites such as Alibaba gives you a huge advantage over the competition. You can build real-life relationships and usually get the best pricing when negotiating in person. 
Trade shows are also great for retailers versus someone trying to create a private label product. Retailers buy other brands at wholesale prices and then resell them for a profit either in a brick & mortar store, ecommerce website, or online marketplace such as Amazon. 
In the Amazon selling world, we call that the wholesale business model. Trade shows are helpful for sellers who don't want to start their own brand but want to resell other successful products and brands in their store. 
There are trade shows for all types of products and industries. A popular one in NYC is the Toy Fair show. You can discover thousands of popular toy brands as well as private label opportunities. 
A very popular wholesale trade show for brand owners or private label sellers is the ASD Market Week show, held twice a year in Las Vegas. 
5. Search on Alibaba
Many brands and sellers use Alibaba, a B2B marketplace, to find unique products they can private label and sell under their own brand. Alibaba works in a similar fashion to Amazon. Search for any type of product you're interested in, and you will see many results pop up. 
You can find practically any product you can think of on Alibaba. They also feature top-ranking products and new arrivals to give you some unique ideas.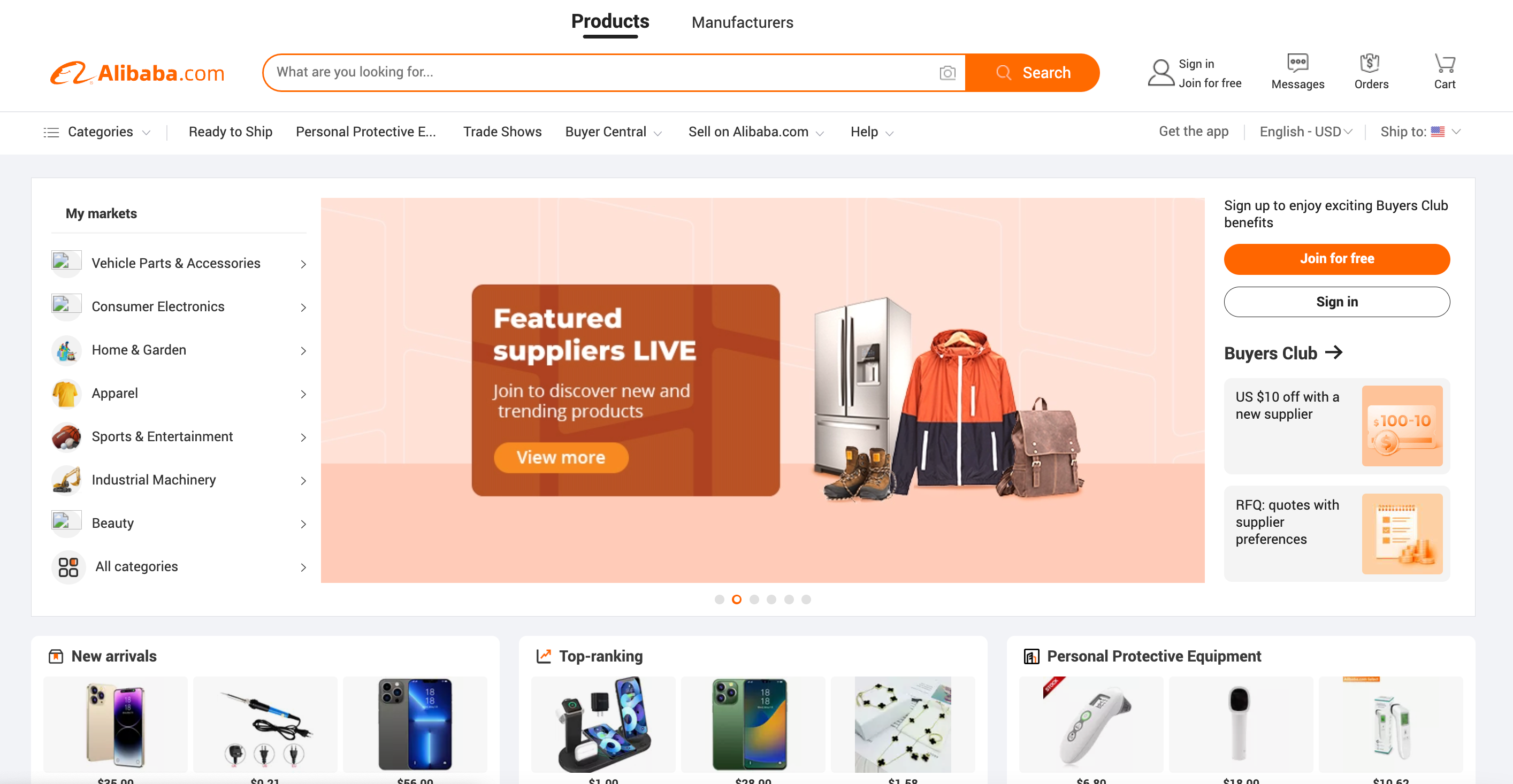 Take your time and explore the categories and subcategories just like you would when doing product research on Amazon.
You can also search through Aliexpress, which is related to Alibaba but meant more for consumers versus bulk business buyers. You can purchase as little as one unit of a product or multiple units if you want to test out some samples.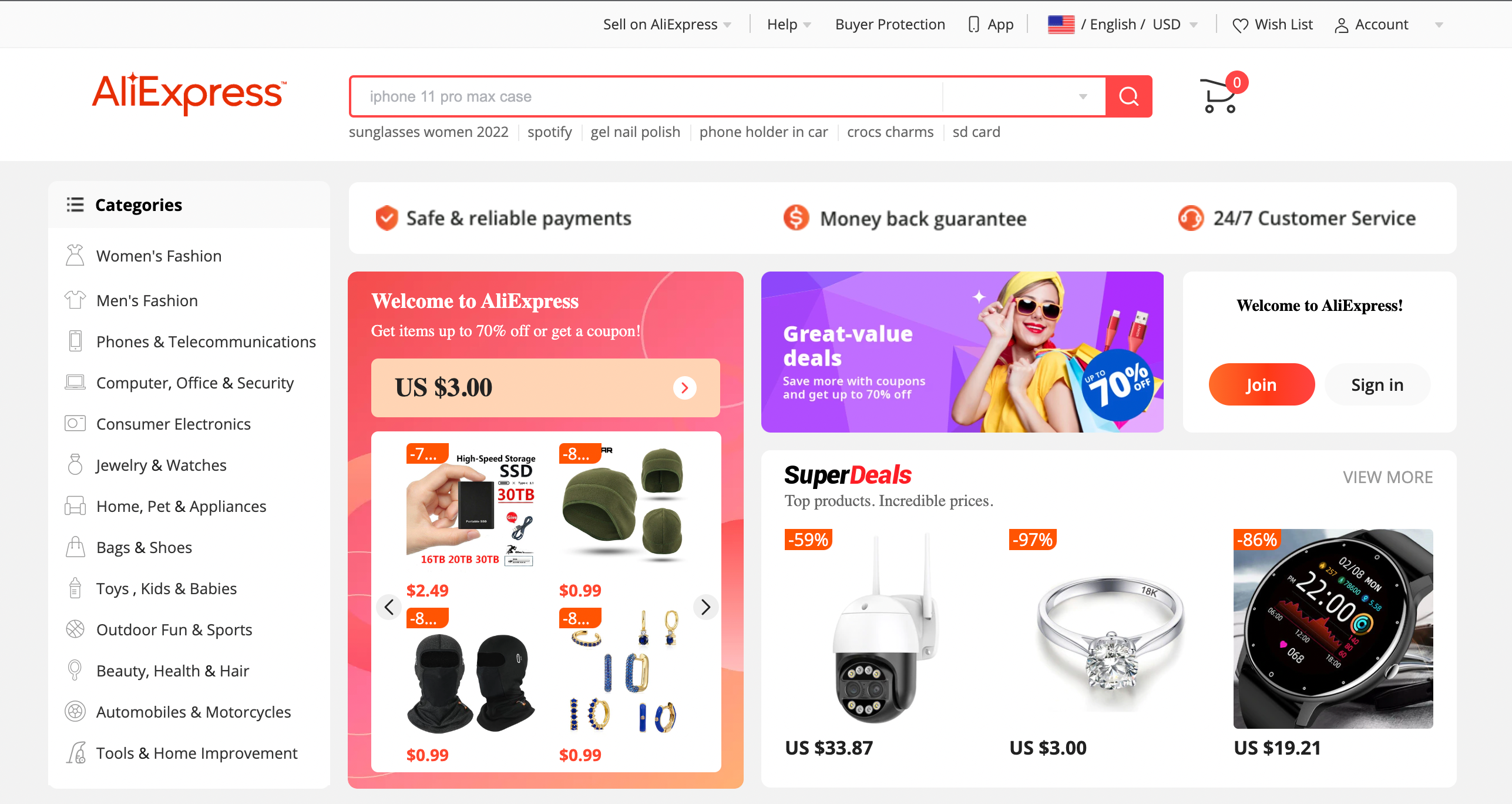 6. Use product research software
If you want to make the product research process seamless, you can use an advanced product research tool to help you find products matching your exact criteria. 
Jungle Scout offers a few different product research tools in our all-in-one platform to find high-demand, low-competition products. 
We have a searchable catalog called Product Database that allows you to choose categories and set specific filters so you can find products that are selling well. Product Database will only pull up products that meet the criteria you set so you can quickly filter through the results.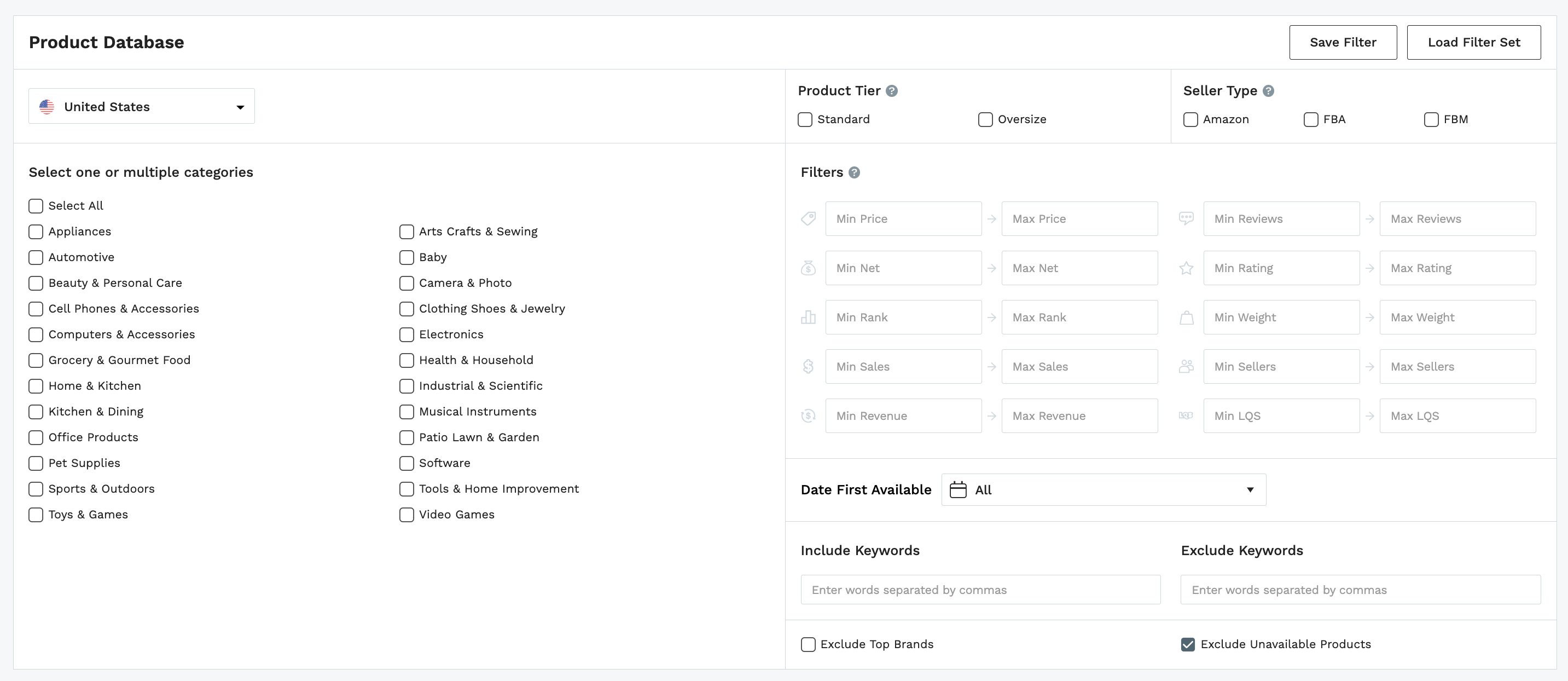 From there, you can track the performance of each product you like using our Product Tracker tool.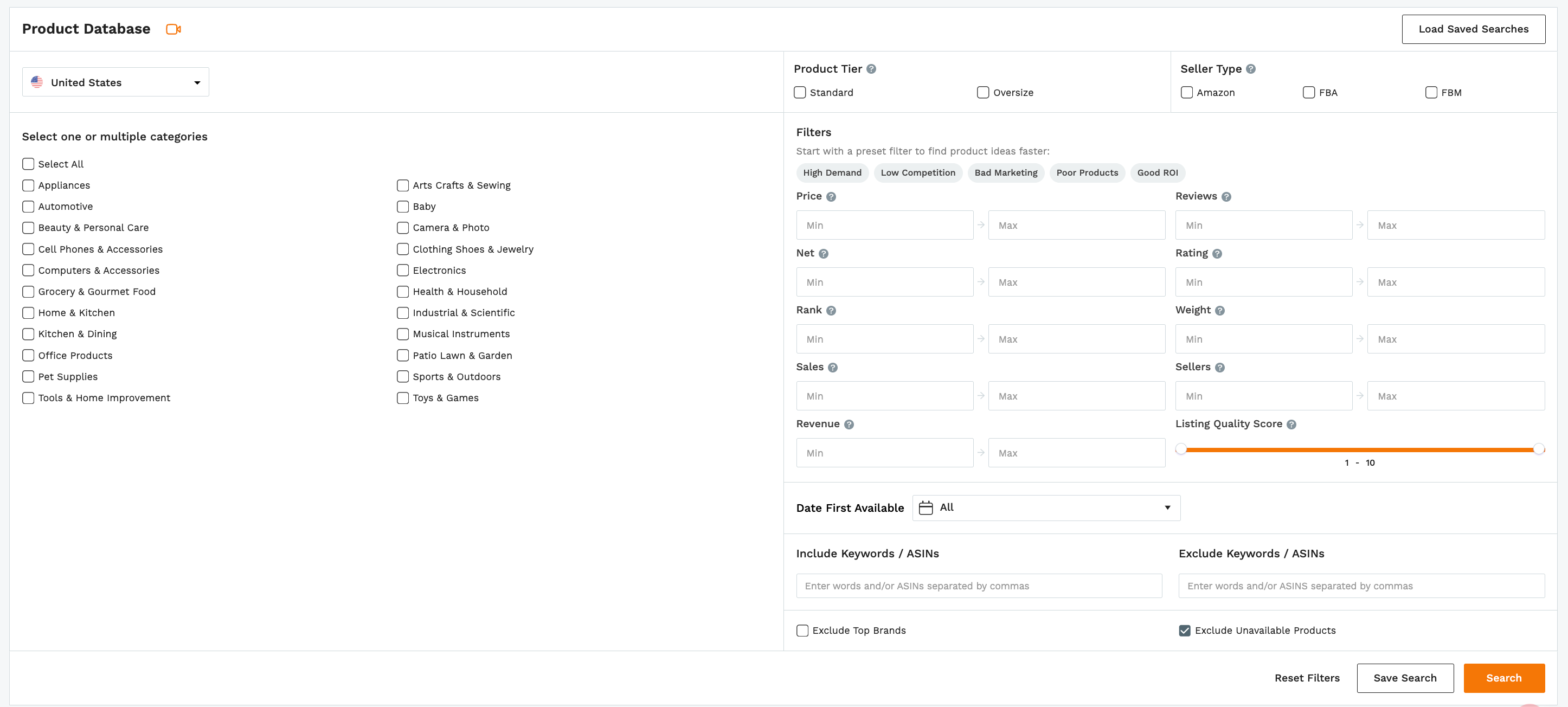 We also have a tool called Opportunity Finder which you can use to discover new, unique niches and jump in on new emerging trends.
Evaluating your product ideas
After you have discovered some products you would be interested in selling, how do you know if they're good markets to sell in? In this section, we're going to show you how you can evaluate your product ideas and analyze your potential competitors. 
Here are some key factors you should consider when choosing a product to sell online:
Product demand

Competition 

Seasonality 

Profitability 

Marketability
1. Product Demand
Are customers searching for and purchasing the product you want to sell? You need to make sure that there is enough demand for you to enter the market. 
Check Amazon Best Seller Rank
Even if you're not going to be selling your product on Amazon, you can still use Amazon's data to figure out the demand for your product. If a product is selling well on Amazon, it is usually selling well in other marketplaces. 
At Jungle Scout, we say you should aim for at least 10 sales per day or 300 sales per month. If you take a look at the top 10 or so products on an Amazon search results page, you want the total monthly sales of all those top-selling products to be around 3,000. 
This shows us that there is decent demand in the market to make some sales and compete with other brands.
How do you find the Best Sellers Rank and what do the numbers tell you? Great question. Go to a random Amazon product page and scroll down until you find the "product details" section.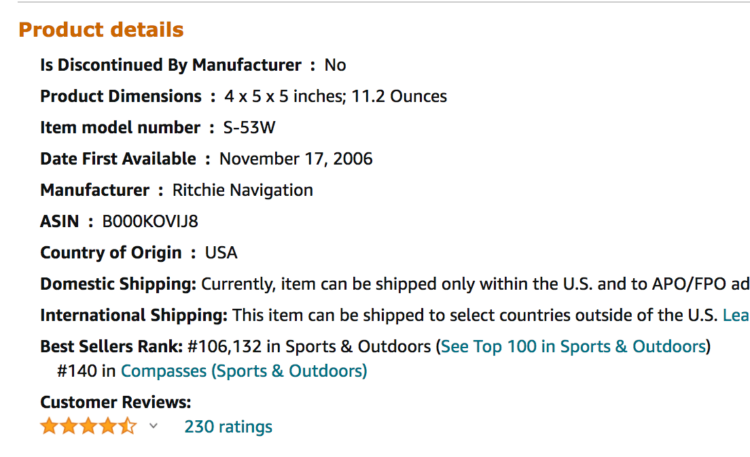 For this particular example, the BSR (Best Seller Rank) is 106,132 in Sports & Outdoors. If you're not familiar with selling on Amazon, this number may have little significance, but some key information can be gleaned from it. The higher the BSR, the worse the sales are for that product. This high of a BSR means low sales. 
You can use Jungle Scout's Free Sales Estimator to get an estimate of how many units this particular brand is selling per month based on that BSR number.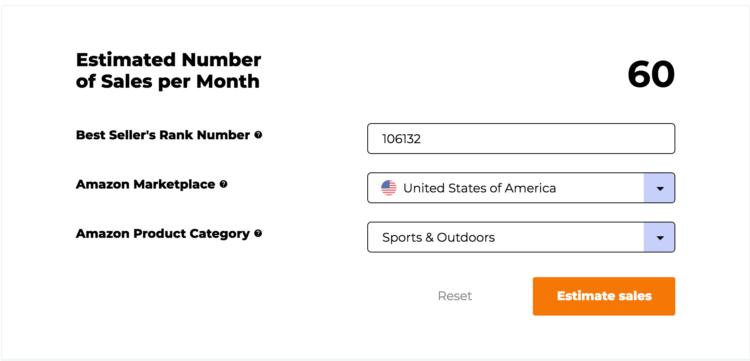 As you can see, this product only sells an estimated 60 units per month, which is not ideal for a seller who wants a profitable product.
For this particular product, the total sales of the top 10 products were only around 600 per month total. This tells me that the demand for it is too low or it may be a seasonal product. 
Of course, you can still sell in this market. Just know that your monthly sales volume will be low, and you must order inventory accordingly.
Check Google Trends
Using Google Trends again, you can get an idea of the popularity of a particular product over time by searching for its keywords. For this example, I searched for "boat compass."
The interest over the past 12 months has been up and down, which tells me it is not a consistently searched-for type of product.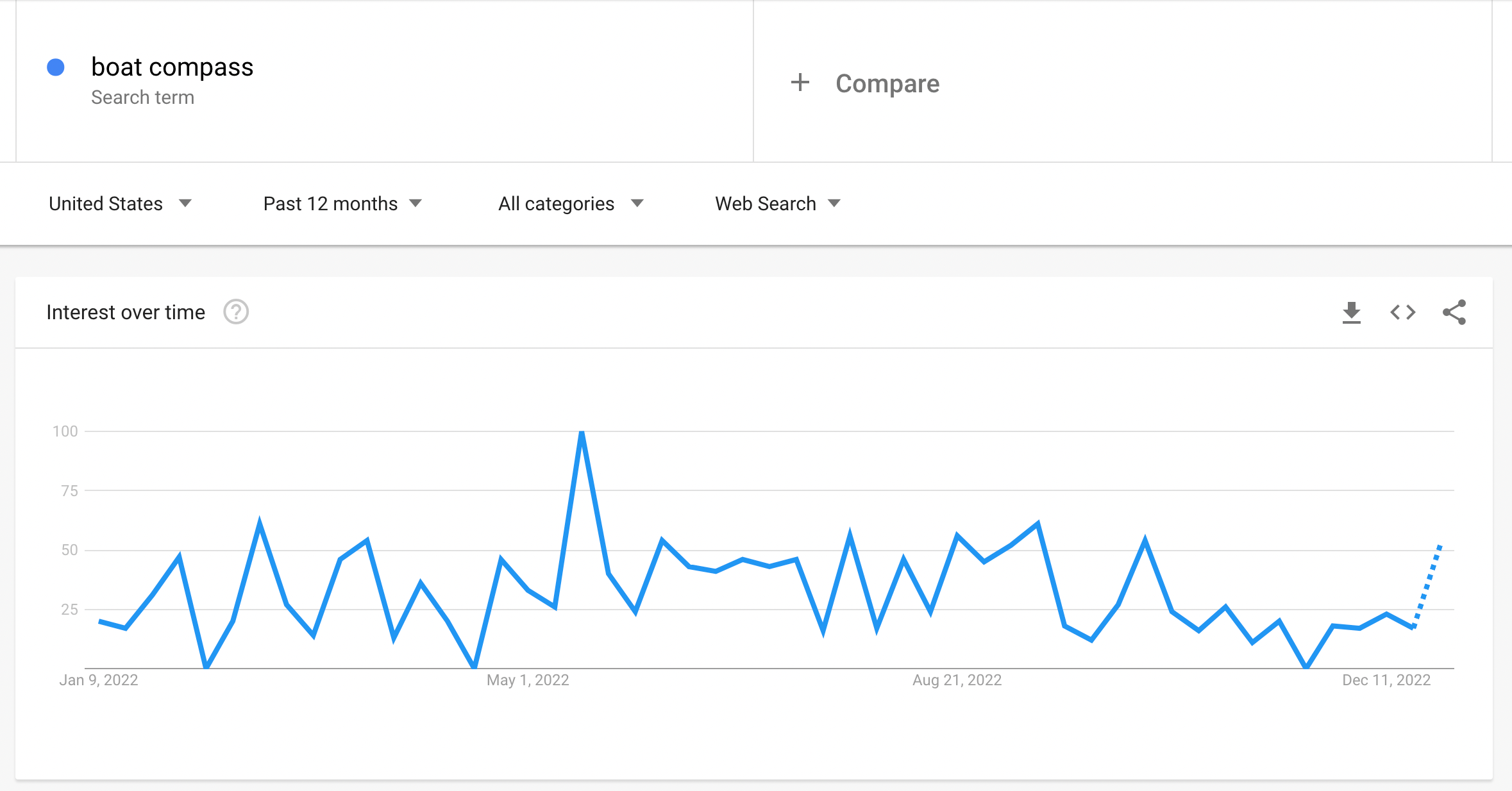 I wouldn't feel comfortable in this market as the product I was curious about has not been consistently searched for over the past year.
Check product reviews
Viewing product reviews — more specifically, the dates and the quality of the reviews — can give you a good idea of how often people are purchasing that type of product, and what people like and dislike about the product. By analyzing your competitors' reviews, you can figure out what you can potentially improve with your product. 
Let's look at the dates first. Since only a small percentage of buyers actually leave reviews, reviews that are dated close to each other indicate that there is decent demand for it. 
If you are on Amazon, you can choose to view the most recent reviews.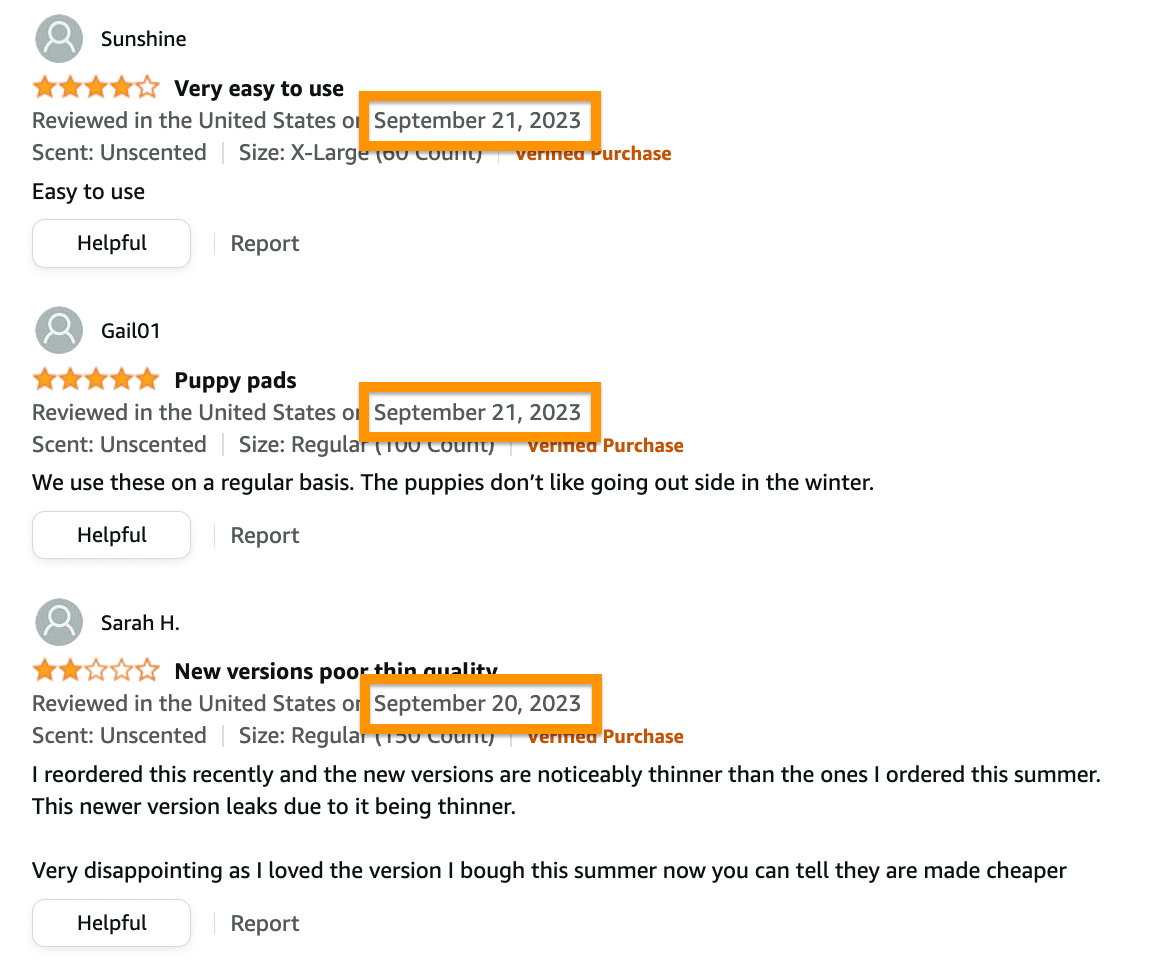 Now, let's figure out how to analyze competitors' reviews. Analyzing your competitors' reviews allows you to find common positive and negative themes, so you can figure out what customers love about that specific product and what they dislike about the product. 
The problem is, analyzing reviews manually takes a ton of time and effort. Again, with Jungle Scout Review Analysis with AI Assist tool, you get a comprehensive analysis of product reviews and ratings for any ASIN that includes common positive and negative comments, suggestions for improvement, a competitive comparison with tips for competing against the product.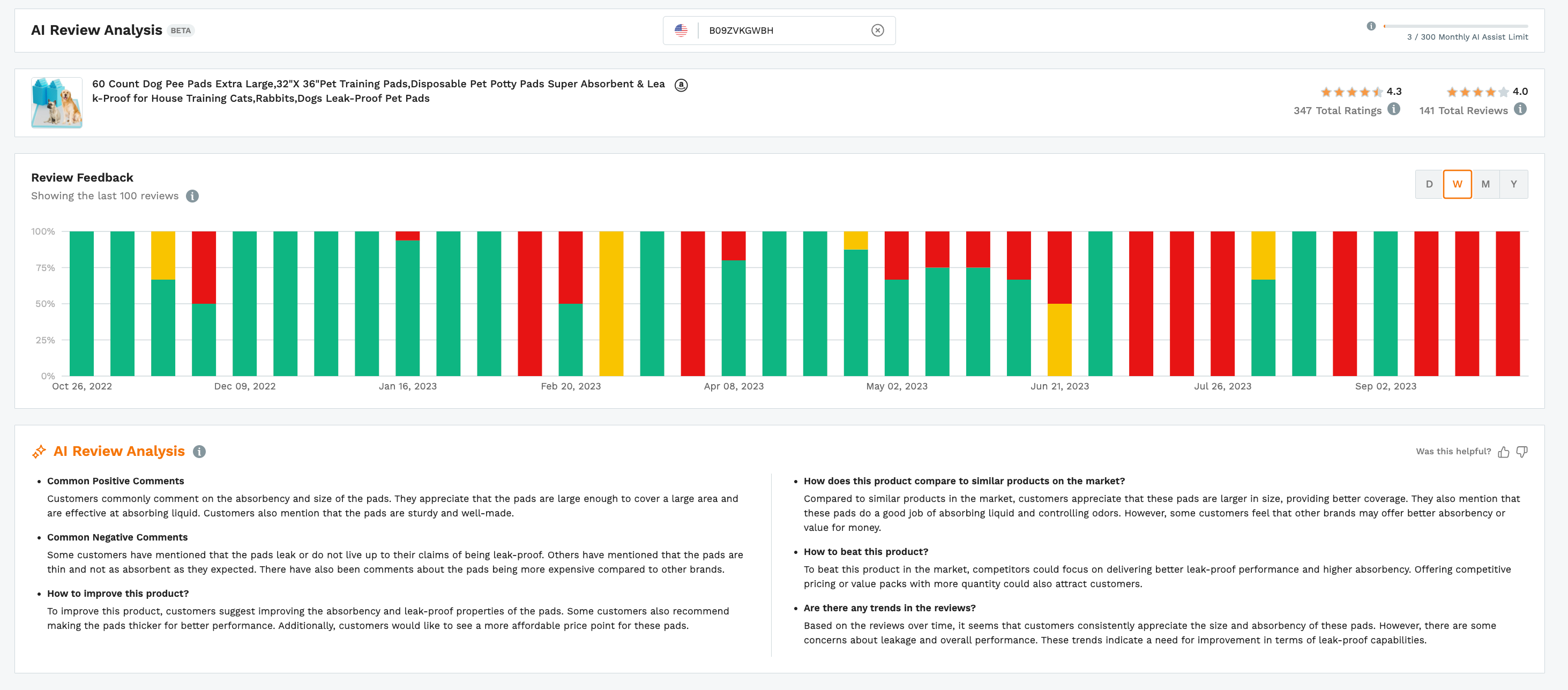 LEARN MORE ABOUT AI ASSIST
Google Keyword Planner
Another free Google tool you can use to see how many people are searching for keywords related to your product is Google Keyword Planner. Simply enter a few keywords related to your product idea and see what the tool comes up with. 
Keyword Planner will show you estimated monthly search volume, competition, and more.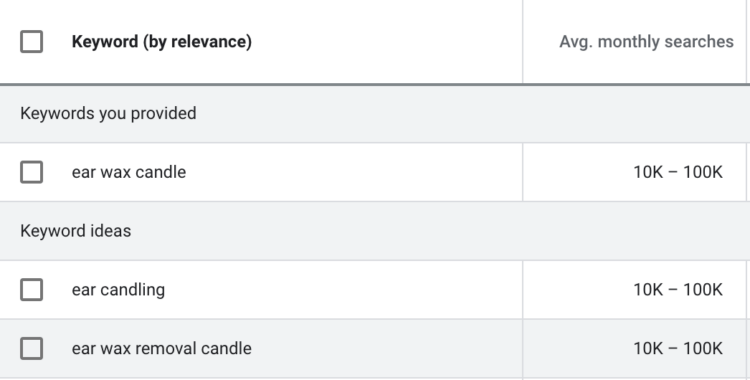 For the term "ear wax candle" there are roughly 10K – 100K searchers per month. This is a wide range, but it tells me that many people are searching for this term.
2. Competition
There may be demand for your product but you also need to consider how competitive the market is. If you have lots of competitors, it will be difficult to make your product or ecommerce store stand out. 
Google Keyword Planner
Use this tool to see how competitive a particular keyword is for Google Ads. Google Keyword Planner will indicate the level of competition you're up against, along with the estimated keyword bid. 
This information is useful if you plan on building your own ecommerce site with a platform such as Shopify. 

Search on Amazon and Walmart.com
Take a look at the competition on Amazon or Walmart. How many reviews do they have? Are there many brands with the same product? How can you differentiate yourself from them? What are customers saying about the products? Is there room for improvement? Do you spot opportunities worth taking?
Those are a few questions you should ask yourself when doing a competitive analysis. 
If you see products that have thousands of reviews each, theirs may not be the best market to try and compete in, unless you have extensive ecommerce experience. 
Products with a modest review count — 500 or less — will be an easier market to compete in. If there are one or two products that seem to have way more reviews than the others, this could mean that they have most of the market share in that particular marketplace.

3. Seasonality
Selling a product that is evergreen is ideal — because it is in demand all year round. And yes, selling a seasonal product can also be quite profitable. You just need to be wary of how much inventory you should order for the season, and when to do it on time. 
Google Trends
To determine seasonality, you can use Google Trends again to see what times of the year people are searching for a particular product or keyword. 
If the data shows that consumers are searching for this product steadily throughout the year, it should consistently sell through all four seasons. If you see a big spike during a particular time period and a flat line for the rest of the year, this shows seasonality or indicates that it was a fad that came and went. 
Here's an easy example: if you search for "Halloween costumes," you can see that it spikes in September/October and quickly declines afterward. 

Opportunity Finder
If you subscribe to Jungle Scout, you have access to our Opportunity Finder tool, which will show historical search volume as well as a graph displaying the seasonality of a particular product. 
The data you see in Jungle Scout is from Amazon sales, but it typically represents the seasonality and demand across all ecommerce marketplaces or platforms. 
4. Profitability
After evaluating a product's demand, competition, and seasonality, you need to be sure that the product you want to sell will be profitable. This involves sourcing your product at a reasonable cost and pricing the product properly. 
If you find a product that sells well at $25, but you can only source it for $19, then it won't be a good opportunity for you — after shipping and potential selling fees, you will lose money on each sale. 
Depending on the platform or marketplace you will be selling on, you need to factor in various fees such as subscription fees, selling fees, advertising fees, storage fees, and shipping fees. 
First, figure out the average price your competitors are charging for their products. Then, figure out which platform(s) you want to sell your products on, as each one has different fees for their respective sellers. If you're going to sell on Amazon, make sure you read about and understand all of
Amazon's fees
. 
Next, go to a site such as Alibaba, search for your product, and start contacting suppliers for pricing. After getting a price and shipping quote, calculate what your profit will be after
all
costs involved. 
There is no particular profit margin you should aim for as it is different for every business, but we recommend around at least a 30-40% gross margin. This will leave you with some room for a marketing budget since you will likely need to advertise your products to stand out and attract sales. 
READ MORE | How Much do Amazon Sellers Make?
5. Marketability
This is just as important as all of the other factors we mentioned. How are you going to market your product compared to your competition? How can you make improvements to the product itself, to your product images, and to your listing copy? 
You should also consider a social media strategy for your product and determine if it can help grow your business. Search various social media sites such as Facebook, Instagram, and Tik Tok to see what other brands in your niche are doing to market their products. 
You can have the best product in your category, but if you do not market it well, then how will customers know about your product?
Find your winning product idea
We hope this guide helps you understand the importance of proper product research for your online business. Use the tips and strategies laid out above to be on your way to launching a successful product.
After you find a great product to sell, which platforms do you plan to sell it on? See the links below for in-depth how-to-sell guides for Amazon, Shopify, eBay, Walmart, and even Facebook. We show you how to successfully sell on each one of those marketplaces, step by step.
Did this guide help you find your winning product idea? Do you have another method in mind that we didn't mention? Let us know in the comments!