How to Prepare for Amazon Prime Day in 2023
By now, most people know Amazon Prime Day as one of the biggest sales events of the year. Customers get to enjoy discounts on their favorite products and maybe even discover something new at a heavily discounted price. 
While obviously great for customers, Amazon Prime Day offers huge perks for Amazon sellers, too,  as it usually means a big bump in traffic and sales for their products. What some new sellers don't know is how to properly prepare their business for this big day.
Continue reading to learn everything you need to know about Amazon Prime Day 2023, and how FBA sellers can gear up. 
What is Amazon Prime Day?
Amazon Prime Day is an annual sales event exclusively for Amazon Prime members. It typically takes place in mid-July, although the exact date can vary from year to year. 
During Prime Day, Amazon and third-party sellers offer a wide range of deals and discounts on products across various categories, including electronics, home and kitchen, fashion, beauty, and more.
Prime Day usually lasts for 48 hours, and Amazon typically releases new deals every few hours during the event. 
When does Prime Day start?
While Amazon hasn't officially announced when Amazon Prime Day 2023 will take place, they made an announcement in Seller Central on March 30 encouraging sellers to prepare for the big sales event. Amazon Prime Day 2022 took place between July 12-13, so we can expect that Prime Day 2023 will likely take place in mid-July.
If you haven't set up deals specifically for Prime Day yet in Seller Central, then you're too late. The deadline was April 28, 2023. 
You still have time before Prime Day, but July will be here before you know it, so if you haven't begun preparing for this big sales event, you better start now!
What Amazon sellers can do to prepare for Prime Day 2023
In order to fully reap the rewards of the Amazon Prime Day event, it's important to take steps now to get your business ready for the potential uptick in sales.
1. Offer customers multiple ways to save
To entice customers to purchase your products during Prime Day, we suggest you create Amazon Prime Day deals, discounts, and promotions on your listings. 
Some sellers don't run deals at all and see a bump in sales simply due to the increased traffic. But it's a good idea to offer customers ways to save. Here are four ways to do it: 
Prime Exclusive Discount
Lightning Deals aren't the only discounts you can provide on Prime Day. Sellers can also offer what's called a Prime Exclusive Discount. 
A Prime Exclusive Discount is a discount offered to Amazon Prime customers and will show a discounted price with the regular price crossed out and the percentage saved. To set up a discount in Seller Central, go to the Advertising tab > Prime Exclusive Discounts.
Typically, you're able to set these discounts during Prime Day week, so keep an eye out for that within Seller Central. 
Coupons 
A coupon is the best way to let customers know you're offering discounted prices because it shows up as a bright green tag next to the list price on the product detail page — customers can't miss it, and they don't have to go hunting for deals on a separate page.

Create a Promotion
In Seller Central, Amazon sellers can create different promotions, such as "buy one get one free" or "buy one get one 50% off." You can also create custom social media promo codes to share with your audience or with an influencer off of Amazon. You will receive a custom marketing page to send potential customers to.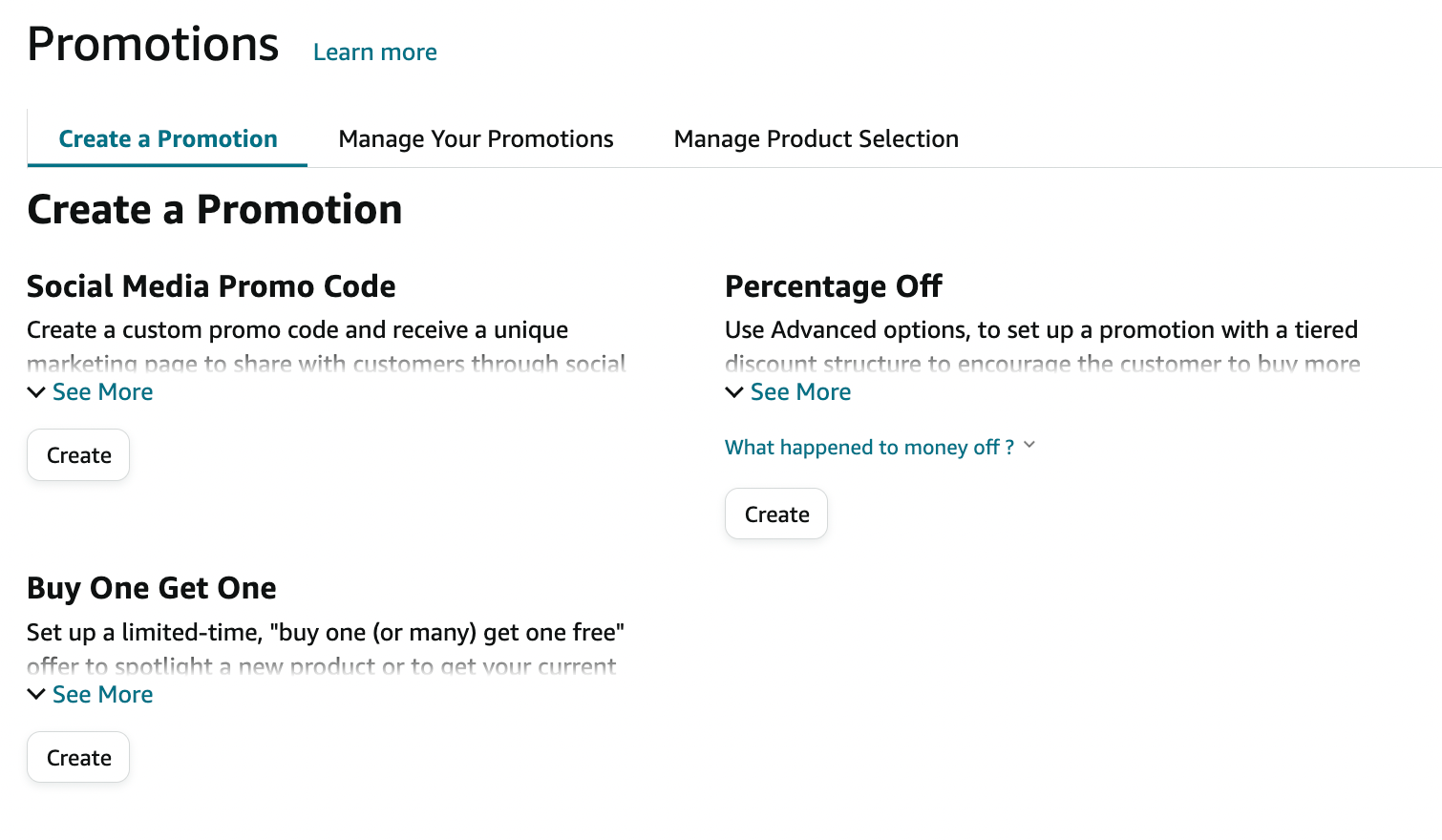 Prime Day Deals
Shoppers come to Amazon on Prime Day looking for deals. While it is not completely necessary to offer a discount to see an increase in sales on this day, it can certainly help. 
The deadline to submit "Amazon Prime Day Deals" in 2023 has passed — Amazon said to submit your deals by April 28, 2023 to participate in the Prime Day sale.

Even though it's too late to submit deals for 2023, here's how the process works.
Go to the Deals section of Seller Central (Advertising > Deals) and see what you have available to submit during the Prime Day window. Keep in mind that the fees for running deals on Prime Day will be higher than normal. Amazon increases the fees because customer traffic to Amazon is significantly higher on these days, leading to greater exposure. 
For our Washable Pee Pads product, we have the option to run a Lightning Deal within the "Prime Day window," which will cost $300 – $500, plus the discount you provide. Typically, the Lightning Deal fee is $150, so you need to determine if the increased cost is worth it for your business.
Is the fee worth it? If you've had success with Lightning Deals in the past or your product has a high conversion rate, we say give this deal a go as this deal will likely increase your products visibility and sales.
If your product is brand new and doesn't have much sales history, or maybe you don't have a big advertising budget, skip this deal and opt for a Prime Exclusive Discount or coupon.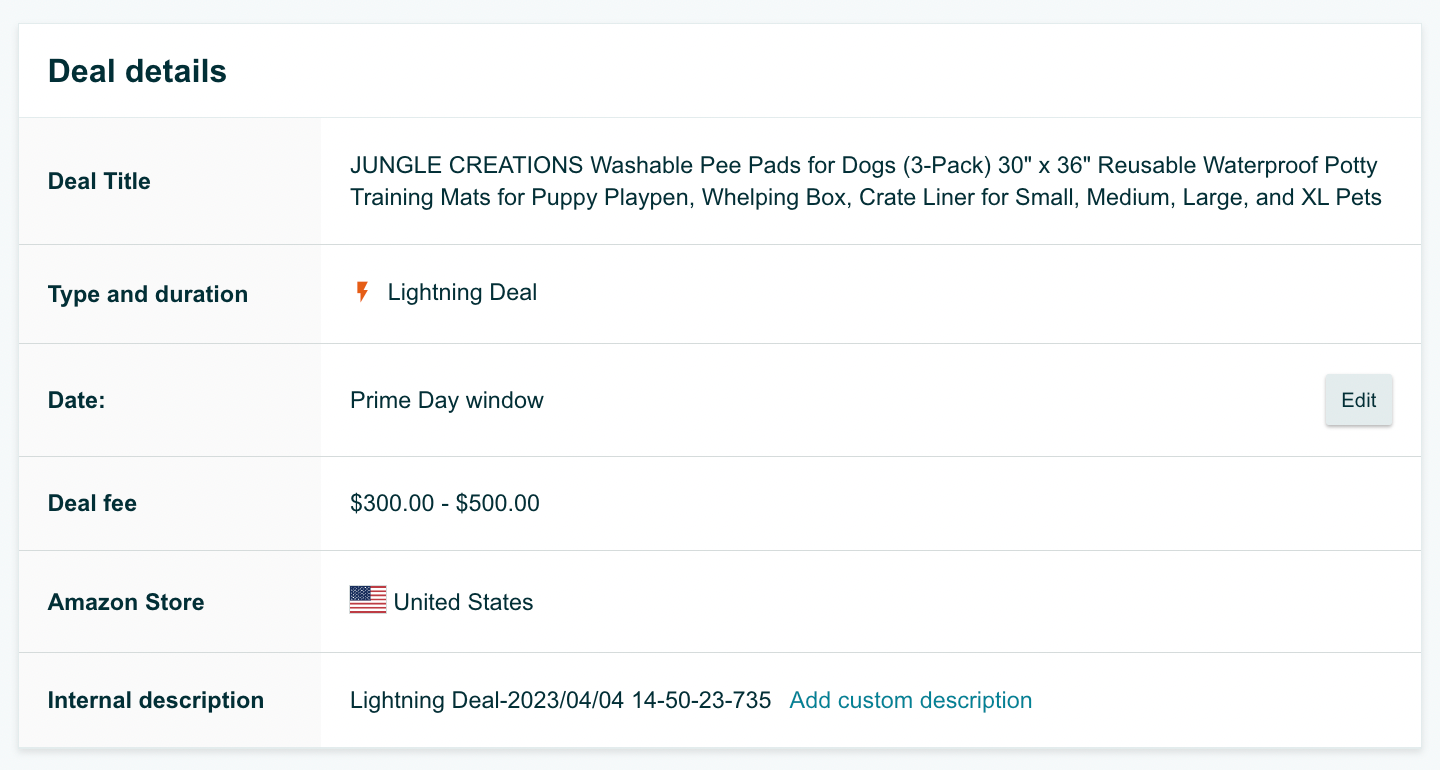 2. Order inventory 
This may sound obvious, but you want to start ordering inventory now in order to have it ready for Prime Day. Start talks with your suppliers to ensure your inventory will be ready. 
Amazon says, "Make sure your inventory arrives at our US fulfillment centers by June 15, 2023." That means you have a little over two months to make sure your inventory arrives from your supplier and is sent to Amazon. Ship as early as you can to account for any issues that may occur. 
If you fulfill through FBA, make sure to check your FBA capacity limits before ordering too much inventory. With the new capacity limits, sellers can now forecast their inventory needs up to three months in advance. 
If your capacity limits are currently low, work on increasing your sell-through rate and reduce excess inventory as they're big factors when it comes to your inventory limits in Amazon. 
LEARN MORE | Amazon Just Updated Its FBA Storage Capacity System, and Here's How it Affects You
3. Create FBM offers if you do not have enough FBA inventory
If your inventory capacity limits are too low for what you are expecting or maybe you won't have enough time to ship inventory into FBA, create FBM offers on your listings so you can still offer deals and meet customer demand by fulfilling your own orders (or by using a third-party fulfillment center).
Sellers are able to offer both FBA and FBM fulfillment methods under one ASIN. To add an FBM option:,
Go to "Add Products" in Seller Central.
Enter your ASIN.
Click "Sell this product,
Enter a new SKU to identify the FBM offer and 
"I will ship this item myself" as the fulfillment method. 
If your FBA inventory runs out, your FBM offer will then go to the Buy Box, as long as you have inventory available for the FBM offer.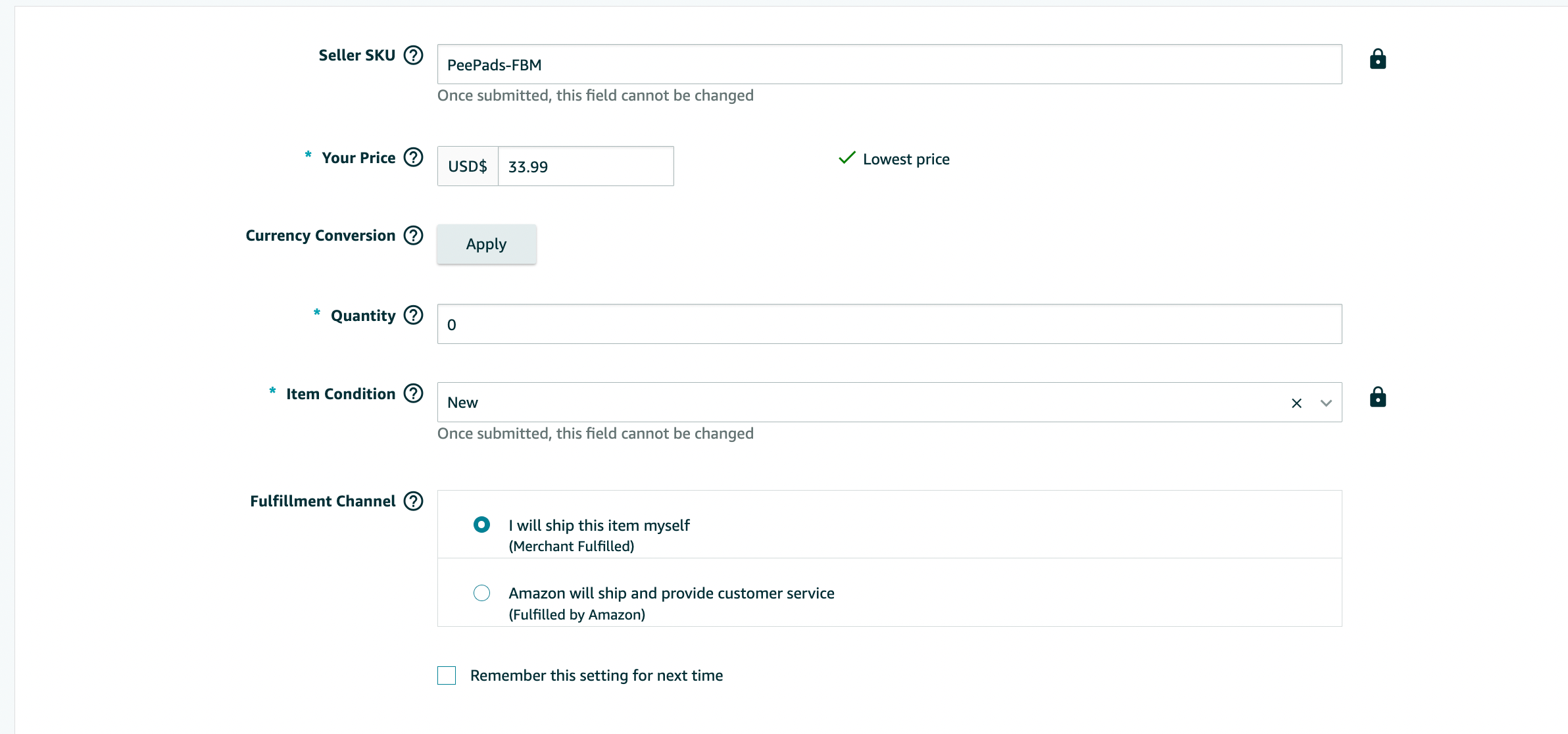 4. Optimize your listings 
Sellers should also focus on listing optimization in advance of any big sale event. While discounted prices are important to today's shoppers, your product listing needs to be as attractive as possible to clinch those conversions. 
Here's how to optimize your Amazon listings for Prime Day:
Audit your listings:

Check your title, bullet points,

images

, and descriptions to make sure they're up to date, and are compelling. If you need help writing your listing copy, check out Jungle Scout's new

AI Assist tool within Listing Builder

!

Split test your A+ content:

If you are

brand-registered

, consider using Amazon's

split-testing

feature to maximize your listing's conversion potential.

Increase your reviews:

We know this is easier said than done, but by using Jungle Scout's

Review Automation

tool, it will help you increase your review count by sending automatic review requests to all of your customers. 
Doing this now instead of right before Prime Day will be beneficial as it will hopefully help you increase your sales and Best Sellers Rank before the big event. 
The more traction your listings have now, will only help you more when Amazon traffic is through the roof on Prime Day. 
5. Boost your marketing strategy
Make sure customers find your listings on Prime Day by boosting your brand's visibility, on and off Amazon. Start now, so by the time the sale rolls around, you can entice your broadened audience with incredible deals.
Here are some Prime Day marketing tips:
Review your PPC (pay-per-click) campaigns.

Consider bidding more aggressively for your product's most important keywords to increase your organic ranking. If you're a brand-registered seller, now's the time to take advantage of your access to Amazon's advanced

PPC advertising

solutions. These include

Sponsored Brands

,

Sponsored Brands Video

, and

Sponsored Display

ads. 

Run off-Amazon ads.:

Drive external traffic

to your deals to increase sales. Try using Facebook and Google ads' sophisticated targeting capabilities, and remember to track your off-Amazon traffic and conversions with

Amazon Attribution

.

Use social media.

Consumers are increasingly interested in finding products on Facebook, Instagram, YouTube, and even

TikTok

— capturing their interest with posts, Instagram Stories, and short videos letting them know how much they can save on your products on Prime Day. You can even recycle some of that content through

Amazon Posts

.
Amazon Prime Day history
In 2015, Amazon introduced Prime Day — a day of deals and sales across Amazon.com — as a way to celebrate their Prime members on Amazon's 20th birthday. The first iteration of Prime Day happened on July 15 and ran for 24 hours. Now, Prime Day runs for two full days. Initially, Prime Day deals were only available in nine countries, but the list expanded each year, with the number of participating countries reaching 18 in 2019. 
The sales event has been a massive success ever since — even the events of 2020 couldn't stop it. 
Prime Day success over the years
2015
Amazon raked in even more earnings during Prime Day 2015 than it did during its record-breaking 2014 Black Friday sales event. Additionally, in its first year, FBA sellers worldwide saw a 300% increase in sales, with 34.4 million goods sold.  
2016
The following year, in 2016, Prime Day grew. Belgium participated (bringing the total number of participating countries to 10), sales worldwide were 60% higher than in 2015, and 3P sellers offering deals nearly tripled their orders year-over-year.
2017
Prime Day 2017 saw even greater growth, not only in terms of products sold (50% more than in 2016) and participating countries (up from 10 to 12) but in the length of time the deal day lasted as well — from 24 hours to 30.
2018
Then, in 2018 and due to the success of the extended hours, Amazon took it a step further and ran Prime Day for 36 hours. Once again, it paid off.
Prime members worldwide bought over 100 million products, SMEs (small and medium-sized enterprises) earned over $1.5 billion in revenue, and it was Amazon's largest day-and-a-half of sales globally.
2019
Finally, Prime Day 2019 ran for 48 hours, and sales eclipsed 2018's Black Friday and Cyber Monday sales combined. 
During that two-day time frame, shoppers bought more than 175 million items, generating over $2 billion in revenue for third-party sellers. In fact, some sellers reported experiencing an increase in sales anywhere from 23% to 200%. 
2020
Amid concerns about the COVID-19 pandemic, which caused manufacturing slowdowns and the prioritization of essential goods, Amazon delayed Prime Day 2020 until October 13-14 in the U.S. Despite Americans' widely reduced consumer spending during that time, Prime Day still charted record-breaking sales, with Prime members saving over $1.4 billion over the course of the event. 
2021
In 2021, Prime Day occurred on June 21-22, earlier than any other year. Despite some consumers being more cautious about their spending, it didn't stop everyone from finding a good deal during this year's event. 
Prime Day 2021 marked another record year for Amazon with total event sales reaching $11.2 billion, compared to $10.4 billion in 2020. Amazon also highlighted Prime Day 2021 as the biggest two-day period ever for third-party sellers.
2022
In 2022, Prime Day occurred on July 12-13, which was the typical timing for this event. In 2020 and 2021, Amazon Prime Day occured in October and June, respectively, due to the pandemic. 
Prime Day 2022 was Amazon's biggest year yet. Sales were up 15% from Prime Day 2021 and revenue was up 29% – while saving customers a total of $1.7 billion.
*Methodology
Jungle Scout conducted an anonymous survey between Feb. 8 and Feb. 9, 2023, among 1,000 U.S. consumers about their buying preferences and behaviors. Respondents represented 48 U.S. states, all genders, and ages 18 to 75+, as well as various employment types and income levels. See our Consumer Trends Report page for more information.